Movie Review
Topper
Cary Grant Dashing knight of the night clubs...Has been under all the best tables!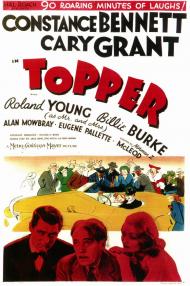 US Release Date: 07-16-1937
Directed by: Norman Z. McLeod
Starring
▸
▾
Constance Bennett

,

as

Marion Kerby
Cary Grant

,

as

George Kerby
Roland Young

,

as

Cosmo Topper
Billie Burke

,

as

Mrs. Clara Topper
Alan Mowbray

,

as

Wilkins, the butler/valet/house servant
Eugene Pallette

,

as

Casey
Arthur Lake

,

as

Elevator Boy, and later as a bell boy
Hedda Hopper

,

as

Mrs. Grace Stuyvesant
Hoagy Carmichael

,

as

Piano player at the Rainbow Room
Lana Turner

,

as

Nightclub Patron
Ward Bond

,

as

Cab Driver
Pat Gleason

as

Cab Driver

Reviewed on:
March 5th, 2013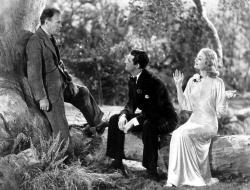 Roland Young, Cary Grant and Constance Bennett in Topper.
Topper is a silly little screwball comedy with a supernatural twist. It propelled Cary Grant to the A-list after five years in Hollywood and launched a franchise that included two sequels, a 1950's T.V. series and a 1979 made-for-television remake. This first movie is the only one that stars Cary Grant. Constance Bennett, Roland Young and Billie Burke costar in this delightful B&W romp. Trivia buffs might be interested in knowing that Topper was the very first movie ever to be colorized back in 1985.
Grant and Bennett play George and Marion Kerby, wealthy socialites with absolutely no sense of responsibility. After they die in a car accident and are stranded as ghosts on earth, they must do a good deed before entering the after-life. The object of their good-deed project is banker Cosmo Topper. His wife is constantly harping on Cosmo and making his life dull and staid. Thanks to her he is unable to have any fun at all. Of course that all changes once the ghosts of George and Marion enter his life. What follows are mirth filled shenanigans and riotous escapades leading to Topper being arrested before the prerequisite happy ending.
Topper is the film that first defined Cary Grant as an unparallelled leading man of screwball comedy. Within the next few years he would make such classics of the genre as The Awful Truth, Bringing Up Baby, and His Girl Friday. Topper is the movie where Grant first established the carefree, debonair, man-about-town persona with the flawless comic timing that would become his trademark.
He and Constance Bennett wear evening clothes throughout the entire movie. They are the absolute picture of sophistication and glamor. They are also funny as hell and they could rival Nick and Nora Charles in imbibing alcohol. In one scene Marion tells Topper that they should go have dinner. He replies, "Oh no, we cannot eat on an empty stomach!" Marion comes back with, "Then we better have a few drinks first!" Grant gets some amusing lines as well, like when Topper gets a flat tire and George says, "Well, I'll be darned if I waste any ectoplasm doing it." And then proceeds to turn invisible.
Topper was based on the book by Thorne Smith. It was a huge hit in 1937, spawning sequels in 1939 and 1941. The concept of ghosts interacting humorously in the lives of living humans has been copied many times since but never with a more talented cast.
This is a movie I have wanted to see since I was a kid. Thanks to Turner Classic Movies I was finally able to watch it. It certainly lived up to my expectations and now I want to see the sequels, even though Grant isn't in them. Here's another bit for the trivia buffs out there. See if you can spot Ward Bond and Lana Turner. They both appear as extras. Bond as a cab driver and Turner as a girl in a nightclub.
Reviewed on:
March 5th, 2015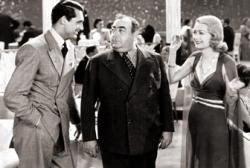 Cary Grant, Eugene Pallette, and Constance Bennett in Topper.
Although the biggest, and best remembered of the stars, Grant received second billing. His part is the smallest of the three leads and he disappears for a good portion of the third act. And that's my only minor complaint about this otherwise charming classic. The story starts from the point of the view of the Kirby's, who as Patrick said, would make the perfect drinking companions for Nick and Nora Charles. However, once they "die", Roland Young as the title character, takes over as the star. Young shares several amusing scenes with Constance Bennett, but the very best scenes are those that feature Grant. Grant's presence is even smaller than it seems when you consider that for many of his scenes he's actually invisible and you only occasionally hear his voice.
Reportedly, Grant wasn't keen to accept this part because he found the supernatural elements to be silly. Prolific comedy producer Hal Roach persuaded Grant to do the film by promising him it was more of a screwball comedy than a ghost story and by offering him $50,000. Another story around the making of this film suggests that Jean Harlow was Roach's first choice to play Marion, but she was already in too ill-health to accept it. As big a fan as I am of Harlow's, I think Bennett was more suited for the part. She lends Marion an elegant sophistication that Harlow wouldn't have been able to match.
Roland Young is funny as Topper. He even earned a Best Supporting Actor Oscar for his performance. He and Billie Burke, who is quite the scene stealer as Topper's wife, returned for both of the film sequels while, as Patrick mentioned, Grant failed to return for either, and Bennett returned for just the first of them. Young as Topper, starts as the straight man but slowly starts creating more of the laughs himself as he slowly loosens up and starts to drink.
This is one of those movies that is so light and easy that the comedy seems effortless. It simply flows across the screen with charm and wit. When it comes to combining sophistication and comedy no other decade did it better than the 1930s. They truly don't make them like this any more.

Reviewed on:
December 2nd, 2015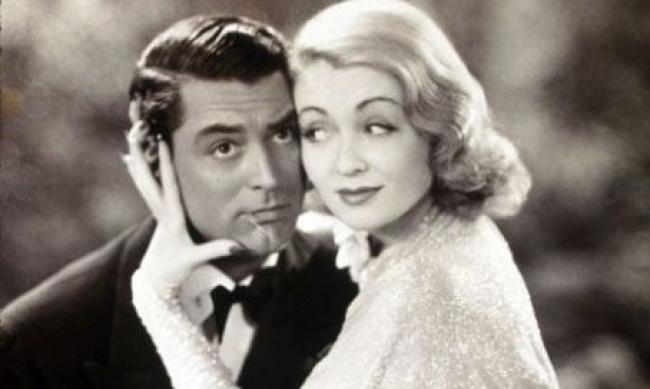 Cary Grant and Constance Bennett in Topper
I enjoyed Topper very much. It is almost impossible not to. Cary Grant is as charming here as he would be in almost everything else he would do from here on out in his career. Constance Bennett is a sexy little thing who really jumps from the screen. George and Marion are a couple of dead people who are still more full of life than the living Cosmo Topper.
Although overshadowed by the charisma and looks of Grant and Bennett, Roland Young is truly the film's star and as Scott wrote, hilarious in parts. This balding 50 year old British actor was a bit past the middle aged point he and Billie Burke claim to be at but he pulls it off. He has several great scenes, and his Oscar nomination was well deserved.
I like how embarrassed he looks when an invisible George pushes a chair after Topper around a hotel lobby and Topper keeps stopping to sit in it as if it is completely normal for such a thing to occur. When Topper appears disheveled in front of the judge, he looks like Adolf Hitler after getting all worked up in a speech. His best scene is when George and Marion are invisible and carry/walk Young out of their apartment. It is a beautiful piece of physical comedy.
Topper is a very light hearted comedy and I should probably not ask questions. However, this movie establishes some rules and then forgets about them, while at other times the plot just seems to not know where it is going or what it is doing. These "ghosts," if you can actually call them that, can pretty much do whatever they want. Just as when they lived, they demonstrate that the secret to happiness is to simply be extremely wealthy and irresponsible.
Just after they "die," Grant and Bennett state that they only have so much ectoplasm to keep themselves visible. This allows for the special effect scene Patrick mentioned but that tidbit of information never really comes into the movie anytime later. They simply appear and disappear at random. If they were so concerned with the amount of ectoplasm they had and needed to conserve it, why do they become visible when no one else is around, such as when they talk on the roof?
And while I am asking questions; how are they able to change clothes and why does each outfit they put on disappear when they do? Why does a ghost need or want or is able to drink? How does Marion, in high heels, climb on top of that ledge in their apartment? How does Grant get onto the chandelier? Can they fly?
As I watched this, my first thought was, "Why do they even want to move beyond this point?" They are having so much fun and can pretty much do everything that they could when they were alive, and more, so what is the rush to help Topper? Little is made of heaven or what awaits them there and I wondered why and how they knew what to do and to hurry doing it. Clearly they are still enjoying their earthly material items, such as their wardrobe and their roadster, and get distracted by them.
Speaking of their car; wow, that is one hot vehicle. It was custom built from a 1936 Buick Roadmaster chassis. The supercharger pipes on the side give it a powerful look but they were not real, just decorations. The finned-back looks like it inspired the original comic book Batmobile. The front hood is huge compared to modern cars and looks even bigger when the only space for passengers is that cozy little front seat. Who would want to leave earth when you have that car to drive and a vivacious Constance Bennett by your side?
Photos © Copyright MGM (1937)