Movie Review
Top Hat
They're Dancing Cheek-To-Cheek Again!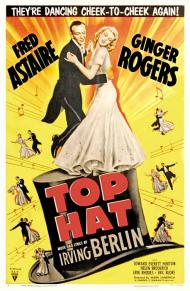 US Release Date: 09-06-1935
Directed by: Mark Sandrich
Starring
▸
▾
Fred Astaire

,

as

Jerry Travers
Ginger Rogers

,

as

Dale Tremont
Edward Everett Horton

,

as

Horace Hardwick
Erik Rhodes

,

as

Alberto Beddini
Eric Blore

,

as

Bates
Helen Broderick

,

as

Madge Hardwick
Lucille Ball

as

Flower Clerk

Reviewed on:
December 24th, 2010
Fred & Ginger were a glorious dance team.
Top Hat followed Roberta, The Gay Divorcee and Flying Down to Rio as the fourth Fred Astaire/Ginger Rogers team up. Top Hat for RKO and MGM's Mutiny on the Bounty were the only movies to gross more than 3 million dollars in 1935. Watching this movie today it is easy to see why it was so popular with depression era audiences. It has fabulous Art Deco sets, Fred in top hat, white tie and tails, and Ginger in gorgeous feathered gowns dancing cheek to cheek.
Even without the glorious dance numbers this would be an entertaining screwball comedy. Ginger thinks that Fred is her best friend's husband making passes at her. This mistaken identity gimmick is milked for all it's worth and was a common plot device in Fred & Ginger pictures. Ginger has a wealthy benefactor named Alberto. He is Italian and Erik Rhodes plays him with an over the top accent. He speaks hilariously broken English.
Edward Everett Horton plays Horace Hardwick, the real husband of Ginger's friend Madge (Helen Broderick). Horton and Broderick are both funny supporting characters as is the previously mentioned Erik Rhodes but Eric Blore steals all his scenes as Horace's loyal butler Bates. He's willing to do just about anything for his boss including eagerly spying on Ginger for him. He has one particularly funny moment where he insults an Italian police officer not realizing that he can understand English.
But it is when Fred & Ginger are together dancing that the movie shines brightest. They were the perfect couple. As has often been stated he brought her class and she gave him sex appeal. Watching this or any of their movies together will also give you some appreciation for the famous quote about how Ginger did everything Fred did only backwards and in high heels.
The story is set in both London and Venice. Not the real places of course, but 1930's Hollywood versions of both. The plot is silly fluff but Top Hat is easy on the eye and with Fred & Ginger formally dressed and in each other's arms it is quite simply pure entertainment.

Reviewed on:
June 30th, 2013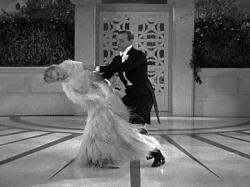 Ginger Rogers and Fred Astaire in Top Hat.
This movie is made from the lightest, silliest fluff. It's the combination of Fred, Ginger, a sterling supporting cast, songs by Irving Berlin and highly stylized sets that allow it to float far above its simple premise. The case of mistaken identity would, in reality, be cleared up in about five minutes. Either Ginger would have asked Fred about his wife or someone, at some point, would have said his real name out loud and the mystery would have been solved. When Fred and Ginger get dressed up to the nines and start dancing cheek to cheek, it hardly matters.
Although there have long persisted rumors that Fred and Ginger didn't get along, the truth seems closer that while they were never that close off screen, they got along just fine. This lack of real life intimacy never shows on screen where the two shared a magical chemistry. They both seem completely smitten with the other and they both light up when the other appears with them. This is particularly noticeable in the dance scenes, of which the highlights are surely their dance in the gazebo during the rain and their most romantic, elegant dance set to "Dancing Cheek to Cheek". That latter number is the height of 1930's sophistication and charm.
As Patrick mentioned, much of the film's humor comes from the supporting cast. Edward Everett Horton is terrific as Astaire's long suffering friend. His banter with his valet is straight out of P.G. Wodehouse and his relationship with his wife is equally funny. Erik Rhodes also provides some laughs. Apparently his caricature of the Italian dress designer in this film so offended Italian officials that this movie was banned in Italy for many years!
The look of the film is nearly a star in its own right. Known during filming as the BWS (Big White Set), it is possibly the most artful Art Deco set ever designed. The rooms are huge and beautifully decorated. The lobby of the hotel appears to be roughly the size of Grand Central Station. They just scream 1930s, but in a good way.
As I said, this is a fluffy little piece of entertainment, but it's a perfect piece of fluff.

Reviewed on:
July 2nd, 2013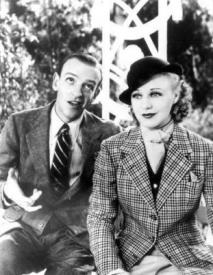 Fred Astaire and Ginger Rogers get caught in the rain and decide to, what else, dance in Top Hat
Both of my brothers mentioned the art deco sets and they certainly do stand out. They are unrealistically large. The hotel rooms look more like small ballrooms, more suitable for dancing than sleeping. The Venice set looks far too clean and new to be even remotely authentic and no one, I repeat, no one swims in the Venice canals. Eeeuuw!
With the main characters breaking into song or a dance whenever the mood strikes, Top Hat is not a film that takes place anywhere near reality. This is the world of romanticized old Hollywood. It is a place where everyone dresses to the nines and Ginger Rogers wakes up with perfectly quaffed hair and unblemished makeup.
I agree with my brothers that the cast is humorously charming and delightful. I too liked the confused Italian fashion designer Beddini, "Never again will I allow WOMEN to wear my dresses!" However, the entire plot hinging on a mistaken identity is even less realistic than the sets. Like Scott wrote, it would take so very little for the secret to come out. Astaire's line, "She's been mistaking me for you this whole time." comes far too late in the film. Of course, when that one line sums up the entire thin plot, it had to be stretched as far as possible.
Fred Astaire and Ginger Rogers were the king and queen of 1930s Hollywood land. On screen they were the epitome of glamor and elegance. They danced or sang when they wanted, and always with the utmost class. As Fred Astaire explains, "Oh, I'm sorry! I didn't realize I was disturbing you. You see, every once in a while I suddenly find myself... dancing."
Photos © Copyright RKO Radio Pictures (1935)
Related Review