Movie Review
Tooth Fairy
You Can't Handle the Tooth
US Release Date: 01-22-2010
Directed by: Michael Lembeck
Starring
▸
▾
Dwayne Johnson

,

as

Derek Thompson / Tooth Fairy
Ashley Judd

,

as

Carly
Stephen Merchant

,

as

Tracy
Ryan Sheckler

,

as

Mick Donnelly
Billy Crystal

,

as

Jerry
Seth MacFarlane

,

as

Ziggy
Julie Andrews

,

as

Lily
Chase Ellison

,

as

Randy
Destiny Whitlock

,

as

Tess
Brandon T. Jackson

,

as

Duke
Josh Emerson

as

Kyle

Reviewed on:
February 11th, 2010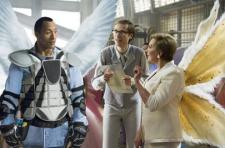 Dwayne Johnson, Stephen Merchant and a slumming Julie Andrews.
The Tooth Fairy is a family film, and as such is bound by the constraints of it's rating. Consider that it is about a bunch of adult human fairies, and the possibility for some good adult humor seems boundless. The movie unfortunately stays family friendly and almost void of humor.
Johnson is a vain minor league hockey player who was once in the NHL. He is now little more than an enforcer, who has a reputation of knocking teeth out of opponents. Fans have nicknamed him the Tooth Fairy. The presence of a new rookie prospect reminds him of his failed career.
After almost telling his girlfriend's four year old daughter, that there is no such thing as the tooth fairy, he is magically summoned to tooth fairy world. There he is berated by head fairy Julie Andrews, who sentences him to two weeks of Tooth Fairy duty. He is given magical equipment, like shrink paste and invisibility spray, from scene stealing Billy Crystal, making like Miracle Max in The Princess Bride.
The theme is that kids, as well as adults, need to believe in something. Johnson dims a young fans dream of becoming a hockey player, and rains on his girlfriend's 13 year old son's desire to become a rock star. Johnson had his Hockey dreams shattered when he hurt his shoulder, so he is bitter. He learns the lesson that it is better to dream and fail, than it is to never dream at all.
Johnson acts as harmlessly charming as he can, but he is saddled with horrible writing. "That's the tooth, the whole tooth, and nothing but the tooth." The antics of him sneaking into homes to take the teeth are not as funny as they could have been. One home thinks they have a ghost, while at another home he has to deal with a cat when he is shrunk. A big muscular guy is sneaking into homes in the middle of the night and those are the best jokes the six writers could come up with? As movies like Shrek have proven, family films can be made to entertain the entire family. Unfortunately The Tooth Fairy is not one of those films.
As a last complaint, I have to point out that it takes place in Lansing, Michigan, during Hockey season, which is in the winter. There is no snow to be seen in the entire film. If you do not know, Michigan gets a ton of snow. I have not seen such an obvious geographical flaw since Goldie Hawn and Mel Gibson took a ferry from Detroit, MI to Racine, WI in Bird on a Wire.
Photos © Copyright 20th Century Fox (2010)