Movie Review
Tonight or Never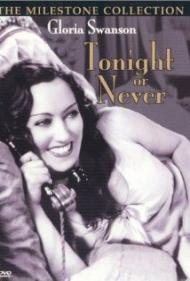 US Release Date: 12-17-1931
Directed by: Mervyn LeRoy
Starring
▸
▾
Gloria Swanson

,

as

Nella Vago
Melvyn Douglas

,

as

Jim Fletcher
Alison Skipworth

,

as

Marchesa Bianca San Giovanni
Ferdinand Gottschalk

,

as

Rudig
Robert Greig

,

as

Conrad
Warburton Gamble

,

as

Count Albert von Gronac
Greta Meyer

,

as

Emma
Boris Karloff

,

as

Waiter
Eric Mayne

,

as

Admirer
J. Carrol Naish

as

Radio Announcer

Reviewed on:
June 20th, 2013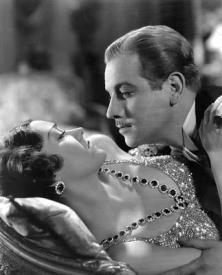 Gloria Swanson and Melvyn Douglas in Tonight or Never
Gloria Swanson's first love was singing. She trained at a young age to be an opera singer and would play a singer several times on film. For Tonight or Never she played a second rate opera singer with a first class ego. Other than when she warms up her voice, we never actually hear her sing.
Nella Vago is an opera singer in the midst of a European tour. The film opens in Venice where she receives less than glowing reviews. Apparently she is technically sound but sings without much feeling. She has been engaged to an old unfaithful man with some minor royal title for three years. They have a very cold emotionless relationship. Meanwhile, Jim, a man she finds very attractive loiters outside her hotel window for hours on end waiting to get a glimpse of her. Nella is informed by her vocal coach that the man in question is a gigolo who spends time with a past her prime old singer, Bianca.
On the train to Budapest, Nella runs into Bianca, who is traveling with Jim. Nella overhears their conversation where Jim compliments her singing but Bianca says of her voice, "It is nothing but an organ. It is as cold and as passionless as one of these American ice boxes." She then has a shockingly adult line where she tells Jim that a King once told her that, "You are not singing with your voice, you are singing with…well never mind what he thought I was singing with."
In Budapest, Jim continues to stalk Nella while she confronts her fiancé about his affairs. After throwing a fit, she decides that she needs some passion in her life. She gets into her sexiest Chanel gown and shows up at Bianca's and Jim's hotel room, after Bianca has gone to sleep. Nella flirts with Jim, who pretends to not pick up on any of her efforts. She makes up a ridiculous story and asks for a light, hoping Jim will ask her to stay.
Gloria Swanson had a fuller figure here than she did in her earlier films. Her gowns, designed by Coco Chanel, show her curves off quite well. This was Melvyn Douglas's film debut playing the gigolo. Their scene together in his hotel room is quite sexy as they each want to bed the other but only on their own terms.
As a pre-code film, some of the dialogue has references to sex. While having dinner with Bianca, Jim says of Nella, "If something or someone would only rouse her, shake her…" Bianca cuts in with, "You'd like to be the alarm clock ay?" The title of the film refers to Jim telling Nella that she has three minutes to decide if she wants to have sex with him, "Tonight or never."
This film is based on a play with most of the original Broadway cast reprising their roles, including Melvyn Douglas. The dialogue is witty and sex is the very heart of the film. At only 80 minutes, this adult comedy is a quick paced little romance, starring a mega star nearing the end of her heyday and a new star just beginning his.
Photos © Copyright Samuel Goldwyn Company (1931)