Movie Review
Tomorrow Never Dies
Yesterday Is A Memory, Today Is History, Tomorrow Is In The Hands Of One Man: Bond, James Bond!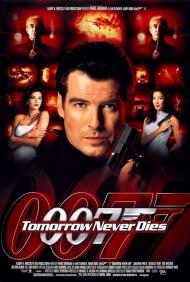 US Release Date: 12-19-1997
Directed by: Roger Spottiswoode
Starring
▸
▾
Pierce Brosnan

,

as

James Bond
Jonathan Pryce

,

as

Elliot Carver
Michelle Yeoh

,

as

Wai Lin
Teri Hatcher

,

as

Paris Carver
Joe Don Baker

,

as

Jack Wade
Judi Dench

,

as

M
Desmond Llewelyn

,

as

Q
Vincent Schiavelli

,

as

Dr. Kaufman
Samantha Bond

,

as

Miss Moneypenny
Colin Salmon

,

as

Charles Robinson
Gerard Butler

as

Leading Seaman - HMS Devonshire


Reviewed on:
December 19th, 2001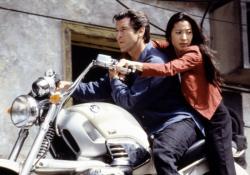 Pierce Brosnan and Michelle Yeoh in Tomorrow Never Dies.
Tomorrow Never Dies is one of Pierce Brosnan's best outings as 007. It follows some traditional Bond formulas, yet maintains a serious tone the entire film. This movie also has the best female characters of any Bond movie.
Media mogul Elliot Carver, is out to report the biggest stories in the world. Most of these stories he is creating himself by blackmail and bribery. His latest story is going to be a war between China and England. A war he is starting unless 007 can intervene.
When I first saw this movie at the theatre I thought the character of Elliot Carver was way over the top. How could anyone get so excited at reporting all this death and destruction. Then I saw Dan Rather on the news two days before President Bush ordered the start of Operation Iraqi Freedom. Rather was smiling as he announced that his news show had reporters all over the middle east to cover every possible angle of the war. Even though Rather is an obvious liberal, you could tell that he was excited by the upcoming war. Lots of exciting news to report, the death, the fighting, the bombing, the minority of people protesting. A war is a veritable banquet of news. Can't you just imagine how high news ratings increase during war time? I am not comparing Rather to the character of Carver other than to say that there are people who desperately hope for big stories, and what's a bigger story than a war?
Bond movies have long been known for their witty dialogue and sexual innuendoe. This movie has some of the best dialogue of any Bond movie. The scene where Bond first reunites with Paris Carver and the following one where Elliot joins the conversation is wonderful. It is full of several undercurrents of meanings.
The best piece of dialogue though belongs to Moneypenny. She is on the phone with Bond who is in bed with a Danish translator who is teaching Bond to speak Danish as they fornicate. Moneypenny's line is "James, you always were a cunning linguist." (say it fast)
So often Bond babes are merely some curvaceous scenery. From Honey Rider, in the first Bond movie, to Jinx in the latest, Bond babes generally are just there for sex and rescuing from the bad guys. Tomorrow Never Dies is a rare exception to this rule. Teri Hatcher plays an old Bond flame who is now married to Carver. Her screen time is limited but she has more character development than any James Bond squeeze. Michelle Yeoh is a Chinese secret agent. There is no character development with her, yet she is the only female counterpart to truly match Bond in an action scene. Much was made about Jinx in Die Another Day, but other than her dive from the cliff she really did little more than any of the other Bond babes.
Whereupon this movie stands out in some unique ways, it also follows some Bond traditions. There is the rich bad guy whose lair explodes at the end. There is his muscle man. This one is a German sadist who says in the movie that a professional torturer Bond killed earlier in the movie "..was like a father to me." He says this as he proudly displays his own collection of torture tools.
Brosnan is easily the best Bond since Connery. In fact, if he keeps making quality Bond movies like this one he will eventually become my favorite. He has British charm and American masculinity. Moore was too soft and Dalton too dull. I hope Brosnan can do several more Bond movies before he passes the torch!
Reviewed on:
August 30th, 2003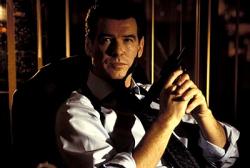 Pierce Brosnan in Tomorrow Never Dies.
It had been a few years since I'd watched Tomorrow Never Dies, but I remembered it as one of the better Bond films. My memory proved accurate. It's a toss up to me as to which of Brosnan's movies is the best. It's either this one or Goldeneye, but I think this one has the edge.
What surprised me about this movie is, as Eric pointed out, just how much Michelle Yeoh did everything as Wai Lin that Halle Berry's Jinx was supposed to be doing for the first time in Die Another Day. Not only did Michelle Yeoh do it first, she also did it better. While Michelle doesn't have the clout that Halle has, believe me, if Wai Lin and Jinx ever got into a fight, Wai Lin would be mopping the floor with Jinx.
While it is true, as Eric mentioned, that newscasters get excited over war and other turbulent world events, that doesn't excuse Jonathan Pryce for his overacting. His performance, while still good, is the weakest point in an otherwise perfect Bond film. Pryce is a great actor and it almost seems that since this was 'just' a Bond film, he didn't need to try as hard.
I also love the Sheryl Crow sung theme song. The songs have always been a big part of the Bond mythos and this one is a worthy entry into the series. It's the best since Sheena Easton sang For Your Eyes Only back in 1981.
One other side note, it was a treat to see Judi Dench share screen time with Geoffrey Palmer again. Fans of British sitcoms will recognize the two as long separated lovers Lionel and Jean reunited in their old age in the long running series As Time Goes By. Some of the banter between Dench's M and Palmer's Admiral is reminiscent of their series.
So strong is this entry in the Bond series that were someone never to have seen a Bond film, this is probably the one I would use to introduce them to it.
Reviewed on:
October 8th, 2003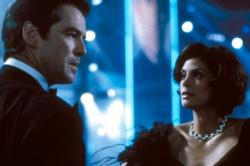 Pierce Brosnan and Teri Hatcher in Tomorrow Never Dies.
Once again I find myself doing the third review for a James Bond movie. One thing's for sure, the quality of the movies in this hugely popular series varies greatly from entry to entry. You never know, going in, whether or not you are in for a treat or a disappointment. As both my brothers have stated Tomorrow Never Dies is one of the better Bond movies and probably Pierce Brosnan's best.
It has one of the best pre-credit action segments. The movie opens at a terrorist's bazaar on the Russian border, where all kinds of deadly weapons are being illegally sold. When Bond goes in to stop the bad guys from making off with some nuclear missiles it is a cheer along moment and a great way to start the movie. Also the fact that M and the rest of the Bond team are watching via satellite makes it even more exciting. And though I don't particularly like Judi Dench in this role, I liked the way she commands… 'Alert NATO and the Pentagon!' Of course that proves to be unnecessary because OO7 is able to stop the terrorists with some amazing flying maneuvers. I like the way he steers the plane with his knees while being strangled from behind by one of the evildoers. The scene ends with a classic Bond quip, 'Backseat flyer.' And then segues into the theme song, which, as Scott said is one of the best in many years. Sheryl Crow sings with a sixties retro sound that recalls the great Shirley Bassey.
It will be interesting to see just whom the owners of this seemingly endless cash cow will choose to replace Brosnan with now that he is nearing the end of his run as the ageless agent. At 50 he is already the second oldest official Bond (Connery was 53 when he reprised the role in the unofficial Never Say Never Again), while Roger Moore was a rickety 58 when he made his last appearance in the role in 1985.
At any rate Tomorrow Never Dies is not only a good Bond movie but it also seems to sum up the timeless appeal of this most debonair of spy's.
Photos © Copyright MGM/UA (1997)