Movie Review
Tom Jones
The Whole World Loves Tom Jones!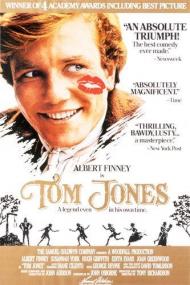 US Release Date: 10-06-1963
Directed by: Tony Richardson
Starring
▸
▾
Albert Finney

,

as

Tom Jones
Susannah York

,

as

Sophie Western
Hugh Griffith

,

as

Squire Western
Edith Evans

,

as

Miss Western
Joan Greenwood

,

as

Lady Bellaston
Diane Cilento

,

as

Molly Seagrim
George Devine

,

as

Squire Allworthy
Jack MacGowran

,

as

Partridge
Lynn Redgrave

as

Susan, Upton Inn
Reviewed on:
July 15th, 2004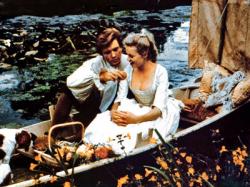 Albert Finney and Joyce Redman in Tom Jones.
This screen version of Henry Fielding's classic 18th century novel is one of the very few comedies to win the Best Picture Academy Award. While it is certainly an entertaining movie featuring a good cast and some truly inspired cinematography, it is also a bit uneven in style. It is in essence a farce, filled with a bawdy sense of humor and told with a knowing wink to the camera. At the same time it is an authentic recreation of life in England more than two-hundred and fifty years ago. Great pains were taken to show the filth and crudity of life, as lived even by the wealthy, at a time before modern conveniences. One scene in particular, of a deer hunt, is brilliant and brutal. But it seems completely out of place given the comedic setting. The movie is too realistic. It's a sitcom trying to be The Deer Hunter.
Albert Finney is the title character, a bastard orphan, raised by a wealthy country squire, whose escapades with women result in an escalating series of misadventures. With a charming combination of innocence and bravado young Tom Jones lives life to the fullest. He falls in lust with a local slattern before losing his heart to the angelic young Sophie Western (Susannah York) the daughter of a neighboring landowner. He eventually sets out to find his fortune and winds up in London, but not before he has several interesting adventures along the way such as briefly joining up with a regiment of redcoats and having a sword fight in the woods. In London Tom has an affair with a wealthy older woman and through a case of mistaken identity winds up in prison waiting to be hanged. But this is, after all, a lighthearted farce so you know that Tom will be exonerated and the secret of his birth will be at last revealed.
The funniest scene is where Tom Jones and one of his many women are sitting across from each other eating dinner at an inn. They begin seducing each other by eating in an overtly sexual manner, licking lips, gnawing on a chicken leg, making bedroom eyes. It has to be seen to be appreciated, but take my word for it, it's hilarious.
I do recommend Tom Jones for those who haven't seen it but at the same time I want to caution any potential viewer that some of the praise that's been heaped on it, over the years, has been a bit exaggerated. Newsweek Magazine, for example, called it "...the best comedy ever made." Ribald fun yes, but a masterpiece it's not.
Photos © Copyright United Artists (1963)