Movie Review
To Sir, with Love
A story as fresh as the girls in their minis. . .and as cool as their teacher had to be!
US Release Date: 06-14-1967
Directed by: James Clavell
Starring
▸
▾
Sidney Poitier

,

as

Mark Thackeray
Christian Roberts

,

as

Denham
Judy Geeson

,

as

Pamela Dare
Suzy Kendall

,

as

Gillian Blanchard
Lulu

,

as

Babs Pegg
Faith Brook

,

as

Grace Evans
Geoffrey Bayldon

,

as

Weston
Edward Burnham

as

Florian

Reviewed on:
April 3rd, 2007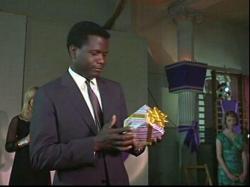 Sidney Poitier in To Sir With Love.
Sidney Poitier was at the pinnacle of his movie career in 1967. Besides To Sir, with Love he also starred in Guess Who's Coming to Dinner? and In the Heat of the Night. Quite a year indeed.
Poitier plays Mark Thackeray an unemployed engineer who takes a job teaching high school in London's East End slums, all the while hoping to land a job in his chosen profession. His students are an unruly lot bordering on the edge of juvenile delinquency. Thackeray first wins their grudging respect and finally their trust and affection. As the title song says he takes them from "crayons to perfume."
This movie is a bit sentimental and the students seem remarkably innocent by today's standards. Still it retains a certain amount of charm that still works. It helps that the movie is set in England. With the exception of Poitier the cast is made up of Brits. The accents on some of them, especially the student's parents, are pretty thick. It is also less concerned with race because of its locale. In the Heat of the Night and Guess Who's Coming to Dinner? are ABOUT Poitier's skin color in white America. But here, Thackeray just happens to be black.
1967 was an important year for movie soundtracks. Both this movie and the even more successful The Graduate, incorporated pop songs to comment on their plots. The title song, gorgeously song by Lulu, is heard no less than 4 times over the course of the movie. Most memorably during a montage of the students on a museum field trip.
Lulu also costarred in the movie as Babs, the bad girl with the good voice. She gives a refreshing performance. It's a shame she didn't become a bigger star here in the States. She was a very talented young woman.
The ending is uplifting if predictable. Thackeray finally receives that long desired job offer, but you just know he won't accept it. "Sir" has discovered his true vocation.
Reviewed on:
April 3rd, 2007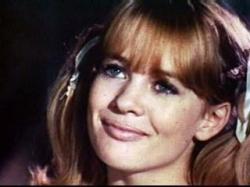 Judy Geeson in To Sir with Love.
Poitier might have been at the pinnacle of his career with this movie, and he may have broken ground for black actors to follow him, but I still think that he's way over rated as an actor. During the scene in this movie where he blows up with anger at the girls for burning a tampon in the stove, he comes across as stiff and awkward. Despite this however, To Sir with Love is probably the only one of his movies that I enjoy and have watched more than once.
Patrick's right that racism plays a more subtle role in this movie than it did in other of Poitier's films, but it is still here, even though it's been toned down a bit from the racism in the book that this movie is based upon. The students at first refuse to attend the funeral of a black student's family member because "people might talk" if a white girl entered a black person's house. Poitier is referred to as a chimney sweep by one of the students, which was a bit of cockney reference to his dark skin. Also, just why is it that a fully qualified engineer can't find a job in engineering but is forced to take work as a teacher in a bad school? Could it have something to do with his skin color?
Perhaps the most amusing aspect of this movie, looking back on it with a modern perspective, is the innocence of it all. The classroom full of tough students would be laughed at today. Their language and their antics are all so mild that rather than be viewed as troubled students; some teachers would probably consider themselves lucky to have them in their classroom.
The ending is, as Patrick said, predictable, but I still find it touching, as Sir has found not only a true vocation, but also a home.

Reviewed on:
August 27th, 2009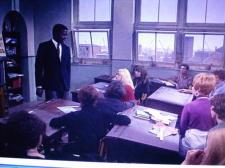 Sidney Poitier in To Sir With Love.
As children, Patrick, Scott and I would listen to our parents old record collection. One of the 45s they owned was Lulu's To Sir, With Love. As I watched this movie I anxiously waited for the version that I remember. As Patrick mentioned, the song is played several times in the movie, but unfortunately none are the version I enjoyed so long ago. In the movie, the song has some different lyrics and is a bit watered down from the louder, more up tempo version I liked. The single for To Sir, With Love was #1 in the U.S. for 5 weeks, but never charted in the U.K. She must have recorded a different version that was not featured in the film.
The movie is in some ways a remake of an earlier Poitier film, Blackboard Jungle (1955), in which he played a rowdy student. Both films are about a teacher trying to get through to a classroom of unruly teenagers. As Scott and Patrick wrote, the kids in this movie are not that bad. They are certainly obnoxious and disrespectful, but they have nothing on the boys in Blackboard Jungle who beat up and try to rape their teachers. In Blackboard Jungle, the teacher gets through to the students by standing up to them. Sir gets through to his students by treating them as adults. He puts the responsibility on them to clean up their act. In real life, I doubt it would have the same success rate, but it works here.
I have come to understand Poitier's strengths and weakness as an actor. Like Scott, I think his acting talent is very limited. When asked to merely deliver a line or smile charmingly, Poitier seems very natural and comfortable. Some of his best scenes are when he silently reacts to what others are saying and doing. The opening scene with the flirtatious women is a good example. However, when he has to act mad he does seem fake.
To Sir, With Love is a time capsule of the late 60's. The theme song, the racial issue, and clothing styles are all tied to another place and time. But the students attitudes and family problems are very relatable. I think this movie, as well as Blackboard Jungle should be shown in schools today. When we move through our teen years, we all think we are the first generation to act as we do. The first generation to have the problems that we have. That previous generations had it so much easier. These movies really help to show that every generation has it's problems, but they always come through it. Just as the theme song has been remade by other artists, this movie deserves to be revisited.
Photos © Copyright Columbia Pictures Corporation (1967)
Related Review