Movie Review
To Have and Have Not
TALK ABOUT T.N.T.! THIS is IT!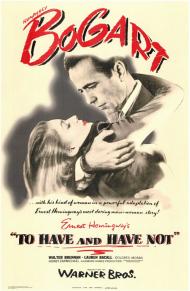 US Release Date: 10-11-1944
Directed by: Howard Hawks
Starring
▸
▾
Humphrey Bogart

,

as

Harry 'Steve' Morgan
Walter Brennan

,

as

Eddie
Lauren Bacall

,

as

Marie 'Slim' Browning
Dolores Moran

,

as

Mme. Hellene de Bursac
Hoagy Carmichael

,

as

Cricket
Sheldon Leonard

,

as

Lt. Coyo
Walter Szurovy

,

as

Paul de Bursac
Marcel Dalio

,

as

Gerard aka Frenchy
Walter Sande

,

as

Johnson
Dan Seymour

,

as

Capt. M. Renard
Aldo Nadi

as

Renard's Bodyguard

Reviewed on:
November 16th, 2011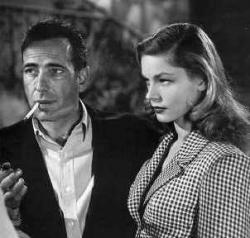 Bogie and Bacall in To Have and Have Not.
To Have and Have Not is a legendary movie for (at least) two different reasons.
First and foremost it is the movie that brought Humphrey Bogart and Lauren Bacall together. In four movies and a famous marriage that lasted until Bogey's death in 1957 they were one of Hollywood's most iconic couples. Although he was 44 and she was only 19 they seemed made for each other. Their sparkling chemistry resonates in every single scene.
Secondly this movie is legendary for its pedigree. It is the only movie to be based (albeit incredibly loosely) on the work of a Nobel prize-winning novelist (Ernest Hemingway) that has a screenplay co-written by another Nobel prize-winning novelist (William Faulkner). Ironically, its most famous line was penned by neither man. It was Howard Hawks who came up with Bacall's flirtatious, "You know how to whistle, don't you Steve? You just put your lips together and blow."
This movie capitalized on the success of Casablanca. Like in that movie Bogey plays an expatriate American living in an exotic locale (in this case it's the Caribbean island of Martinique), romancing a beautiful woman, and eventually rekindling his patriotism by fighting Nazis. In both movies there is a singing piano player (Hoagy Carmichael instead of Dooley Wilson) who performs the occasional song and comments on the goings on around him. Also in both movies Bogey gets involved with rescuing a man and his wife who are fighting for the resistance. Several familiar supporting faces from Casablanca show up here including Marcel Dalio and Dan Seymour. The end result, while very good, is not in the same league as that classic. But then what movie is?
Bogey plays Captain Morgan (first name Harry although Bacall insists on calling him Steve) that rents his boat to fishing tourists. Walter Brennan plays his rummy sidekick to comic effect. Bacall (officially named Marie Browning but Bogey dubs her Slim) shows up as a stranded sultry singer with a scandalous past… You get the picture. The plot isn't as important as the individual scenes between these two legendary stars. Watching them size each other up while doing that age-old dance of seduction is what makes the movie memorable.
Yes, To Have and Have Not is a legendary movie and a must see for any serious movie buff.


Reviewed on:
October 4th, 2012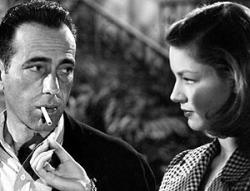 Humphrey Bogart and Lauren Bacall in To Have and Have Not
Like Patrick, I was not so much caught up in the plot as I was struck by the chemistry between Bogart and Bacall. His ugly middle aged mug contrasted with her young flawless face, yet they simmered whenever on screen together. Their dialog exchanges are the film's best scenes.
At one point, Bacall asks Bogart in her distinctive bedroom voice, "Who was the girl, Steve?" Bogart asks, "Who was what girl?" Bacall answers, "The one who left you with such a high opinion of women." She sings a bit in this film and it has been disputed as to whether it was her actual voice singing. Andy Williams stated in a biography that they used his voice, when he was only 14, to dub for Lauren Bacall singing "How Little We Know". Other sources state Bacall did her own singing.
The most romantic scene is when Bacall kisses Bogie and he asks, "What did you do that for?" Bacall explains, "I've been wondering if I'd like it." Bogart asks, "What's the decision?" Bacall teases, "I don't know yet." They then kiss again and Bacall states, "It's even better when you help."
To Have and Have Not was the first of four films Humphrey Bogart and Lauren Bacall made together. Their marriage and working arrangement was one of the most notable in Hollywood. Bacall accompanied Bogie to Africa when he filmed The African Queen, where Bacall became great friends with Katharine Hepburn, who along with Spencer Tracy, would often visit an ailing Bogart at his and Bacall's home, when he was suffering from cancer.
To Have and Have Not is worth seeing simply to watch the start of a truly legendary Hollywood love story.
Reviewed on:
October 21st, 2012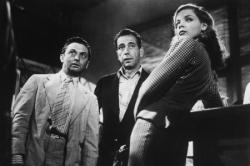 Marcel Dalio, Humphrey Bogart and Lauren Bacall in To Have and Have Not.
I agree with my brothers. It's the sexually charged pairing of Bogie and Bacall that makes this movie worth watching. The plot is basically a remake of Casablanca and bears only a passing resemblance to Hemingway's novel, which was set during the great depression and involves smuggling between Cuba and Florida. Reportedly, Hemingway bet director Hawks that he couldn't film his novel, a bet that Hawks technically won, but considering the changes he made, just barely.
The biggest change in the plot from Casablanca is Bacall's character. Instead of pining for the wife of the resistance leader, Bogie falls in love with the "bad girl". Thankfully, it's this change and Bacall's presence that really makes it all work. Bogie still has a few nice scenes with the wife character, played by the equally beautiful Dolores Moran, but it's the jealous reaction by Bacall to those moments that make them great. Their chemistry is palpable.
While the rest of the movie isn't boring, it's just not very original or exciting. Part of what made Casablanca great was its terrific supporting cast, but apart from Bogie, Bacall and Brennan, everyone else here is fairly forgettable. Hoagie Carmichael's character feels tacked on to the plot to provide a little music, while Sam in Casablanca felt very much like an organic part of the story. And none of Carmichael's songs come anywhere close to "As Time Goes By".
It isn't as though this movie is boring, because it's not. It's a decent enough story, but as my brothers said and I reiterate, the reason to watch this one is to see what sizzling chemistry looks like.

Photos © Copyright Warner Bros. Pictures (1944)