Movie Review
Tigerland
The system wanted them to become soldiers. One soldier just wanted to be human.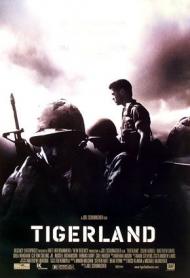 US Release Date: 10-06-2000
Directed by: Joel Schumacher
Starring
▸
▾
Colin Farrell

,

as

Roland Bozz
Matthew Davis

,

as

Jim Paxton
Clifton Collins Jr.

,

as

Miter
Tom Guiry

,

as

Cantwell
Shea Whigham

,

as

Private Wilson
Russell Richardson

,

as

Private Johnson
Nick Searcy

,

as

Captain Saunders
Cole Hauser

as

Staff Sgt. Cota

Reviewed on:
November 9th, 2003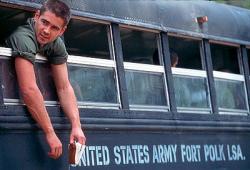 Colin Farrell in Tigerland.
Tigerland is a nonsense war drama. The characters are just rehashed ones seen in other war movies. The movie has little to offer, other than the film debut of Colin Farrell.
In 1971, a group of recruits go through basic training and then to Tigerland. Tigerland is supposed to look and feel like Vietnam. Before they are shipped out, soldiers are to spend time here training so as to have less shock when in Vietnam. They get introduced into the art of staying alive during combat as well as how to get a prisoner to talk.
Bozz (Colin Farrell) and Paxton (Matthew Davis) are two vastly different men going through this training. They defend each other during training and drink and whore together when on liberty. Bozz is against the war and gets into trouble constantly. Paxton is like Charlie Sheen's character in Platoon. He volunteered for the experience. He is also keeping a journal so he can write his experience as a book one day.
Bozz is a rebel, but also a natural born leader. He is able to get no less than three of his men legitimately out of the service. However, his own attempt to leave the Army would make him a criminal. Perhaps he never heard of taking his own advice.
Bozz and Paxton overcome obstacles and assholes while in training. Yet, nothing really happens to these guys. Sure, they get in fights and have sex on weekends. But there is little plot or plot twists. The movie ends as expected.
Director Schumacher uses a hand-held camera throughout much of the training scenes. It has that realistic look that Spielberg already used at the beginning of Saving Private Ryan. It is effective, but what was the point?
The only thing this movie will be remembered for is Farrell. This is an impressive screen debut. His Texas accent is convincing. One other thing is for sure. If Farrell ever does another movie with this many nude scenes, he will sure as hell get paid a lot more money for doing them.
Photos © Copyright Twentieth Century Fox (2000)