Movie Review
3 Wise Girls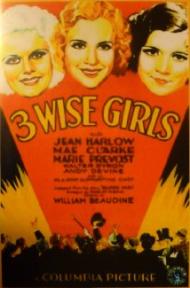 US Release Date: 02-09-1932
Directed by: William Beaudine
Starring
▸
▾
Jean Harlow

,

as

Cassie Barnes
Mae Clarke

,

as

Gladys Kane
Walter Byron

,

as

Jerry Dexter
Marie Prevost

,

as

Dot
Andy Devine

,

as

Jimmy Callahan - Chauffeur
Natalie Moorhead

,

as

Ruth Dexter
Jameson Thomas

,

as

Arthur Phelps
Lucy Beaumont

,

as

Mrs. Barnes, Cassie's Mother
Kathrin Clare Ward

,

as

Mrs. Kane
Robert Dudley

,

as

Lem - the Druggist
Marcia Harris

,

as

Landlady
Walter Miller

,

as

Manager of Drugstore
Armand Kaliz

as

Andre

Reviewed on:
February 10th, 2015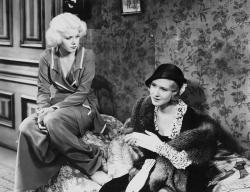 Jean Harlow and Mae Clarke in 3 Wise Girls.
3 Wise Girls is significant in the career of Jean Harlow because it marked the first time she was given top billing. It was also the final film in which she would star that wasn't produced by MGM. These are interesting facts for fans of Harlow's, but as entertainment this movie hasn't aged very well. It's a weak melodrama that works best in its few lighter moments.
Unlike most early Harlow films, she's playing the good girl here. Her Cassie Barnes is a small town innocent who decides to move to New York City in the hopes of finding a good job like her friend Gladys (Mae Clarke). Soon after she arrives in the wicked city, she learns that it isn't easy to get ahead while keeping her morals intact. It turns out that Gladys is a model at an upscale clothing store and also the kept woman of a wealthy married man. She eventually gets Cassie a job at the store with her. The third "wise girl" is Dot, played by a scene stealing Marie Prevost. Cassie shares an apartment with Dot and together these girls make like a pre-code Sex and the City. Cassie finds her "Mr. Big" in the form of millionaire Jerry Dexter (Walter Byron), but is he everything he seems?
Harlow was just 21 years old when this film was released, but she'd already been in show business for 4 years, most of the time in small parts. You can see that at this stage in her career she was still learning the ropes. She was popular with audiences, but not with critics. In an effort to boost her career, MGM executive Paul Bern, who would soon be Harlow's second husband, arranged for her to go on a personal appearance tour across the East coast where she packed in audiences every night. Her popularity exceeded the roles she was being offered. As Cassie she's fine, but it's an uremarkable part. Mae Clarke gets to be more dramatic and Marie Prevost more funny, but Harlow's star quality still shines through.
Despite the soap opera nature of the story, there are a few moments of comedy, mostly provided by Marie Prevost and a young Andy Devine, who plays the chauffeur of Cassie's millionaire boyfriend. Prevost's Dot has the hots for Devine and she isn't shy about showing her attraction to him. Her complaints about her job as a work from home typist are also worth a couple of chuckles.
Being a pre-code film there are a few racy moments. Harlow strips down to her nightie a couple of times, nearly spilling out of it on occasion. It's also obvious that as a mistress, Gladys is having sex with a married man. The ending is strictly moral and the moments of titillation don't stretch the boundaries of what the censors would allow, but they're certainly more adult than what would you see just a few years later.
Although there are a few well acted moments and a running time of barely over an hour, this one is really best left to diehard fans of Harlow.
Reviewed on:
February 18th, 2015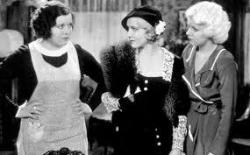 Marie Prevost, Mae Clarke and Jean Harlow in 3 Wise Girls.
In 1931 Jean Harlow and Mae Clarke had both appeared in the seminal gangster picture The Public Enemy. It gave a boost to both of their careers while providing Clarke with an iconic pop culture moment when she was on the receiving end of a grapefruit wielded by James Cagney. By the following year, however, it was Harlow who would receive top billing in 3 Wise Girls. It's not a particularly good movie but, as noted above, it was the film that launched Harlow's career as a leading lady. She would soon leave the relative poverty of Columbia for the much greener pastures over at MGM where she would become the studio's leading female sex symbol and remain so until her untimely death in 1937.
Marie Prevost was another casualty of Hollywood. She died just a few months before Harlow, at the age of 38 from a combination of too much booze and malnutrition (she was in a constant battle with her weight). Although nearly forgotten today, Prevost had been a big star during the roaring twenties, having appeared in several popular Ernst Lubitsch comedies at the peak of her fame. She had started out as a Mack Sennett "Bathing Beauty" while still a teenager and it is her to whom Norma Desmond refers in Sunset BLVD, when she mentions, "little Ree Prevost" standing next to her in line. I agree with Scott that she steals nearly every one of her scenes here. She and Andy Devine provide the only sweet spots in this overcooked sour melodrama.
Other than Devine (and he has a very small part), the men in the picture are all quite generic, played by such dull and unremarkable actors as Walter Byron and Jameson Thomas. The script has quite a cynical view of love and romance with Harlow and Byron being shown as just about the only faithful lovers in town (other than Prevost and Devine – but their relationship takes a back seat in the proceedings).
3 Wise Girls reminded me a bit of another film from 1932 called Three on a Match. In that movie you have Bette Davis, Joan Blondell and Ann Dvorak as best friends. In addition to the similar titles, in both movies one of the ladies meets a tragic end. But Three on a Match is a much harder hitting pre-code example and an all-around superior picture.
There is some enjoyment to be had here. As Scott said, Harlow's star quality was on full display even if her acting talents hadn't yet fully developed. She looks amazing with dramatic eye make-up and dark lipstick, modeling lingerie and, as Scott said, occasionally providing a tantalizing glimpse of her breasts. The movie may not be much good but Harlow is every inch a star in it.

Reviewed on:
November 20th, 2015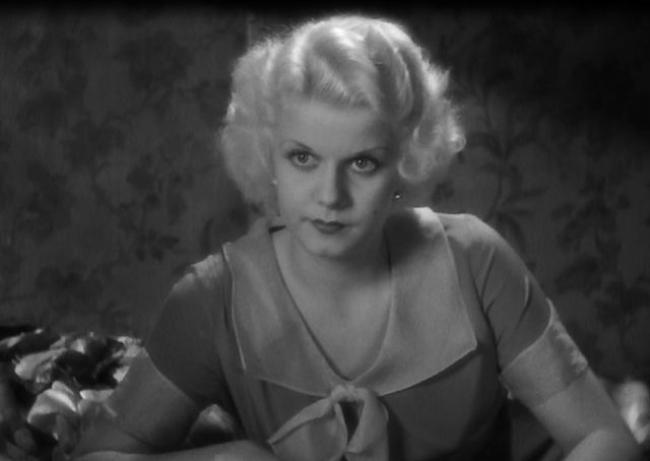 Jean Harlow in 3 Wise Girls
Cassie Barnes, as played by the radiant Jean Harlow, may be a "small town innocent" but she is by no means naïve. When we first meet her she has left a man stranded as he likely wanted sexual favors that she was not willing to give. She then meets a man who offers her a ride. She recognizes that he is implying a fare for that ride and turns him down. Yeah, this girl may be innocent, but she has been around enough to know how men think.
My brothers wrote of the morals of the story but what I found most interesting is the perspective the story is told from. We meet three women who are eager for love and two of them find it in the arms and companionship of married men. They are the "other women." Although Cassie may not have had actual intercourse with her boyfriend, like her kept friend, she is still having a love affair with a married man. By the way the story is told we are intended to sympathize with these "ladies." Hilarious!
Their married boyfriends are likewise never played as villains. Even when Gladys's boyfriend makes a pass at Cassie we see him more as a spoiled little boy wanting to play with a new toy than a reprobate. He does pay the rent on that apartment after all. The men have asked their wives for divorces. Can they help it that their wives refuse to remove the ball and chain?
And there is the punch line. The villains in the film are the married men's wives. How dare they expect their husbands to be loyal and not chase after attractive young women? The scene where Jerry's wife attends the fashion show and has Cassie model a dress for her is the film's best moment. As a dumb struck Jerry stands by, his wife comments how beautiful the dress is and states to the owner that she is not sure if her husband can afford it. Obviously, she is actually talking about Cassie and not the dress so as to make a point to her husband.
Cassie becomes so humiliated by this occurrence that she storms off and breaks up with Jerry. We are intended to feel sorry for her. Now imagine this film told from the wives' point of view. We would have cheered for the wife in this scene because she is brave enough to confront her husband's girlfriend and embarrass her husband in the process. I just could not get over how Cassie and Gladys were written as characters to pity and the wives of the men they are trying to steal away are painted as somehow wrong for not wanting their families to be broken apart.
3 Wise Girls is a questionable movie title. There are some simple lessons here about the grass being greener on the other side of the fence and just how it became that way. Gladys made several bad decisions and concessions to get that lawn and Cassie eventually learns that she does not want to pay for the high price of fertilizer, especially when there are no guarantees it will improve her yard. Dot meanwhile knows that you can have as much fun on a yellow lawn as you can a green one. I think this film should have been called 3 Little Girls, after the 3 Little Pigs story. The first girl builds her house on furs and jewels. The second builds hers on honesty. The third doesn't give a shit what her house is made of just as long as she can bang the chauffeur.
Photos © Copyright Columbia Pictures (1932)