Movie Review
The Three Stooges
Just Say Moe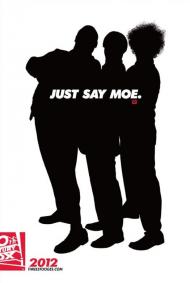 US Release Date: 04-13-2012
Directed by: Bobby Farrelly, Peter Farrelly
Starring
▸
▾
Sean Hayes

,

as

Larry
Will Sasso

,

as

Curly
Chris Diamantopoulos

,

as

Moe
Jane Lynch

,

as

Mother Superior
Sofia Vergara

,

as

Lydia
Jennifer Hudson

,

as

Sister Rosemary
Craig Bierko

,

as

Mac
Stephen Collins

,

as

Mr. Harter
Larry David

,

as

Sister Mary-Mengele
Kirby Heyborne

,

as

Teddy
Carly Craig

,

as

Mrs. Harter
Kate Upton

,

as

Sister Bernice
Marianne Leone

,

as

Sister Ricarda
Brian Doyle-Murray

,

as

Monsignor Ratliffe
Skyler Gisondo

,

as

Young Moe
Lance Chantiles-Wertz

,

as

Young Larry
Robert Capron

,

as

Young Curly
Nicole Polizzi

,

as

Snooki
Avalon Robbins

,

as

Murph
Max Charles

,

as

Peezer
Isaiah Mustafa

as

Moe's Hip Executive

Reviewed on:
April 15th, 2012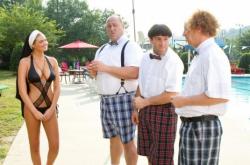 Kate Upton, Will Sasso, Chris Diamantopoulos and Sean Hayes in The Three Stooges.
I've never been a huge fan of the original Three Stooges, not even when I was very young. Their antics are amusing enough when taken in small doses and they can make me laugh occasionally, but I've never loved them in the same way that some guys (it's always guys) take pride in loving them.
Although the Stooges made some feature films, the bulk of their work was in shorts and watching this 90 minute feature, it's easy to see why. Their comedy just doesn't lend itself easily to a sustained full length plot. In a sort of imitation of their shorts, this film is divided loosely into three chapters, each labeled as its own short, but really it's all one story.
The first chapter explores the origin of the stooges, known as Larry, Moe and Curly. They are dumped at an orphanage run by nuns as babies, already complete with their distinctive haircuts. In a nod to the original stooges, a sign above the door of the orphanage says, "Founded in 1934", which was the year the Three Stooges (although they'd been working together for years) made their first short under that name. As they grow up, wreaking havoc along the way, the orphanage goes into debt and will be closed unless the nuns can come up with $830,000.00. The bulk of the rest of the plot involves the Stooges attempts to raise the money, which involves them being hired as murderers and even Moe winding up as a cast member on MTV's The Jersey Shore.
The trio of Hayes, Sasso and Diamantopoulos as Larry, Curly and Moe, throw themselves wholeheartedly into their roles, all doing fairly decent impersonations of the original, at least to my casual eye. And for sure this is an impersonation. The cast and the Farrelly brothers, who directed, aren't trying to break any new ground, despite bringing the story into the modern world. The Stooges retain their Brooklyn accents, for example, despite being nowhere near New York.
I won't lie. I did laugh a few times. Larry David is funny as Sister Mary-Mengele, the Stooges nemesis at the orphanage. Some of the physical antics are funny in a cartoony way, but not always. I could easily have done without the babies peeing scene, which is definitely the movie's most distasteful moment.
As a sign of the times, there is a message at the end of the film warning kids not to try any of the Stooges' moves at home and even features a demonstration and deconstruction of rubber props and an eye poke.
Bigger fans of the Stooges may enjoy this movie more than I did, as might younger children since much of the action is on par with a cartoon. The marketing campaign, with its, "It's rated PG, so you can bring your parents." tagline, certainly seems to be aiming for kids. It's a bit of innocent fun, despite all the violence and the presence of SI swimsuit model Kate Upton as a nun in a bikini habit.
If the same cast and filmmakers had produced a short instead of a feature film, I might have praised their effort, but there's not enough substance or laughs to sustain a full length movie.

Reviewed on:
April 16th, 2012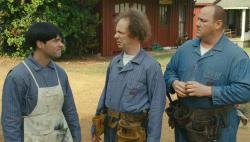 Chris Diamantopoulos, Sean Hayes and Will Sasso as the Three Stooges.
As a huge fan of the original Three Stooges, I donned my Three Stooges t-shirt and took my sons to see if this remake could possibly live up to it's namesake. For the record, my oldest son wore Hollister, while my younger wore a t-shirt depicting his favorite Stooge, Larry Fine.
I agree Scott, that the Three Stooges's sense of humor does not lend itself to a feature length film. Bobby Farrelly and Peter Farrelly obviously did as well. Breaking up the film into three episodes was just one of many aspects reminiscent of the original. The feature length films the real Three Stooges made late in their careers featured Curly Joe, who replaced Shemp, who replaced Curly, so they barely count anyway.
The first segment is my favorite. It features the three stooges as babies, boys and middle aged men. They wreak havoc as they torment the nuns. They mostly disturb, and perturb, a scene stealing Larry David in nun drag. It also contains a moment of heart when Moe gets adopted but refuses to abandon his two buddies, allowing another orphan to be adopted instead. As adults they run into him where they ask if he remembers them. Moe proudly states, "Remember, we taught you how to play with matches?"
My youngest son enjoyed catching all the Larry Fine in jokes. In one scene as children, they feign innocence with Larry pretending to play the violin. Larry playing the violin was a big part of a short where Curly boxed. In another scene Larry says, "Ah vava voo...." which he said in short films as well, sometimes when flirting with a girl.
All three of the actors have the mannerism and voices down really well. Will Sasso has the blank stare and holds his hands as Curly did, but at 6'3" he is well above Curly Howard's 5'5" round build. Chris Diamantopoulos as Moe seems to be working the hardest. He constantly holds his head down into his shoulders and maintains that scowl. He deserves credit just for having to share a scene with Snooky. For my money, Sean Hayes does the best job. His Larry Fine is spot on. With the wig, there is a physical resemblance. Several jokes are made at it's expense. He has Larry's voice down pat as well. Listen to him say such lines as,"How many boogers we talking?"
My sons and I laughed at all the slaps, pokes and one liners. Fans of the original shorts will also note the name plates on the law firm doors. They are all jokes in and of themselves. It was a gimmick often employed in the original shorts, such as a law firm called, "Dewey, Cheetum and Howe."
Although most of the slapstick works, not all of the jokes are gems. I liked the baby boys squirt gun battle but the fish stand joke falls completely flat. There is a heavy dose of children here, while they were mostly absent in the original shorts. Where the movie really separates itself from it's source material is in the heart warming ending. The original guys usually ended the film worse off than than how they started it.
Fans of the original Three Stooges should not be offended by this remake. It pays homage to, them, as well as adds to the Stooges legacy. Scott mention that, "As a sign of the times, there is a message at the end of the film warning kids..." This is not a modern idea created by the Farrelly brothers at all. When the shorts first became popular on television the three surviving Stooges, Moe, Larry and Curly Joe did a television promo where they demonstrated how the eye poke was actually a forehead poke and warned children not to try it at home.
Reviewed on:
August 1st, 2012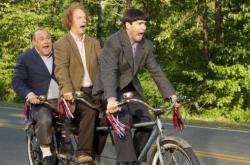 Will Sasso, Sean Hayes and Chris Diamantopoulos as Curly, Larry and Moe in The Three Stooges.
We all agree on one thing. The Three Stooges' brand of slapstick comedy is better suited for two-reelers than feature length films. This movie should have been about 20 minutes shorter. Still I enjoyed it more than I thought I would. The three actors do a fine job as the Stooges and the humor - for the most part - is of the old-fashioned variety that would have been at home in an original Three Stooges short.
Like Eric, I liked the first episode best. I enjoyed seeing the Stooges as kids and their interaction with the nuns was quite funny. The slapstick and corny puns just keep coming. When the large church bell the Stooges are working on falls off the roof and lands on a nun's head Larry asks, "Uh-oh. Is that Sister Mary-Mengele?" In response Curly quips, "I don't know, but the face rings a bell."
Although the Stooges carry the show the supporting players each get a few good moments. Jane Lynch is funny in anything she does. Larry David is good as a nun in drag. Jennifer Hudson shines when she sings "This Little Light of Mine" as a send off to the Three Stooges as they set out into the world. Sofia Vergara tackles the physical comedy like a trooper. The Jersey Shore gang are typically clueless. They even threw in the sexy Isaiah Mustafa as Moe's agent. He is famous for being shirtless in those Old Spice deodorant commercials.
I do agree with Scott about the baby peeing scene. I dropped half-a-star from my review because of it. It is not only disgusting but it would never have been included in an actual Stooges movie. The original Stooges were violent and crude but they would never have included a scene where they have urine dripping down their faces.
As an homage to the original Three Stooges this movie works (with the exception of the baby piss fight). I laughed out loud a few times and chuckled several more. But in all honesty I was definitely ready for it to end by the time the credits rolled. The ultimate test of the movie's success can be gauged by a simple question though. Did this movie make me want to watch old Stooges shorts? The answer to that question is yes. But I highly doubt I will ever want to watch this movie again.
Photos © Copyright 20th Century Fox (2012)