Movie Review
The Three Stooges Meet Hercules
See Hercules - Man of Steel meet the maniacs of mayhem!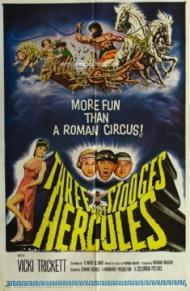 US Release Date: 02-15-1962
Directed by: Edward Bernds
Starring
▸
▾
Moe Howard

,

as

Moe
Larry Fine

,

as

Larry
Joe DeRita

,

as

Curly Joe
Vicki Trickett

,

as

Diane Quigley
Quinn K. Redeker

,

as

Schuyler Davis
George N. Neise

,

as

Ralph Dimsal / King Odius
Samson Burke

as

Hercules

Reviewed on:
March 20th, 2015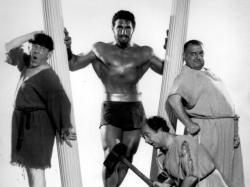 Moe Howard, Samson Burke, Larry Fine and Joe DeRita in The Three Stooges Meet Hercules
After Have Rocket…Will Travel, it was apparent that the Three Stooges shtick, although still able to generate laughs, was not enough to fill an entire feature film. Their follow up movie, Snow White and the Three Stooges, was given a much bigger budget and was even filmed in color. It was a take on the popular story as to give an actual plot for the three Stooges to exist in. However, their classic slap and abuse routines were trimmed in response to the outcry over their popular shorts, then being shown on television and influencing children to hit each other. Moe Howard even later called Snow White and the Three Stooges a "Technicolor mistake".
In their next film, The Three Stooges Meet Hercules, the Three Stooges finally found their feature film rhythm. Even though the budget was about one sixth of Snow White it was more successful and considered a far superior film. Its success inspired Columbia pictures to give the stooges a three picture deal. Some credit should be given to Norman Maurer who wrote the story and was married to Moe's daughter. He would write two more of their films.
The movie begins with the line, "Filmed in glorious black and white", which is where the stooges belong. Come on, these guys are ugly enough in black and white. We find Moe, Larry and Curly Joe working as druggist. They fight, make messes and break things just as we always remember them doing. We meet Schuyler, an inventor next door who is working on a time machine. He is a tall good looking guy but has no self-confidence. His girlfriend Diane is disappointed in how he never stands up for himself.
Before you know it, the stooges fix the time machine and send themselves, Schuyler and Diane back in time to ancient Greece where they meet Hercules and King Odius, who has eyes for Diane. The Greeks think they are Gods as they appear in the middle of a battle, sending one army fleeing in terror. They make the classic mistake that Ernie Hudson explains to Bill Murray in Ghostbusters, "Ray, when someone asks you if you're a god, you say "YES"!"
The stooges are invited to a feast to celebrate King Odius's victory. Curly Joe sits next to Hercules and marvels at how he opens nuts by cracking them in his arm when he flexes. The king looks disapproving at Hercules as the noise is interrupting his speech. The big muscle head looks completely shamed and bows his head. Schuyler suddenly realizes that their sudden appearance at the battle has changed history and it is up to them to set things straight. They help the other king escape and hideout in a women's bath, dressed as female slaves. They are commanded to massage, bathe and dry the beautiful young ladies. Awkward sexual tension ensues to comic affect.
Hercules soon catches them and King Odius sentences them and Skylar to be slaves on a galley, rowing until the ends of their days. Odius meanwhile arranges for Diane to marry him against her will. They row for months, growing beards while Schuyler grows muscles and balls. They eventually escape and return to save Diane with Schuyler's new found physique challenging Hercules.
My favorite bit in the film is when they ask someone how to get back to Ithaca. He gives them many different confusing directions until the flustered man finally just says, "If I were you I wouldn't start from here." Note the pond in the background as it is obviously the same place they filmed a scene in Have Rocket…Will Travel.
The Three Stooges Meets Hercules was a hit as it capitalized on the Three Stooges resurgence, the body building craze and Steve Reeves's popular Hercules movies. It is historically inaccurate and a bit cheesy but it found the right mix of story and Three Stooges antics.
Photos © Copyright Columbia Pictures (1962)
Related Review