Movie Review
Three Poplars at Plyuschikha Street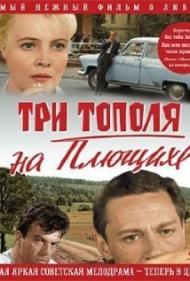 Russia Release Date: 04-29-1968
Directed by: Tatyana Lioznova
Starring
▸
▾
Tatyana Doronina

,

as

Nyura
Oleg Efremov

,

as

Sasha
Vyacheslav Shalevich

,

as

Grisha
Alevtina Rumyantseva

,

as

Nina
Nikolai Smirnov

,

as

Uncle Yegor
Valentina Telegina

as

Fedosya Ivanovna
Reviewed on:
April 23rd, 2015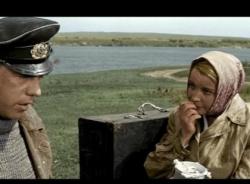 Vyacheslav Shalevich and Tatyana Doronina in Three Poplars at Plyuschikha Street.
Three Poplars at Plyushchikha Street (Tri topolya na Plyushchikhe) tells a simple yet profoundly moving story. Inspired by the popular Russian song "Tenderness (Nezhnost')" and directed by Tatyana Lioznova, Three Poplars at Plyushchikha Street struck a deep chord with Soviet audiences in 1968 and over the years has become a beloved classic in its homeland, sometimes referred to as the "Casablanca" of Russia.
This is the story of Nyura, played by Tatyana Doronina. She's a pleasantly plump Russian farm wife with a husband who's always away at work on the river, several young children to care for, and an active fantasy life. Tatyana Doronina possessed a beautifully expressive face reminiscent of a young Gena Rowlands. Her performance is full of wistful longing. The director captures this faraway look in her star's eyes in the many lingering closeups of Nurya.
The plot is simply this. Nurya takes an overnight trip to Moscow to sell some farm goods and to check up on her sister-in-law at her husband's insistence. What she doesn't expect is to feel an instant mutual attraction with her taxicab driver named Sasha. He's played by Oleg Yefremov and just to keep the Casablanca comparison going, he looks a bit like Humphrey Bogart, especially the way he holds a cigarette and squints while inhaling.
At one point it begins to pour, turning the taxi into their own private cocoon with a cascading sheet of water between them and the world. Sasha and Nurya strike up a conversation and their talk turns to music. Nurya mentions her favorite song, "Tenderness", and Sasha asks her to sing it. She does so, revealing a sweet yet halting soprano singing voice. Sasha is respectful yet attentive and Nurya glows in his company. Impulsively, Sasha invites Nurya to go to the movies with him later that evening. They will meet at a cafe called Three Poplars on a street called Plyushchikha, which happens to be across from the apartment building where Nurya's sister-in-law lives. The question becomes will she or won't she keep the date.
The cinematography is quite stunning. The juxtaposition of the old fashioned life led in the country with the modern world of 1960's Moscow is shown to great effect. Nurya journeys to the city riding on the back of a horse drawn wagon. There are many panoramic shots of Moscow as it looked in 1967. The director includes a few brief fantasy sequences depicting Nurya's imagination that add a certain element of whimsy to the story. The acting, especially by Doronina and Yefremov, is sublime. They have a palpable chemistry together and both express so much emotion with just their faces.
Three Poplars at Plyushchikha Street is a beautifully shot and masterfully acted romance about what if...
Photos © Copyright Gorky Film Studios (1968)