Movie Review
The Three Musketeers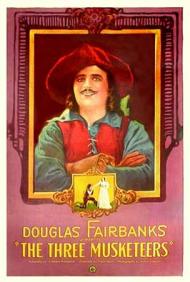 US Release Date: 08-28-1921
Directed by: Fred Niblo
Starring
▸
▾
Adolphe Menjou

,

as

Louis XIII
Mary MacLaren

,

as

Anne of Austria
Nigel De Brulier

,

as

Cardinal Richelieu
Thomas Holding

,

as

Duke of Buckingham
Marguerite De La Motte

,

as

Constance
Willis Robards

,

as

De Treville
Boyd Irwin

,

as

Rochefort
Barbara La Marr

,

as

Milady de Winter
Lon Poff

,

as

Father Joseph
Walt Whitman

,

as

D'Artagnan's Father
Sidney Franklin

,

as

Bonacieux
Charles Belcher

,

as

Bernajoux
Charles Stevens

,

as

Planchet
Leon Bary

,

as

Athos
George Siegmann

,

as

Porthos
Eugene Pallette

,

as

Aramis
Douglas Fairbanks

,

as

D'Artagnan
Douglas Fairbanks Jr.

as

Boy


Reviewed on:
January 6th, 2014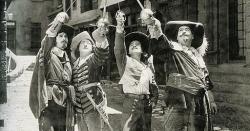 One for all and all for one.
After the success of The Mark of Zorro (1920), Douglas Fairbanks starred in and produced Alexandre Dumas' classic The Three Musketeers. It seemed like the perfect choice for him. It is another swashbuckling role with the potential for plenty of action. Although it is by no means the best version, it is one of the first and we must wonder how it influenced later interpretations.
Fairbanks stars as young D'Artagnan, who goes to Paris to fulfill his dream to become a member of the King's royal swordsmen known as The Musketeers. Soon after arriving in Paris he meets and befriends three of the best Musketeers, Aramis, Porthos and Athos. D'Artagnan also meets and fallis in love with Constance, a maiden to the Queen. He soon finds himself caught up in palace intrigue, involving a royal affair and at odds with Cardinal Richelieu, who is trying to use the affair as a power grab.
As this is a Fairbanks production, I waited in earnest for the action to begin. It was not until nearly the 40 minute mark before he did any sort of acrobatic maneuver. Fairbanks was not much of an actor. The only time he is interesting on screen is when he is moving. The pace picks up once all the characters are established and the plot is set in motion. This starts with D'Artagnan rescuing Constance and carrying her over roof tops to safety.
In the original credits, Fairbanks insisted he be listed last. He knew he was the star and did not need to brag about it. Also in the cast is Adolphe Menjou as King Louis XIII. He would go on to a long career playing alongside such other stars as Gloria Swanson and Rita Hayworth. Eugene Pallette would go on to success in remakes of Douglas Fairbanks's films, The Adventures of Robin Hood (1938) with Errol Flynn and The Mark of Zorro (1940) with Tyrone Power.
Although the 1974 version is my favorite, this version has much to offer. Besides watching Fairbanks in action, there are some humorous moments. D'Artagnan's assistant is described as a man who spits into the river to see which way it flows. The poor guy gets fed from the table like a dog.
Marguerite De La Motte is by no means Raquel Welch, whose Constance was a fairly easy lay compared to this one, who is more of a tease. She flirts with D'Artagnan to get him to get the jewels back for the queen. D'Artagnan moves in for a kiss but Constance puts her hand between their lips and says, "When you come back."
Silent film directors had to convey emotions without lots of dialogue. Often this was done with broad arm waving and over-acting. Sometimes though, it was more subtle, such as when Cardinal Richelieu schemes we see his hand caressing the arm of his chair. There is also a scene where he strokes a cat. Something we would see Blofeld do when contemplating the demise of James Bond and mob boss Vito Corleone do when in a meeting.
Fairbanks films were about the big action pieces and his stunts, such as when he climbs over a gate by way of a man's back. Those scenes are however surprisingly few and far between. The Three Musketeers is not my favorite of Fairbanks's films. There is just too much story here for him to handle.
Reviewed on:
January 7th, 2014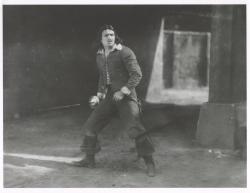 Douglas Fairbanks in The Three Musketeers.
Eric wrote that Fairbanks wasn't much of an actor, but I'd go much further than that. He was an acrobat with a mustache and a nice smile, but he was a lousy actor. His arm throwing and over emoting are some of the worst ever produced by a silent film star. His acting represents everything I hate about silent films. A movie like this, with a rich plot dividing the action scenes, only accentuated his limitations.
Alexandre Dumas' The Three Musketeers must be one of the most adapted novels of all time. This was the sixth version to put the story on film and it has since been adapted a further twenty times, not including animated versions and other spoofs. It's easy to see why since there's lots of adventure, sword fights and derring-do, along with heroes to root for and two great villains in the form of Cardinal Richelieu and Milday de Winter. With so many adaptations to choose from, you're rather spoiled for choice and unless you're a completist or a huge Douglas Fairbanks fan there's really not much reason to watch this one.
Fairbanks was 38 years old when he made this movie and he looks it. d'Artagnan is supposed to be a young man, which is something Fairbanks can't pull off. He also looks heavy here, almost jowly with extra weight around his chin. He would be much trimmer a few years later when he appeared without a shirt in The Thief of Bagdad. Perhaps his seeming lack of fitness accounts for the lack of stunts when compared to other films of his, although he still manages to do quite a lot of running about and sword fighting.
The three musketeers of the title get short shrift in this adaptation. There's barely anything beyond their appearance to differentiate between them as we learn nothing of their past or personalities. The actors playing them do little to distinguish them either.
One odd aspect of the story, that is no fault of the script since it's taken from the original novel, is that the main gist of the plot is for d'Artagnan and the Musketeers to keep the Queen of France and her English lover's affair a secret from the King. Given that the musketeers are the King's personal army, it just goes to show where their real loyalty lies, but perhaps that's just the French being French. Although, as I said, this plot point is in nearly every version of the story, it struck me stronger with this version that the heroes of the story were protecting an unfaithful wife and a nobleman from a country that was traditionally France's enemy.
I freely admit that I am not a fan of silent movies. Sometimes I can admire them and on rare occasions even enjoy them, but this one was a real chore to sit through. Apart from some of the action scenes, I found nothing in it to recommend it. Eight years later, Fairbanks would return to the part for a sequel, The Man in the Iron Mask, and this movie did nothing to make me want to rush to see that one.
Reviewed on:
January 15th, 2014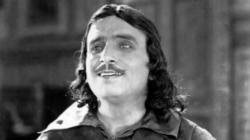 Douglas Fairbanks as D'Artagnan in The Three Musketeers.
This version may not be particularly faithful to the Dumas novel but it contains the main gist of the plot and captures its adventurous spirit. The sets are quite lavish in this sprawling costume epic. They were designed with Fairbanks' size in mind, thus more easily enabling him to run, climb and leap around on them; the Paris street sets being the most impressive.
Fairbanks once again gives his all, moving about the screen with consummate grace. There is one stunt that stands out above the rest, but it happens in the flash of an eye so you must pay attention to catch it. Doug does a one-handed hand spring and grabs a sword in his other hand in midair. It's worth watching in slow-motion to see this amazing acrobat in his full glory.
Fred Niblo was a gifted silent movie director. He especially knew how to stage and film large crowd scenes, of which this movie features several. He had previously worked with Fairbanks on his star making turn in The Mark of Zorro, and would go on to direct Valentino's Blood and Sand as well as the 1925 version of Ben-Hur, which stands as his masterpiece.
It was interesting seeing Eugene Pallette before he gained so much weight. He makes a rather unlikely Aramis as I have never thought of him as heroic. He appeared in well over a hundred silent movies dating all the way back to 1913, but is best remembered today for his gravelly speaking voice in talking pictures. Eric mentioned several of his action flicks but I always think of him in his many rich guy/father roles in screwball comedies like My Man Godfrey, The Bride Came C.O.D., and The Lady Eve.
Fairbanks' D'Artagnan dominates the picture at the expense of the other Musketeers. As Scott wrote, none of them are given a distinct personality. The villain's fare much better. Nigel de Brulier is memorable as the voracious Cardinal Richelieu, Barbara La Marr makes a stunningly sinister Milady de Winter, and Lon Poff's Father Joseph looks like a walking corpse.
This Three Musketeers is a bit on the slow side however, and I agree that Fairbanks was clearly not at his most attractive. The wig he wears throughout the picture is quite unflattering and (as Scott wrote) his face is on the heavy side (see photo). He was definitely more appealing as Ahmed in The Thief of Bagdad. This may not be his best work but it is a must see for Douglas Fairbanks' fans and/or for any fans of silent movie epics.
Photos © Copyright Douglas Fairbanks Pictures (1921)
Related Reviews