Movie Review
Thousands Cheer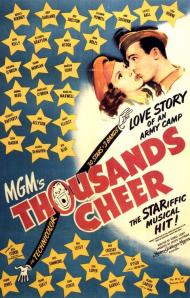 US Release Date: 09-13-1943
Directed by: George Sidney
Starring
▸
▾
Kathryn Grayson

,

as

Kathryn Jones
Gene Kelly

,

as

Private Eddie Marsh
Mary Astor

,

as

Hyllary Jones
John Boles

,

as

Colonel Bill Jones
Ben Blue

,

as

Chuck Polansky
Mickey Rooney

,

as

Himself
Judy Garland

,

as

Herself
Red Skelton

,

as

Himself
Eleanor Powell

,

as

Herself
Ann Sothern

,

as

Herself
Lucille Ball

,

as

Herself
Frank Morgan

,

as

Himself
Lena Horne

,

as

Herself
Marsha Hunt

,

as

Herself
Marilyn Maxwell

,

as

Drug Store Clerk in Red Skelton Skit
Donna Reed

,

as

Customer in Red Skelton Skit
June Allyson

,

as

Herself
Gloria DeHaven

,

as

Herself
Margaret Obrien

,

as

Herself
Cyd Charisse

as

Dancer in Don Loper Number


Reviewed on:
November 12th, 2008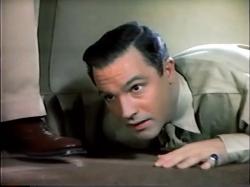 Gene Kelly in Thousands Cheer.
Thousands Cheer would have been more aptly named Thousands Cameo. This thin plotted film is more of an excuse to feature a plethora of MGM stars than it is to actually tell a story. As a movie buff it was nice to see so many stars in one film, even under such preposterous devices.
Gene Kelly plays the star of a family trapeze act who gets drafted into the army. The prima donna has a hard time learning to be just another soldier in the Army. He makes matters even worse when he falls in love with the Colonel's singing daughter.
The entire point of the film is to get to an extended show, put on for the troops. Mickey Rooney emcees it and introduces each act. His best moment is when he imitates Clark Gable and Lionel Barrymore from Test pilot. When he first walks on stage the entire audience of soldiers yell, "Hi-ya Mickey!"
The show features a huge cast of stars and several different bands. It was obviously all filmed on different stages. Red Skelton shows that Jim Carrey was not the first comedian to make money by making faces. Lena Horne does a number that would later be used in That's Entertainment. Lucille Ball was some 10 years away from television stardom, and looks very attractive in technicolor. Judy Garland has the best song as she sings boogie boogie to a piano player who likes to play classical music. The best performance of the movie though, is Gene Kelly dancing by himself with a mop. His athleticism is still amazing all these decades later.
Thousands Cheer is a patriotic film, meant to inspire and uplift the American soldier during World War II. By the end, Kelly at a court martial, is begging to go overseas and serve his country. The lesson of duty and honor to serve as a member of the U.S. armed forces rings very loud and clear.
Reviewed on:
October 15th, 2009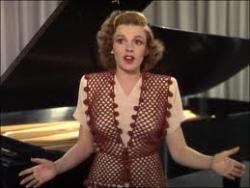 Judy Garland in Thousands Cheer.
MGM turned what was originally going to be a modestly budgeted musical starring Kathryn Grayson and Gene Kelly, both of whom were rising young stars, into a big budget revue. Eric, the original idea for this movie was not just as a pretext to get to the extended show. It was actually the opposite. The extended show was tacked on to a story originally called "Private Miss Jones".
The world was at war in 1943 and Hollywood was doing its duty by providing escapist entertainment clearly aimed at our brave boys in uniform. Musical revue's were popular with the troops. They had singing and dancing and slightly naughty comedy numbers all of which featured beautiful women.
The story is charming if rather slight but Grayson and Kelly have fine chemistry as do John Boles and Mary Astor as Miss Jones' parents. The revue though is clearly the best part. Lena Horne performs a sultry version of "Honeysuckle Rose" and Judy Garland closes the show with a bang. In between are a few big band boogie woogie numbers. I agree that Mickey Rooney's impression of Clark Gable and Lionel Barrymore in Test Pilot is the funniest bit. Also Eleanor Powell's tap solo is amazing. Can anyone dance like that in one take anymore? The only real clunker is the Frank Morgan burlesque routine where he plays a barber posing as a doctor who gets to inspect some female recruits. It hasn't aged well.
Thousands Cheer is a patriotic time capsule. The final song is blatant propaganda as well as being prescient. It plays like a commercial for the UN and foresees a new world order just over the victory horizon. Yes we won the war but Pandora's nuclear box was opened and things would never be the same. This movie is a time machine to a younger, more innocent America.
Reviewed on:
October 21st, 2009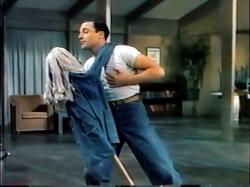 Not even Gene Kelly can salvage much from this movie.
This is a time capsule alright. It shows what entertainment was like when it was released, but it's not entertainment that ages well. It's old-fashioned, big-time spectacle, but as a movie in general it's not very good.
I've always been a fan of Gene Kelly, but even he can't liven this story up very much. Sure, his dance with the broom is nice, totally surreal and out of character, but nice. If I've ever seen Kathryn Grayson in something else, I've forgotten, but I wasn't particularly impressed. She's cute enough, but her style of singing isn't my cup of tea.
To be fair, it's not the actor's fault this movie is so bad. It's the writing. Obviously its whole point is to celebrate the current soldiers and recruit new ones. This message is delivered straight to the head with a star and striped covered sledgehammer. It was a time of war so you can't really argue with the message, but surely they could have come up with a more subtle method to get it across.
Clearly we all agree that Judy is a highlight of the big show at the end. Grayson sings like she wants to do opera, but Judy belts out a tune in a far more entertaining manner. Apart from her, Mickey has a few moments, but I was unimpressed by the rest of the show. Maybe I'd have been more impressed if I was more familiar with some of them, but Eleanor who? And what was up with that dig a ditch song?
I guess if I was likely to be shot by a Nazi the next day, I might be glad of some distracting Hollywood spectacle like this, but without that lethal threat looming over my head I was just left bored.
Photos © Copyright Metro-Goldwyn-Mayer (MGM) (1943)