Movie Review
Thoroughbreds Don't Cry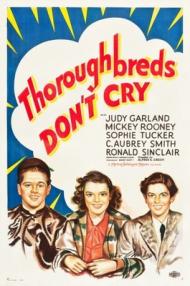 US Release Date: 11-25-1937
Directed by: Alfred E. Green
Starring
▸
▾
Ronald Sinclair

,

as

Roger Calverton
Judy Garland

,

as

Cricket West
Mickey Rooney

,

as

Timmy Donovan
C. Aubrey Smith

,

as

Sir Peter Calverton
Sophie Tucker

,

as

Mother Ralph
Frankie Darro

,

as

'Dink' Reid
Francis X. Bushman

,

as

Racing Steward
Elisha Cook Jr.

as

Boots Maguire
Reviewed on:
May 6th, 2009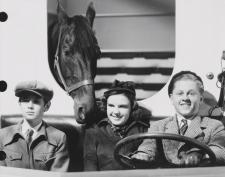 Ronald Sinclair, Judy Garland and Mickey Rooney.
This was the first onscreen teaming of Judy Garland and Mickey Rooney. Ironically neither is the true star of the movie. MGM originally planned Thoroughbreds Don't Cry as a vehicle for Freddie Bartholomew, their reigning juvenile star. He withdrew after a contract dispute and was replaced by Ronald Sinclair as the proper English chap Roger Calverton. No matter, both soon passed into obscurity while Garland and Rooney became legends.
Rooney is Timmy Donovan a brash loudmouthed jockey who backs up his bragging with talent. Garland is Cricket West, her mom (Sophie Tucker) runs a boardinghouse for jockeys. Cricket plays the piano, sings and does Garbo impressions. Roger Calverton comes to America with his grandfather (C. Aubrey Smith) and his horse The Pookah. They convince Donovan to ride The Pookah for them. Timmy's crooked father tricks him into throwing the race by convincing him that he is gravely ill and needs an iron lung. Melodrama and some lighthearted moments ensue leading up to the ending at "The Big Race".
Plot isn't this movies' strong point. It does demonstrate the talents of Garland and Rooney as they were both on the cusp of superstardom. He is all energy and gruff attitude. Her wide-open face and big voice were already fully developed as was her natural comic flair. The best scene they share together comes after Donovan hits Roger and Cricket rushes to his defense daring Timmy to hit her too.
Judy gets only one song "Gotta Pair of New Shoes", although she sings it several times over the course of the movie including the opening credits. Sophie Tucker steals every scene she is in, but the Last of the Red Hot Mamas isn't given a single song to belt. Her funniest moment is when she tells a racetrack usher to, "Go ahead and ush!"
There is one very funny unintentionally homoerotic moment between Rooney and Sinclair. Timmy is teaching Roger to ride. Rooney is sitting behind Sinclair on a horse and the motion of Rooney's thrusting hips behind Sinclair's raised behind is quite comical.
Thoroughbreds Don't Cry is worth watching for one reason. To see the moment when a just turned 15, Judy Garland, and an almost 17, Mickey Rooney created their legendary onscreen chemistry and teamwork. And that is a damn good reason.
Photos © Copyright Metro-Goldwyn-Mayer (MGM) (1937)