Movie Review
The Thomas Crown Affair
How do you get the man who has everything?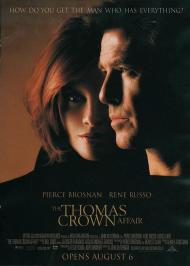 US Release Date: 08-06-1999
Directed by: John McTiernan
Starring
▸
▾
Pierce Brosnan

,

as

Thomas Crown
Rene Russo

,

as

Catherine Banning
Denis Leary

,

as

Michael McCann
Ben Gazzara

,

as

Andrew Wallace
Frankie Faison

,

as

Detective Paretti
Fritz Weaver

,

as

John Reynolds
Charles Keating

,

as

Friedrich Golchan
Mark Margolis

,

as

Heinrich Knutzhorn
Faye Dunaway

as

The Psychiatrist
Reviewed on:
August 25th, 2010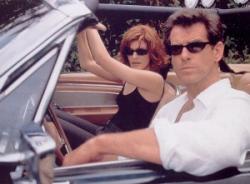 Rene Russo and Pierce Brosnan in The Thomas Crown Affair.
In 1999, was there a more suave man on the planet than Pierce Brosnan? He had the looks, the hair, the accent and by virtue of being the current James Bond, he was at the height of fame. The Thomas Crown Affair capitalizes on all of those things and is a nice, if low-key, romantic thriller that is the perfect showcase for him.
Thomas Crown (Brosnan) is a billionaire businessman who seems to have the perfect life. He has a fabulous townhouse in Manhattan. He owns, not only his own business, but the entire skyscraper in which it sits. He's also bored. Being an art lover he's found a way to get around his boredom by stealing valuable paintings. As the movie opens he masterminds the theft of a Monet painting from the Metropolitan Museum of Art. This brings him to the attention of the police and insurance investigator Catherine Banning (Russo). Catherine suspects Crown quite quickly. Almost as quickly as she develops the hots for him and ends up in bed with him. Thus begins a cat and mouse game between the two of them, but just who exactly is the cat and who is the mouse?
I remember at the time of its release, much todo was made over Russo's character and how for once the female lead in a movie wasn't 20 years younger than her leading man. She does a great job and the movie definitely works better because her and Brosnan are just a year apart in age. If she had been too much younger you'd never believe that she was a match for him. And at 45 years of age, Russo still has the looks and the body to go topless as she does here several times.
This is Brosnan's movie though and he carries it with effortless charm. His bored, cocky and oh so smooth billionaire captures your attention and holds it. As Catherine tells him, "You're not boring, I'll give you that."
One thing the movie does is switch perspectives part way through the film. When the movie starts, it seems to be from Crown's point of view, but once Catherine comes on the scene almost the rest of the movie is seen from her perspective. She's not entirely sure what Crown is up to and so the audience is left in the dark as well. This is fine, but it does leave Crown's character in shadow. We learn a little of his past, if what he tells Catherine is true, but we never quite get to see all of him or know exactly what's going on inside his mind.
I've yet to see the original version of Thomas Crown starring Steve McQueen, so I can't compare the two. There are several tips of the hat to the original in this version, including a cameo by Faye Dunaway, who played the female lead in the original, as Crown's psychiatrist and the use of the same song, but there are also just as many differences. From what I've read, the ending is one of the changes, which I won't give away here, except to say that I think I would have preferred the original ending to the remake, since this new ending is typically Hollywood.
A sequel has been on the verge of being made for the past 10 years and it still hasn't happened. With Brosnan nearing 60, they need to get a move on. I wonder if they'd still get Russo to play the female lead now?
Photos © Copyright MGM (1999)