Movie Review
This Is Where I Leave You
Welcome Home. Get Uncomfortable.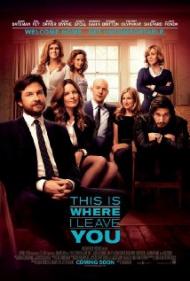 US Release Date: 09-19-2014
Directed by: Shawn Levy
Starring
▸
▾
Jason Bateman

,

as

Judd Altman
Tina Fey

,

as

Wendy Altman
Jane Fonda

,

as

Hillary Altman
Adam Driver

,

as

Phillip Altman
Rose Byrne

,

as

Penny Moore
Corey Stoll

,

as

Paul Altman
Kathryn Hahn

,

as

Alice Altman
Connie Britton

,

as

Tracy Sullivan
Timothy Olyphant

,

as

Horry Callen
Dax Shepard

,

as

Wade Beaufort
Debra Monk

,

as

Linda Callen
Abigail Spencer

,

as

Quinn Altman
Ben Schwartz

,

as

Rabbi Charles Grodner (aka Boner)
Aaron Lazar

,

as

Barry Weissman
Cade Lappin

,

as

Cole
Will Swenson

as

Younger Mort

Reviewed on:
September 21st, 2014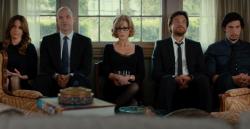 Tina Fey, Corey Stoll, Jane Fonda, Jason Bateman, and Adam Driver in This Is Where I Leave You.
This Is Where I Leave You is a dysfunctional family dramedy with a great cast. It's sort of like the New England cousin to last year's August: Osage County. In both movies a father's death reunites his grown up children with their mother at their childhood home. The difference between them is in their tones. This Is Where I Leave You is far lighter and funnier than the heavy melodrama and dark comedy of Osage County. And, while Jane Fonda's matriarch may awkwardly over-share sexual information, she is sympathetic and likable, unlike the cruel shrew played by Meryl Streep.
After walking in on his wife having sex with his boss, Judd Altman gets the call that his father has died. Talk about having a bad day. Although their father was an Atheist, he was a Jewish Atheist, so when their Gentile mother tells her children that their father's dying wish was for his family to mourn him traditionally by sitting Shiva, they all reluctantly agree. During this week of togetherness family secrets are revealed, old wounds are revisited, fights are fought, and moments of silliness and hilarity ensue. It's certainly not an original storyline but the script is fairly witty and intelligent, and the cast terrific.
Jason Bateman and Jane Fonda share a great mother/son bond in a few scenes together. In honor of the 25th anniversary of her best-selling book – a guide to raising children in which she wrote in intimate detail about embarrassing moments experienced by her children – Hillary Altman has gotten a boob job. Fonda hilariously wears huge prosthetic breasts that always seem to be spilling out of her bathrobe. Her character is quite similar to Barbra Streisand's Roz Focker. Both are celebrity therapists and bestselling authors who say inappropriate things in front of their kids.
This Is Where I Leave You, although essentially a comedy, does try for several dramatic moments. Nothing that gets too heavy, just a little tugging on the heartstrings that crosses the line into sappy on more than one occasion. And while Tina Fey is a great comic actress her limitations at playing drama are revealed in a few scenes where she is required to get teary-eyed. Adam Driver, on the other hand, is a standout as Phillip, the youngest and least responsible Altman sibling.
It's being billed as an ensemble piece, which it is to an extent, but Jason Bateman is the true star of the picture. The story begins with his character, Judd, and he has the most screen time. For the most part we even see his siblings (Tina Fey, Adam Driver, and Corey Stall) through their interactions with Judd. And, while each of the other family members has their own sub-plot, this is really about Judd's emotionally cathartic journey.
The scenes featuring the entire cast are some of the movie's funniest however, including one where the entire family -and all their guests- overhear a couple having sex upstairs through a baby monitor. And the little boy being potty trained who carries his plastic toilet everywhere he goes and takes a dump anywhere he feels like it, is worth a few laughs. This Is Where I Leave You succeeds as a comedy more than it does as a drama. It's quite funny, but only manages to be somewhat poignant, and that's provided you have a fairly high tolerance for schmaltz. Despite its flaws, This Is Where I Leave You is still an enjoyable time at the movies.
Reviewed on:
September 21st, 2014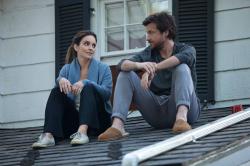 Tina Fey and Jason Bateman in This is Where I Leave You.
This is a somewhat enjoyable movie, but when you consider the amount of talent assembled in front of the camera, it should have been even better. As a comedy, it's never quite funny enough and the drama never works as well as the comedy. It's not awful, but it deserved to be more than a sitcom on the big screen.
The script is by Jonathan Tropper who adapted it from his 2009 novel. Although I've never read the book, on the written page, without the time constraints of a film, it's easier to balance a large cast of characters. Here, many of the subplots feel unexplored. There's an awful lot going on with this family and while we learn a great deal about them, most of the family's problems are given just cursory attention. Tina Fey's relationship with Timothy Olyphant's brain damaged neighbor and Jane Fonda's 11th hour reveal both feel like subplots too many. The real action is between the siblings and their mother and that's where the focus should have stayed. As Patrick said, it's the scenes where the family are together that are the best.
Although there are several funny moments and a few cute ones, too much of the humor feels like a sitcom. Fonda's breast implants are funny, but the script milks them (pardon my pun), as they do the joke about calling the Rabbi by his childhood nickname of Boner.
The love story between Justin Bateman and Rose Byrne also never feels real. We learn almost nothing about her other than that she stayed in her home town and likes to skate. Just why someone as adorable as she is would still be single, is never explained. She feels more like a plot point than a real character. She's always available for Bateman's Judd since seemingly all she does is skate by herself in an empty rink all day.
As routine as the comedy is, it's far superior to the drama. Patrick mentioned Fey not being up to the film's more dramatic moments, but almost none of the drama really works. Bateman's no great dramatic actor either, but he and Fey might have made it work with a script that featured true to life dialogue instead of what feels like a series of Hallmark cards or a Lifetime Movie. They do make believable siblings and their scenes together are some of the film's best.
Perhaps the presence of so many talented actors raised my expectations too high. With lowered expectations, you may enjoy it more than I. As it is, while I laughed on many occasions, ultimately this is a fairly forgettable film that I doubt I will ever want to watch again.

Reviewed on:
October 3rd, 2014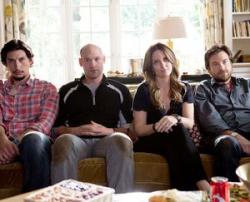 Adam Driver, Corey Stoll, Tina Fey and Jason Bateman in This Is Where I leave You
Patrick described the Altman family as dysfunctional. I agree with the description but I believe This Is Where I Leave You is trying to make the point that every family is, in some way, dysfunctional. What family does not have problems or skeletons in their closet? As I left the theater, I wondered how my brothers, sister and I would react to spending a week together under the same roof. Yeah, there could be a movie made about our family as well.
I am a Tina Fey fan, having enjoyed her comedic work on "SNL" and "30 Rock." However, as Patrick wrote, a couple of required emotional scenes reveal her acting limitations. Her comic timing maybe flawless but she is not ready for her dramatic close up.
I agree with Scott that Fey and Jason Bateman make believable siblings, in that they share similar shades of hair color. The same cannot be said of Adam Driver and Corey Stoll. Driver is good in the role, performance wise, but has darker hair and a different body type than Bateman. Stoll has lost his hair. They all share some camaraderie, but the only thing that makes them believable as siblings is that they tell us they are.
The idea behind this movie is that calling any family, "dysfunctional" is a bit of a misnomer. Are not all families dysfunctional to some degree? The Altman family functions, but like all families, it is only the members who understand how. The best scenes are when the family gets together and express how well they truly know each other. There are damn few secrets among siblings. One of my favorite moments is when the three brothers talk in the classroom and Stoll says he is not as fun as he used to be. Bateman and Driver look at each other and decide which is going to be the one to tell Stoll that he was never fun.
This Is Where I Leave You does not know when to stop. As Patrick noted, Bateman is the main character and his story and interaction with his family is enough to carry the movie. Scott commented that Tina Fey's relationship with Timothy Olyphant should have been left out and I completely agree. It places Fey in some dramatic scenes she is not capable of handling. It also sheds some very negative light on her character. Bateman just caught his wife having an affair but says next to nothing to his sister when she does the same on her husband. It was definitely a plot point that subtracts from the story.
As I watched the scene of Bateman crying to Jane Fonda in the basement, I thought of On Golden Pond (1981) where a parent and child, played by real life father and daughter Henry and Jane Fonda, come to terms with each other. Jane Fonda has an actor son, Troy Garity, who is close enough to Bateman's age. How awesome would it have been had he played Bateman's role? At least that would have created some small amount of talk about this movie. But alas, this is no On Golden Pond and it will not have near its shelf life.
Photos © Copyright Warner Bros. (2014)