Movie Review
Third Person
Life can change at the turn of a page.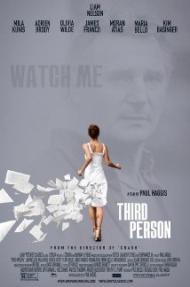 US Release Date: 06-20-2014
Directed by: Paul Haggis
Starring
▸
▾
Liam Neeson

,

as

Michael
Olivia Wilde

,

as

Anna
Mila Kunis

,

as

Julia
Adrien Brody

,

as

Sean
Moran Atias

,

as

Monica
James Franco

,

as

Rick
Maria Bello

,

as

Theresa
Kim Basinger

,

as

Elaine
Loan Chabanol

,

as

Sam
Caroline Goodall

,

as

Dr. Gertner
David Harewood

,

as

Jake Long
Riccardo Scamarcio

,

as

Marco
Patrick Duggan

,

as

NYC Hotel Bell Man
Vinicio Marchioni

,

as

Carlo
Vincent Riotta

,

as

Gerry
Michael Margotta

as

Daniel

Reviewed on:
June 23rd, 2014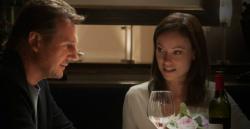 Liam Neeson and Olivia Wilde in Third Person.
Third Person is the latest film from writer/director Paul Haggis. It features multiple characters in three separate story lines; and in that sense it's a bit reminiscent of his Oscar winning movie Crash (2005), but whereas the theme of that movie was racism, this one deals in romantic relationships and parental loss. It isn't until the end of the movie that the common thread connecting the various characters is made clear.
While the final 30 minutes or so are fairly satisfying, they cannot make up for the slow pace and flat characterizations that inhabit the rest of the movie. Haggis's work has often been called pretentious and Third Person will do nothing to dispel that reputation.
Liam Neeson plays a writer staying in a hotel in Paris. He's married but separated from his wife (Basinger in a tiny role), and having an affair with a younger woman (Wilde), who is dealing with her own dark secret. In New York, Mila Kunis plays a woman who is trying to regain custody of her young son after being accused of abuse. Her ex, a famous artist played by James Franco, is doing his best to deny her visitation rights. The third story is set in Rome. Adrien Brody is an American, in town on business, who meets an attractive, mysterious woman (Atias) in a bar, and then gets caught up in her efforts to save her young daughter from a kidnapper.
As I already wrote, for the first half of the movie we don't know what connects these various characters or whether they are in fact connected at all. Haggis then begins to toss in a few small clues to let the audience know that everything isn't as it seems. Kunis leaves a note on a table in a hotel room in Manhattan that Wilde picks up from a table in a hotel room in Paris for example. Third Person isn't going for a Sixth Sense type twist though. Rather than a sudden "aha" moment, the truth of the movie's reality is a slowly seeping saturation.
Each of the story lines has a different feel and look that befits the city where it's set. New York is brightly lit and features lots of glass enclosed office space. Paris takes place mostly indoors in the plush hallways and elegantly lit rooms of their hotel. Rome is mostly outdoors on the narrow old streets of the Eternal City with the sun seemingly always about to set.
The A-list cast is fine. Neeson and Wilde are the standouts, while Franco alone seems to be phoning it in. I wish the pace had been quicker and the writing a bit more subtle. I could have gotten by with fewer, "Watch me's!" (You'll know what I mean). Paul Haggis needs to trust his audience more. If he learns to do that he'll seem less condescending. Third Person fails for that very reason.
Reviewed on:
June 26th, 2014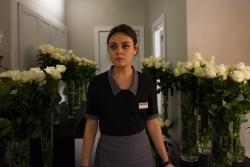 Mila Kunis in Third Person.
Although I agree with Patrick that the pace of this film is rather slow and also that it isn't nearly as clever as Haggis wants it to be, I still seemed to have enjoyed it more than my brother. A talented and recognizable cast is this film's saving grace.
While the final denouement is interesting, I enjoyed the early portions of the film best, before we know what is happening. The final "twist" makes one of the storylines more meaningful and its main character more unlikable, but it takes away from the emotional impact of all the others. It's difficult to discuss without spoilers, but anyone who watches will know what I mean.
There are many themes running throughout this movie. The title itself has a double meaning as both a writer's perspective and also in the way that each of the three stories involves a relationship with three people. Neeson's and Wilde's characters are having an affair, while she is also in a relationship with someone else. Mila Kunis plays James Franco's ex, while he is in a new relationship. And Adrien Brody meets his new mysterious lady, but she's involved in an undisclosed way with another man. These messy relationships and the children who are the victims of them are what hold the disparate stories together. Pretentious? Perhaps, but just clever enough that I wanted to see what was the real meaning of it all.
I agree that Neeson and Wilde are great, but I was impressed by Kunis as well. So far in her career she has mostly skated by on her looks, but she delivers some nice dramatic work here. It was also nice to see Adrien Brody in a film again. His Oscar win didn't seem to do much for his career, which has mostly languished. His portion of the story provides some color and a hint of excitement and danger.
If not for the slow pace, which includes probably 15 minutes or so that could have been trimmed, I would have enjoyed this even more than I already did. It's definitely flawed, but still worth a watch and I found a well acted human drama to be a nice contrast to a summer filled with blockbusters.
Photos © Copyright CorsanHwy61Lailaps Pictures (2014)