Movie Review
Think like a Man
Let the mind games begin.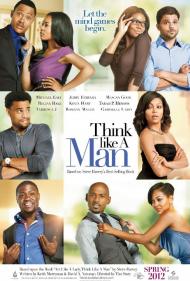 US Release Date: 04-20-2012
Directed by: Tim Story
Starring
▸
▾
Michael Ealy

,

as

Dominic
Jerry Ferrara

,

as

Jeremy
Meagan Good

,

as

Mya
Regina Hall

,

as

Candace
Kevin Hart

,

as

Cedric
Taraji P. Henson

,

as

Lauren
Gabrielle Union

,

as

Kristen
Terrence Jenkins

,

as

Michael
Romany Malco

,

as

Zeke
Jenifer Lewis

,

as

Loretta
Gary Owen

,

as

Bennett
Chris Brown

,

as

Alex
Wendy Williams

,

as

Gail
Sherri Shepherd

,

as

Vicki
Steve Harvey

,

as

Himself
Morris Chestnut

,

as

Frank
J.B. Smoove

,

as

Bartender
Luenell

,

as

Aunt Winnie
Kelly Rowland

,

as

Brenda
Lisa Leslie

as

Herself

Reviewed on:
April 22nd, 2012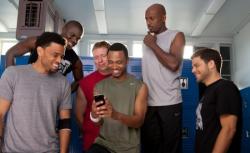 Michael Ealy, Kevin Hart, Gary Owen, Terrence Jenkins, Romany Malco, and Jerry Ferrara in Think like a Man.
Based on the bestselling advice book by comic Steve Harvey, Think like a Man takes a funny look at modern male/female romantic relationships. Although at times it seems more like an infomercial for the book than a stand on its own story, Think like a Man is entertaining and features a talented ensemble cast. It doesn't break any new ground but offers two hours of easily accessible movie fun.
The story centers on a group of guy friends that hang out and play basketball together (see photo). They talk constantly about their personal lives and foibles with their female companions. Of the group one is happily married, one is getting divorced, one is in a long-term relationship and the other three are single. The story shifts back and forth in perspective between the guys and their girls.
The women all read Harvey's book (he appears as himself hawking it on television) and they each take a page from it in devising a game plan to catch and/or keep their man. The guys all fit into generic categories described and labeled by Harvey. There is the player, the dreamer, the mama's boy etc. The gist of Steve's old-fashioned advice to women is best summed up as, "Your cookie is where your power comes from so keep it to yourself as long as possible." And, "Have standards." Not exactly profound ideas but they are at least practical.
Like virtually all romantic comedies there are no real surprises here, just typical male/female movie types interacting in cliched setups. The joy comes from the dialogue and the acting talents of the cast. Kevin Hart easily steals every scene he's in with his loud-mouthed wisecracks. Of the women Taraji P. Henson gives the best performance as the successful alpha woman. Also worth mentioning is relative newcomer Terrence Jenkins of BET's 106 & Park. He does a fine job as the quintessential mama's boy.
The movie is overflowing with famous cameos. Wendy Williams, Sherri Shepherd, Kelly Rowland, Chris Brown and Morris Chestnut all pop up in bit parts. Chris Brown won't enhance his image any with his caricature of a selfish male that sneaks out on his one night stand while she takes a shower.
Like the book that inspired it this battle of the sexes rom/com is aimed squarely at the females in the audience, although it spends more time on the men than your average chick flick. The resolution to each of the couple's lives is never really in doubt, it's all about the journey there that counts. Director Tim Story (Barbershop, Fantastic Four) knows how to tell one, he moves things along and keeps the touch light. Think like a Man is an amusing, multi-storied look at modern love with an enthusiastic cast.

Reviewed on:
March 23rd, 2013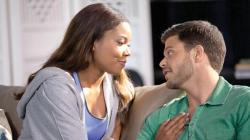 Gabrielle Union and Jerry Ferrara in Think LIke a Man
Think Like a Man is an enjoyable battle of the sexes, even though the attractive cast are all playing one dimensional romantic comedy stereotypes. All are flawed yet likable. The men all want to get as much as they can from the women in their lives while giving as little as possible in return. For their part, the women all suffer from the idea that if they just keep giving the men in their lives what they ask for, the men will eventually do what they want them to.
As Patrick wrote, Steve Harvey's book does not have profound advice, but common sense. Just as with the author who coined the phrase, "He's just not that into you." Sometimes common sense can sound profound when we are emotionally invested in a situation. Harvey's message that the woman has all the power in a relationship until she gives up the "cookie" is crass, simple yet also true in some situations. A woman should not use sex to get a man any more than a man should use a woman just to get sex. Harvey explains that when he worked for Ford, he was on a 90 day probationary period. He incorporates that advice into his book.
My favorite couple was Jeremy and Kristen. They have lived together for a long time but Jerry has yet to propose marriage. He displays his science fiction action figures and fantasy memorabilia in the living room of their apartment like prized awards. Although Kristen wants Jerry to act more mature, she is a good partner for him. Early in the film Kristen makes a Lord of the Rings reference, that Jeremy would obviously get, but her friend does not. Kristen's story is not so much about sex as it is about allowing Jeremy to live as "he" wants and not how "they" want.
Most of the advice is very good, but I disagree with one. Lauren is a very successful business woman who wants to marry a man in a similar financial bracket. Harvey's advice to her is to settle for someone a bit below her standards. She falls in love with Dominc, a waiter. Love and desire knows no social standings but I do not see a relationship working where she comes home every night from her 6 figure job only to kiss him goodbye to go wait tables for tips. If she lets him quit his job do we really think she would never hold it over his head that she is the bread winner? No one should be a snob, but for a book about basic common sense, I think Harvey blew that one.
All of the actors and actresses are charming and likable. I wanted them all to find love and happiness. Sure this film breaks no new ground, but what romantic comedy does? Think Like a Man is an honest film about the chess match of love between men and women
Photos © Copyright Screen Gems (2012)