Movie Review
The Thin Man
A laugh tops every thrilling moment!
US Release Date: 05-23-1934
Directed by: W.S. Van Dyke
Starring
▸
▾
William Powell

,

as

Nick Charles
Myrna Loy

,

as

Nora Charles
Maureen O'Sullivan

,

as

Dorothy Wynant
Nat Pendleton

,

as

Police Lt. John Guild
Minna Gombell

,

as

Mimi Jorgenson
Porter Hall

,

as

Herbert MacCaulay
Henry Wadsworth

,

as

Tommy
Edward Ellis

as

Clyde Wynant, the thin man

Reviewed on:
March 19th, 2003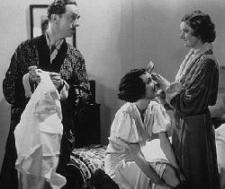 William Powell, Maureen OSullivan and Myrna Loy in The Thin Man.
Based on the Dashiell Hammett novel, The Thin Man is a lighthearted mystery with comic moments and bits of romance thrown in for good measure. William Powell and Myrna Loy exhibit great chemistry together as the always-inebriated husband and wife team of Nick and Nora Charles, who, along with their dog Asta, go about solving murders. In this first of six movies in the series Nora eggs Nick into becoming involved with solving a string of murders that the police seem unable to figure out dealing with a missing inventor, his completely dysfunctional family and an odd assortment of goons, molls and hangers on. Everything culminates in a dinner party thrown by Nick and Nora where they invite all of the various suspects.
The witty dialogue and memorable characters make this movie entertaining. Nick and Nora are constantly bantering back and forth and with anyone else they meet. When a cop discovers an unregistered gun in their bedroom and asks, "Haven't you heard of the Sullivan Act?" Nora replies, "That's okay we're married." Later, the morning after a bullet grazes Nick, they have this interchange. Nick: "I'm a hero. I was shot 2 times in the Tribune." Nora: "I read where you were shot 5 times in the tabloids." Nick: "It's not true. He didn't come anywhere near my tabloids."
William Powell as Nick is witty, urbane and polished with a touch of the common man. He knows how to treat a lady but also seems to have a somewhat violent and mysterious past. Nora is a rich, spoiled heiress. Myrna Loy makes it perfectly clear that she loves Nick, not only because he is a good man but also because he opens up to her a world she would never have experienced otherwise. They bounce lines and looks off each other like old pros and seem completely natural together. They come across like a real married couple and she matches him highball for highball and martini for martini.
Made in just twelve days by director W.S. Van Dyke (better known as One-Take Woody), The Thin Man is a classic thirties whodunit that is ranked in the top 250 on the Internet Movie Data Base.
Reviewed on:
May 16th, 2010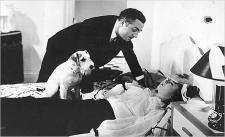 William Powell and Myrna Loy in The Thin Man.
William Powell and Myrna Loy are perfect in this film. They have a rare chemistry together where they seem so comfortable that they really could be a married couple. Their easy going sophistication coupled with their urbane banter is combined with a genuine affection for each other that makes them charm personified.
Nora Charles: Take care of yourself
Nick Charles: Why, sure I will.
Nora Charles: Don't say it like that! Say it as if you meant it!
Nick Charles: Well, I do believe the little woman cares.
Nora Charles: I don't care! It's just that I'm used to you, that's all.
That this movie is in IMDB's top 250 doesn't surprise me, but what did surprise me was to learn that it was nominated for the Best Picture Oscar, William Powell was nominated for Best Actor and the script was nominated for Best Screenplay. Not that it doesn't deserve the nominations, but it would never have garnered them today when the Academy seems to hold zero respect for comedies.
Nora Charles: You asleep?
Nick Charles: Yes!
Nora Charles: Good... I want to talk to you.
If I have any problem with this movie it's simply that it takes too long for the Charles's to appear. The first 20 minutes or so are spent simply building up the mystery and introducing all of the suspects. There are some funny moments amongst the eccentric characters, but the mystery is almost beside the point here. The real joy is watching Nick and Nora drink their way to a solution rather than the actual solution itself.
Reporter: Say listen, is he working on a case?
Nora Charles: Yes, he is.
Reporter: What case?
Nora Charles: A case of scotch. Pitch in and help him
It's easy to see why sequels were made to this film. The characters are great and the setup extremely mobile. Anywhere there's a mystery within walking distance to a drinks tray and Nick and Nora with Asta in tow could be there.

Reviewed on:
May 25th, 2011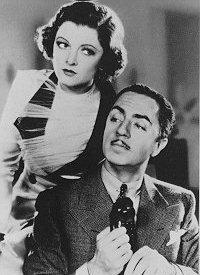 Myrna Loy and William Powell in The Thin Man.
William Powell and Myrna Loy as Nick and Nora Charles are the greatest married characters ever put on the big screen. So often in movies couples are shown flirting and chasing each other as they date, while married couples too often are shown to be miserable, or at best comfortable with each other. Nick and Nora are not just in love with each other, but genuinely enjoy each other's company. They are playful and act quite youthful around each other. As Patrick wrote, Nora does not condemn Nick's drinking, she enjoys it herself. Neither ever gets the best of the other for too long. They have a great marriage!
William Powell and Myrna Loy are working in familiar territory. Powell's first scene is of him at a bar explaining a drink. Was this his trademark? He does a similar scene in One way Passage. I am not sure about real life, but on film, Powell was often with a drink in hand. Myrna Loy is likewise playing a role audiences were familiar with, that of the dutiful wife. She played the spouse of some of the greatest actors of her time, from Clark Gable to Cary Grant. The Thin Man highlights the best of Powell's and Loy's charms.
I agree with my brothers. The banter between the leads is the best part of the film. A man comes into their bedroom brandishing a gun. Nick says to him, "Would you mind putting that gun away? My wife doesn't care, but I am a very timid fellow." Nora adds, "You idiot!" They do not get all of the good lines. At one point, a young book worm is talking to a reporter and says, "My father was a sexagenarian." The reporter responds, "He was, a sexagenarian? We can't put that in the paper." The young man simplifies things, "Just say he was 60 years old." The reporter then asks, "Is that what that means?"
Photos © Copyright MGM (1934)
Related Review