Movie Review
They Drive by Night
No picture in 1940 will have bigger thrills!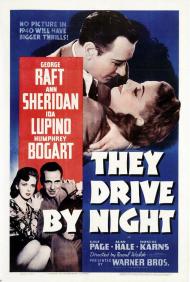 US Release Date: 08-03-1940
Directed by: Raoul Walsh
Starring
▸
▾
George Raft

,

as

Joe Fabrini
Ann Sheridan

,

as

Cassie Hartley
Ida Lupino

,

as

Lana Carlsen
Humphrey Bogart

,

as

Paul Fabrini
Gale Page

,

as

Pearl Fabrini
Alan Hale

,

as

Ed J. Carlsen
Roscoe Karns

,

as

'Irish' McGurn
John Litel

,

as

Harry McNamara
George Tobias

,

as

George Rondolos
William Bendix

,

as

Buddy of 'Irish' McGurn
Frank Faylen

as

Driver in Cafe


Reviewed on:
November 9th, 2003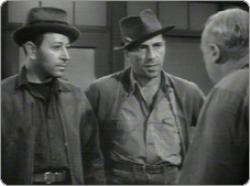 George Raft and Humphrey Bogart in They Drive By Night.
They Drive by Night is a time capsule. It is filled with clichés. Did every drama in the 40's have a guy named Joe in it? It contains that over the top, dramatic line often used in these types of movies; 'I won't, I tell ya.' This is a quintessential early 40's flick.
Truck driving brothers Joe (Raft) and Paul (Bogart) end their long hours on the road when Paul loses his arm in an accident. They go to work for an old friend, whose wife, Lana, (Lupino) has the hots for Joe. Joe, however, is in love with a waitress, Cassie (Sheridan).
Lana turns out to be a complete nut ball. She kills her husband to be available for Joe. When Lana finds out that Joe is going to marry Cassy, she confesses her crime to Joe. I guess she hopes it will impress him with just how desperate her love for him is. Instead it just shows Joe how crazy she is. Joe walks away so Lana goes to the police and tells them that Joe forced her to kill her husband.
Joe and Paul are these average working class guys who just want to make there way in life. The women in this movie are manipulative and selfish. Lana murders and flirts to get her way. Cassy, for her part, is just as controlling. After Lana flips out in court, Joe gets the business. He tells Cassy that he is going to quit running the business and go back to truck driving. Cassy calls ahead to tell all the guys to object and convince Joe to stay on. Women!
This is a great time period film, especially the dialogue and the sets. With fast food chains everywhere these days, it is a history lesson to look back at the diner Cassy waitresses at as well as the trucks and attitudes. Movie history wise, this was one of Bogart's last supporting roles. The very next year he would star in The Maltese Falcon.
Reviewed on:
March 21st, 2012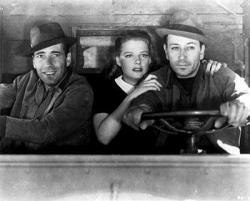 Humphrey Bogart, Ann Sheridan and George Raft drive by night.
They Drive by Night is like two different movies spliced together. The first half is sort of a message picture detailing the struggles truck drivers endure to make a living. They work long hours for little pay and are often forced to drive in a state of dangerous exhaustion. There are several accidents that occur as a result of the driver falling asleep behind the wheel.
George Raft and Humphrey Bogart are believable as the Fabrini brothers. Raft was stereotyped as a pinstriped gangster dandy but he is quite effective here playing a working class Joe (literally). He plays the protective big brother to Bogart's Paul by doing the majority of the driving while letting his kid brother catch forty winks.
The second half of the movie focuses on Ida Lupino's "The doors made me do it!" Lana. She plays to the back row as the crazed femme fatale that murders her husband (played by the reliable Alan Hale) because she somehow thinks that Joe will come running once her old man is out of the way. Anyone familiar with the 1935 Bette Davis, Paul Muni movie Bordertown will recognize the ripped-off plot.
And since Eric already gave away the ending, here goes... In both movies a woman kills her husband because she is delusional over her love for another man (did any actress have a higher body count in their career than Bette Davis?). In both movies she commits the murder when he drunkenly passes out in their car by leaving it running and closing the garage door. In both movies the woman gets away with it by making the authorities think it was accidental. In both movies she confesses her guilt to the man she loves. In both movies she implicates him in the crime when he doesn't reciprocate her feelings. In both movies the woman goes insane on the witness stand and is forcibly taken from the courtroom.
The first half of They Drive by Night (what you might call the "driving" section of the movie) is by far the better half. It is typically gritty Warner Brothers doing what they did best. Namely telling compelling stories about average Americans making there way as best they can. The interactions between Raft and Bogart and the other men they encounter on the road are quite entertaining. And as Eric pointed out, these scenes make a great time capsule of life on the roadways of America in the waning years of the Great Depression, shortly before Pearl Harbor would change the world forever.
Eric's also right about this being the last of Bogart's supporting roles. His very next movie would be 1941's High Sierra in the starring role of notorious thief Roy Earle. Bogie would solidify his new-found stardom as Sam Spade in The Maltese Falcon later that same year and the rest, as they say, is showbiz history. They Drive by Night is an interesting but uneven movie featuring one of Hollywood's most iconic actors on the cusp of superstardom.
Reviewed on:
April 19th, 2012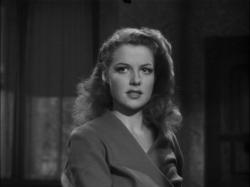 Ann Sheridan in They Drive By Night.
Watching this movie solved a mystery for me regarding your review, Patrick. I couldn't figure out what you meant by, "The doors made me do it." Now I get it and that line made me laugh.
I agree that this is two movies shoved together. It starts out like a John Steinbeck novel and ends up deep in film noir melodrama. The first half is definitely the better half. The transition wouldn't have been quite so jarring if the entire movie had been told from George Raft's point of view. It would have been more suspenseful and shocking if we found out that Carlsen was murdered by his wife at the same time as Joe, but instead we actually see Lana commit the murder since for about 15 minutes Ida Lupino becomes the star of the picture.
Both of you mentioned how Lana assumed Joe would come running once her husband was out of the way. It's actually not quite as far fetched as it first seems. Notice how whenever Lana comes on to Joe, he doesn't respond by saying, "Hey, I have a girlfriend." He always says that he can't because he's too good a friend with her husband. Why not just tell her that he's in love with another girl? Wouldn't that have been the best way to cool her down? And later when she offers him half the business, he knows she has feelings for him and he still accepts the offer, still without mentioning the fact that he's practically engaged.
Bogart makes the most of his supporting role in the first half of the film, as does the oomph girl Ann Sheridan. The banter between her and the truckers in the diner is quite risque for the time and worth a laugh or two. Referring to her body, Joe says, "It's a classy chassis!" to which Cassie replies, "You couldn't even afford the headlights." Also providing some nice comic relief is Roscoe Karns as the truck driver, Irish. Karns is perhaps best known as Shapeley in It Happened One Night. Sadly, Bogie and Sheridan virtually disappear for the last half-hour of the story, only popping up again at the very end.
I concur with both my brothers that as a time capsule this movie is interesting. At least during the first half of the story. It's a small peek at the world of truck drivers in 1940 through the prism of Hollywood and it's far more interesting than the run of the mill, recycled film noir plot of the last half.
Photos © Copyright Warner Bros. (1940)