Movie Review
These Wilder Years
TOGETHER and TERRIFIC! ...in a story of unforgettable warmth and impact!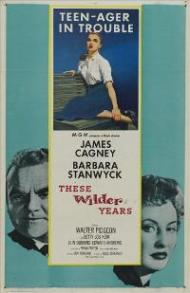 US Release Date: 08-17-1956
Directed by: Roy Rowland
Starring
▸
▾
James Cagney

,

as

Steve Bradford
Barbara Stanwyck

,

as

Ann Dempster
Walter Pidgeon

,

as

James Rayburn
Betty Lou Keim

,

as

Suzie
Don Dubbins

,

as

Mark
Edward Andrews

,

as

Mr. Spottsford
Basil Ruysdael

,

as

Judge
Grandon Rhodes

,

as

Roy Oliphant
Dean Jones

,

as

Hardware Clerk
Michael Landon

,

as

Boy in poolhall
Tom Laughlin

as

Football player
Reviewed on:
June 2nd, 2010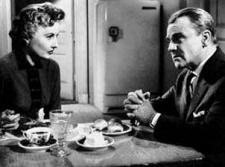 Barbara Stanwyck and James Cagney square off for the one and only time.
These Wilder Years is a minor entry in the later stages of the great James Cagney's career. It is most notable for being the one and only teaming between him and the also great Barbara Stanwyck. The story is a bit on the weak side but the acting helps make up for a slightly bland script.
Cagney plays a man who gave up his newborn son and turned his back on the boy's mother some 20 years earlier. Now a self-made multi-millionaire he goes on a quest to find his son and fill the hole in his life he has felt ever since abandoning his young family.
Stanwyck plays the woman who runs the orphanage/adoption center where Cagney begins his search. The first half of the movie is the weakest. Cagney and Stanwyck clash after she refuses to release any information about his son to him and eventually they wind up in court. This is all standard melodrama but these old pros keep things moving and it's far more compelling than the script would be in lesser hands.
Walter Pidgeon shows up as the very expensive lawyer Cagney hires. To show just how rich and powerful Cagney is it is mentioned that the lawyer arrives at is beck and call when he was supposed to be arguing a case before the U.S. Supreme Court. Pidgeon steals a few scenes as the cynical but kindly martini swilling litigator.
The crux of the movie is Cagney's relationship with a pregnant, sixteen year old living at Stanwyck's place. They form an immediate bond and it is pretty clear where that relationship is heading. This is one example of how the Hay's Code was losing its teeth by the mid 1950's. Unwed, pregnant teens were not something you normally saw in a movie at that time, especially being handled in such a sympathetic manner.
The second half takes place at Christmas complete with snow and decorations and it almost has the feel of a Holiday movie. This is certainly the closest that Cagney ever came to making one. The subject matter of adoption was a personal one for James Cagney since in real life he and his wife were unable to have children and became adoptive parents themselves.
If you look close you will see several future male stars. Dean Jones, Tom Laughlin and Michael Landon all have blink-and-you-miss-them scenes.
These Wilder Years was not a big hit upon its release and is not well remembered today. Still it is worth a look. Cagney and Stanwyck keep your attention and the final 25 minutes or so will bring a tear to your eye and a lump to your throat.
Photos © Copyright Metro-Goldwyn-Mayer (MGM) (1956)