Movie Review
There's No Business Like Show Business
Irving Berlin's tuneful depiction of the trials and triumphs of a veteran vaudeville family!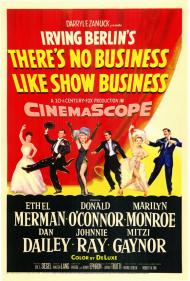 US Release Date: 12-16-1954
Directed by: Walter Lang
Starring
▸
▾
Ethel Merman

,

as

Molly Donahue
Donald O'Connor

,

as

Tim Donahue
Marilyn Monroe

,

as

Vicky Hoffman/Vicky Parker
Dan Dailey

,

as

Terence Donahue
Johnnie Ray

,

as

Steve Donahue
Mitzi Gaynor

,

as

Katy Donahue
Richard Eastham

,

as

Lew Harris
Frank McHugh

,

as

Eddie Dugan
Rhys Williams

as

Father Dineen

Reviewed on:
November 14th, 2003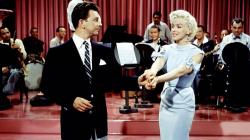 Donald O'Connor and Marilyn Monroe in There's No Business Like Show Business.
What a difference a DVD makes! Until recently I had only seen There's No Business Like Show Business on television as a child. The newly restored version is truly breathtaking. The colors of the many sets and costumes are so vivid they practically leap off the screen. Also with the wide-screen (CinemaScope) format so much more of the movie is visible.
The great Ethel Merman stars in this big, splashy musical from 1954. Having been deprived of the pleasure of recreating her stage success in Annie Get your Gun, she got some modicum of revenge by performing her trademark song from that show in this movie, which also happens to be the title. The entire score, in fact, is a treasure trove of Irving Berlin standards, from 'When the Midnight Choo Choo Leaves for Alabam' to 'Alexander's Ragtime Band' to 'Heat Wave', all enthusiastically performed by the movies six talented musical stars.
Show Business tells the story of the Donahue family, vaudeville troupers all. The story covers from 1919 until the beginning of the Second World War. Merman is the matriarch of the family. Dan Dailey is her husband and Donald O'Connor, Mitzi Gaynor and Johnnie Ray are their three children. Together they are The Five Donahue's. The thin plot consists mostly of oldest son Steve's (Ray) surprise news to the family that he wants to be a priest and, near the movies climax, an estrangement between the father and youngest son Tim (O'Connor).
Marilyn Monroe has a supporting role as hat-check-girl turned Broadway star Vicky Hoffman (later changed to Parker), who gets romanced by Tim. She shines in several numbers including the incredibly sensuous 'Heat Wave' and 'After You Get What You Want You Don't Want It'. As the 'dumb-blonde' Vicky she demonstrates what a fine musical comedy talent she possessed.
The performances are all good, although it is never easy to look at Johnnie Ray while he is singing. The man looks like he is in constant pain. For my money though Ethel Merman and Dan Dailey steal the show from the younger cast members. They were not only great hoofers and singers and knew how to put over a gag or funny line, but they had a natural chemistry that made them very believable as husband and wife.
There's No Business Like Show Business is old-fashioned musical entertainment the likes of which you won't find anymore. It is colorful and brassy and wears its heart on its sleeve.

Reviewed on:
November 16th, 2003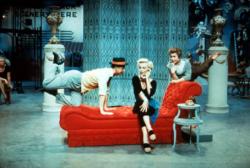 Donald O'Connor, Marilyn Monroe and Mitzi Gaynor in There's No Business Like Show Business.
There's No Business Like Show Business is a great old-fashioned musical. Irving Berlin's classic songs are woven into a comedy/drama, with some sentimentality thrown in. This is the greatest family musical next to The Sound of Music.
Like Singin' in the Rain, this movie uses old popular standards. The lyrics are great and many are chauvinistic and politically incorrect. In one song O'Connor sings, 'A man chases a girl...' and then Monroe adds, '…until she catches him.' On another song Monroe manipulates dozens of men just by flirting on the phone.
This movie's biggest flaw is likewise its largest asset: Monroe. Made right after The Seven Year Itch while Monroe was at the peak of her popularity. She was, at that moment, 20th Century Fox's most bankable star. However, as Patrick wrote, she is in a supporting role. Her screen time often threatens to change the direction of the movie. This is a film about the lives of a musical family. Monroe gets more screen time than her part actually deserves. Yet she is so good in this movie that I wanted her to be in more of it. I wonder how much of her part was expanded once she signed on to play it?
Monroe looks great in this movie. If you have ever wondered why she is so remembered watch any scene she does with Mitzi Gaynor. Gaynor is a beautiful woman with a nice body but she lacked that amazing charisma that Monroe had. Monroe had that way of carrying herself on screen that drew you to her. Gaynor looks good but she just doesn't have it.
I agree with Patrick about the chemistry between Merman and Dailey. They alone carry the first half hour of the movie. Merman and Dailey act, sing, joke and even have some dramatic scenes. Dailey shines, along with O'Connor, in a scene where Dailey slaps his mouthy son. Merman has the big 'movie moment.' Her son has been missing for a while but shows up back stage as Merman is performing on stage. In mid song she glances back stage and sees her wayward son. She gets choked up for a brief moment before finishing the song. After all, the show must go on.
Reviewed on:
February 15th, 2009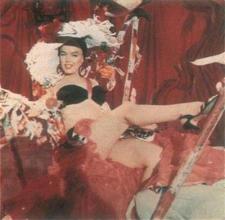 The weather report was never this sexy!
That's exactly the moment that stuck with me too Eric. Merman is such a trouper that not even the return of her wayward son, who has been missing for over a year, can do more than momentarily disrupt her performance! But then that's hardly surprising from this singing and dancing family who put everything into show biz terms. When Steve announces he's joining the priesthood he says, "I like to think of it as just a change in venue."
For my money, it's Johnie Ray's two singing moments that are the weak points in the film. His voice just grates on me. I don't think Monroe is given more screen time than is her character's due. As Patrick mentioned the plot here is incredibly thin anyway, so anything resembling one is welcome, and her relationship with Tim helps bring a little conflict to the story.
While Marilyn's Heat Wave number will be what's remembered most (Deservedly so! The weather report has never been so sexy!), I think my favorite musical scene is Donald O'Connor's Gene Kelly moment after he walks Monroe home and the statues come to life.
This is definitely a classic, old fashioned musical. It's a cliché to say that they don't make them like this anymore, but behind every cliché lies a grain of truth, and this one is no exception.
Photos © Copyright 20th Century Fox (1954)