Movie Review
That's My Boy
The story of a child... and his son.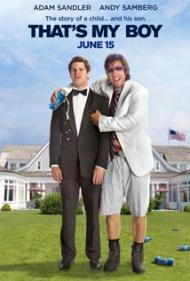 US Release Date: 06-15-2012
Directed by: Sean Anders
Starring
▸
▾
Adam Sandler

,

as

Donny
Andy Samberg

,

as

Todd
Leighton Meester

,

as

Jamie
Vanilla Ice

,

as

Himself
James Caan

,

as

Father McNally
Milo Ventimiglia

,

as

Chad
Blake Clark

,

as

Gerald
Meagen Fay

,

as

Helen
Tony Orlando

,

as

Steve Spirou
Will Forte

,

as

Phil
Rachel Dratch

,

as

Phil's Wife
Nick Swardson

,

as

Kenny
Peggy Stewart

,

as

Grandma Delores
Luenell

,

as

Champale
Ciara

,

as

Brie
Eva Amurri Martino

,

as

Mary McGarricle
Justin Weaver

,

as

Young Donny
Susan Sarandon

,

as

Mary McGarricle (Present Day)
Todd Bridges

,

as

Himself
Dan Patrick

,

as

Randall Morgan
Ana Gasteyer

,

as

Mrs. Ravensdale
Alan Thicke

,

as

Donny's father on TV
Peter Dante

as

Dante Spirou


Reviewed on:
June 16th, 2012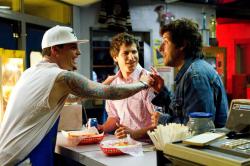 Vanilla Ice, Andy Samberg and Adam Sandler in That's My Boy
Adam Sandler was first noted for pushing the level of indecency in his early comedy routines. His movie career however, has been more often about sentimentality and family values. With That's My Boy, Sandler returns to his comedy roots with the story of a 13 year old boy, Donny, who has sex with and impregnates his middle school teacher. She gives birth to a boy he names Han Solo.
It makes light of a subject that is all too fresh and offensive. Some 15 years ago Former teacher Mary Kay Letourneau made headlines when she had sex with a 13 year old student. They ended up having two children together and got married after her prison sentence was over. Currently going on is the trial of Jerry Sandusky, in which the football coach sexually seduced many boys around the age of 13, some more than once.
This film has a scene where the entire school finds out at the same time about the sexual relationship and the students as well as the adults all cheer? I am not sure how old screenwriter David Caspe is, but let me assure him that the world is not a boys locker room, as that is the only place cheering for statutory rape would take place.
The film should have skipped over that subject much quicker. Not only is it handled very immaturely but the film gets funnier as it goes on. Now all grown up, Han Solo has changed his name to Todd and has disassociated himself from his parents. His mom is still in prison, while Donnie is pretty much a bum still trying to live off his notoriety as the kid who had sex with his teacher. Finding himself in serious debt, he gets an offer from a reality show for fifty thousand dollars if he can reunited his son with his mother in prison.
Todd meanwhile is just days away from his wedding day. Todd and the bride's family collect at his boss's seaside mansion when Donnie shows up, whom Todd has not seen in years. Todd is a complete kiss ass while Donnie is an obnoxious drunk, He is never too far from a can of beer. No one seems to like Todd while everyone seems to take to Donny, for some reason.
The jokes are all basic middle school humor. Donny masturbates to an old lady's picture. Todd's future brother-in-law wants to wrestle with Todd but first strips down to his underwear and hits himself in the dick on purpose several times. Maybe Caspe actually wrote this in a boys locker room.
The funniest part is the bachelor party where Todd finds out that his child hood uncle Vanny is actually Vanilla Ice. Apparently Donnie hung out with some celebrities when he was made famous by having sex with his teacher. Other cameos work and the ridiculousness comes together much better the latter half of the film. Although another surprise near the end may turn your stomach, just remember this movie was written by a man with the sense of humor of a 13 year old.
At my age, many of the jokes seem extremely juvenile, while some jokes are clearly intended for people of a certain age. Will teenagers get the Vanilla ice or Todd Bridges references? I would like to write that this film has something for everyone. However, if you are old enough to get the older pop culture jokes, you are likely mature enough to find the juvenile jokes more crude than funny.
Reviewed on:
June 20th, 2012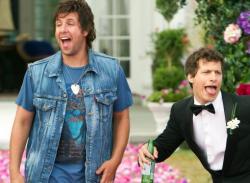 Adam Sandler and Andy Samberg in That's My Boy.
There's always been a double standard regarding relationships between a teacher and student depending upon the gender of the student. While there wouldn't be universal cheering, whenever a story surfaces about a male student having sexual relations with an attractive female teacher there are always those people who comment on how lucky the student was, or how they wish they could have done the same when they were a teenager.
The real problem with the story, particularly the first half, is an aspect you briefly mentioned Eric and that is that people find Donny to be charming for no good reason. He's rude, crude, constantly drunk, not particularly attractive and obviously full of shit and yet people just instantly like him regardless of their age, level of attractiveness, wealth or gender. It would have made more sense and been a better movie if Donny was shown to be unliked. I almost said, if he was shown to be unlikable, but he is shown to be unlikable. People just like him anyway.
If Donny had started as unliked, he could have changed, possibly learning some things along the way, but instead it is his son Todd who must change. Donny's behavior is reinforced by everyone else's inexplicable fondness for him.
Like Eric I thought that the movie became mildly more amusing as it went along. The bachelor party is a comic highlight. Along with Vanilla Ice and Todd Bridges, Susan Sarandon is an inspired choice to playing the aging teacher who had the affair with Donny, but then not enough is done with her small scene.
If you're a fan of Sandler's, which is something I can't particularly claim to be, you may enjoy this movie more than I did. It has a few funny scenes. Not enough to justify a nearly 2 hour running time, but there are a scant few of them.
Maybe the juxtaposition of 1980's pop references and juvenile humor, combined with a release date of Father's Day weekend was meant to provide a movie that father's and sons could enjoy together? Instead of pleasing two generations though, the filmmakers will be lucky if they can entertain either.
Reviewed on:
June 18th, 2013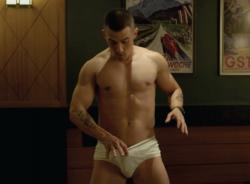 Milo Ventimiglia checks out his junk in That's My Boy.
Reviewing an Adam Sandler movie is like sending a restaurant critic to McDonald's; pointless. Those people that like fast food and Adam Sandler movies are going to patronize both regardless of what anyone writes about the incredibly poor quality of the product being served. Although judging by the box office returns for That's My Boy, even Adam Sandler fans have some standards. Pedophilia and incest, it turns out, just aren't that hilarious. Who knew?
Sandler has created an interesting and unique niche for himself in American movies. He is corny and old-fashioned at the same time as he is crudely juvenile to the point of being obscenely disgusting. It's like watching Jerry Lewis stuck in a Seth Rogen comedy.
Some of the humor works on a very lowbrow level. But I too found it annoyingly ridiculous the way everyone instantly likes Donny while his son is shown being disliked by everyone. Over the course of the movie he learns to be as irresponsible and ill-mannered as his father and is rewarded for it. But that's because everyone else is shown as being morally more reprehensible than Donny is. What a cynical view of humanity this movie has.
I've never been a fan of Sandler's movies. I've mildly enjoyed a few of them if I'm in the proper mood. That's My Boy is worth a few chuckles, most notably due to the famous actors that pop up in small parts, but overall it is a worthless piece of crap.
Photos © Copyright Columbia Pictures (2012)