Movie Review
That's Entertainment!
Boy. Do we need it now.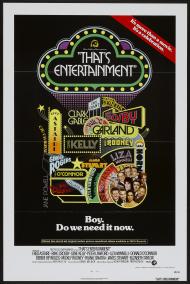 US Release Date: 06-21-1974
Directed by: Jack Haley Jr.
Starring
▸
▾
Fred Astaire

,

as

Himself (archive footage)
Bing Crosby

,

as

Himself (archive footage)
Gene Kelly

,

as

Himself (archive footage)
Peter Lawford

,

as

Himself (archive footage)
Liza Minnelli

,

as

Herself (archive footage)
Donald O'Connor

,

as

Himself (archive footage)
Debbie Reynolds

,

as

Herself (archive footage)
Mickey Rooney

,

as

Himself (archive footage)
Frank Sinatra

,

as

Himself (archive footage)
James Stewart

,

as

Himself (archive footage)
Elizabeth Taylor

as

Herself (archive footage)

Reviewed on:
March 17th, 2011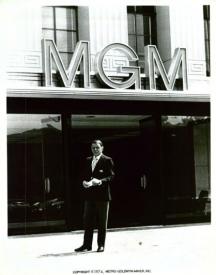 Frank Sinatra at the entrance to the fabled MGM studios.
This brilliant homage to the Golden Age of the MGM musical makes the perfect introduction to classic Hollywood for kids of any age (as my brothers and I can attest). It drips with nostalgia from beginning to end and includes some of the finest song and dance numbers ever captured on film. It was a surprise hit at the box office upon its release in the summer of 1974, eventually spawning several sequels as well as creating a new movie genre, the Docutainment.
The MGM vaults were scoured and culled to find the absolute best movie musical moments. They range in time from Broadway Melody, made in 1929 at the dawn of the talkie era, to 1958's Gigi at the end of studio dominated Hollywood. This was also the very last time MGM's fabled backlot was filmed for a movie; their crumbling disrepair adding poignancy to the passage of time. They were razed soon after and the land sold for a housing development.
Some of the most legendary stars ever to appear in front of the cameras at MGM were called in to narrate this extravaganza. Frank Sinatra, Elizabeth Taylor, Fred Astaire, Gene Kelly, Bing Crosby, Mickey Rooney, James Stewart, Donald O'Connor, Debbie Reynolds, Liza Minnelli and Peter Lawford all returned to the once bustling, but now eerily deserted, studio grounds. Each of them introduces the work of another star.
Not surprisingly the clips are dominated by the five greatest musical performers of the era, Gene Kelly, Fred Astaire, Bing Crosby, Frank Sinatra and the incomparable Judy Garland. She, in fact, gets two segments: one introduced by frequent costar Mickey Rooney, with clips from their string of "Let's put on a show" musicals, and one narrated by daughter Liza, which includes "We're Off to see the Wizard" and culminates in the jazzy "Get Happy" from her last MGM movie, Summer Stock.
Other standout musical gems, in a crown bursting with jewels, include Gene Kelly's joyous "Singin' in the Rain" number with that iconic lamppost, and Judy Garland's radiant barnyard rendition of "Somewhere Over the Rainbow". Fred Astaire and Eleanor Powell create magic together tap dancing to Cole Porter's "Begin the Beguine" in Broadway Melody of 1940. (Note to modern musical movie makers. This is how you film a dance number; in one or two very long takes so that the audience sees that the stars are actually talented dancers.) And the luminous Lena Horne sings a seductive version of "Honeysuckle Rose".
James Stewart narrates a section on non-singing stars appearing in musicals. This includes amusing moments with an amateurish Joan Crawford doing a flapper number, Jean Harlow earnestly singing in her half-baked voice, Cary Grant talk-singing, and Clark Gable doing an old fashioned hat and cane routine to Irving Berlin's "Puttin' On the Ritz".
Donald O'Connor introduces clips of bathing beauty Esther Williams, the aquatic star that swam opposite nearly every popular leading man at the studio in the late 1940's and early 1950's. Her entrances and swimming pools seemed to get grander and more ornate as time went by. These scenes offer some of the most visually breathtaking Technicolor shots of the entire movie.
The following is a partial list of other famous faces seen in archive footage. How many can you spot? June Allyson, Ray Bolger, Leslie Caron, Cyd Charisse, Maurice Chevalier, Claudette Colbert, Jimmy Durante, Deanna Durbin, Buddy Ebsen, Nelson Eddy, Greta Garbo, Ava Gardner, Kathryn Grayson, Jack Haley, Van Johnson, Louis Jourdan, Bert Lahr, Mario Lanza, Jeanette MacDonald, Ann Miller, Ricardo Montalban, Robert Montgomery, Jane Powell, Ginger Rogers, Lana Turner, Ethel Barrymore, Lionel Barrymore, Wallace Beery, Xavier Cugat, Gloria DeHaven, Errol Flynn, Betty Garrett, Greer Garson, Hermione Gingold, Van Heflin, Katharine Hepburn, Jennifer Jones, Buster Keaton, Angela Lansbury, Vivien Leigh, Carmen Miranda, Frank Morgan, Conrad Nagel, Walter Pidgeon, Norma Shearer, Red Skelton, Spencer Tracy and Robert Young, Whew!
The tagline used to promote That's Entertainment! said "Boy. Do we need it now." A statement as true today as is was then and given the level of talent on display it will remain true for as long as people watch movies.


Reviewed on:
March 28th, 2011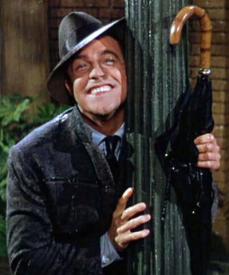 Gene Kelly performing possibly the most memorable MGM number of all time, Singing in the Rain.
Although That's Entertainment! centers on the musicals of MGM's heyday, it does pause to include other stars. The production numbers Patrick mentioned of Esther Williams seem like musical numbers, but she is never shown singing or dancing. There is a tribute to Clark Gable as well. One of my favorite clips is of a luncheon filmed on a sound stage sometime in the 1940s. The camera moves down the long tables as you see star after star chatting and eating. It even features Buster Keaton, who seems to be the only one acting up for the camera.
It is packed with many great musicals, but they missed a couple of my favorites. Easter Parade never gets mentioned, and they barely show a clip from "A Couple of Swells". It is a rare, and very comic, duet between Judy Garland and Fred Astaire. Another film that gets missed entirely is Brigadoon. It features Gene Kelly's best song next to "Singin' in the Rain"; "Almost Like Being in Love". I understand the editors had to stop somewhere, and Garland and Kelly are already the most featured stars of the movie. As they should be.
What I found interesting in this viewing is the creation of the MGM musical, its rise to prominence and respect, and its descent into obscurity. It shows us the black and white films of the 1930s, the heyday of the 1940s musicals, and then the pinnacle of it all in the early 1950s with Singing in the Rain and An American in Paris. As Patrick also mentioned, it includes later 50s famous musicals like Gigi and Seven Brides for Seven Brothers, but they lack something the other films do not, a memorable star.
The downfall of the MGM musical was that they did not cultivate new talent. Garland was fired by MGM in 1950. Fred Astaire was getting older. Gene Kelly was costing the studio money as he wanted to film more movies on location. Rock 'n Roll was becoming vogue and the old studio bosses just could not wrap their heads around the new fad to capitalize on it. Their biggest attempt, High Society (1956), was a huge hit, even if Bing Crosby was horribly miscast as a contemporary "juke box hero."
As Liza Minelli says in her narration, "Thank God for film!" Even though these folks are all gone, their work is still there, like ancient treasures, to be rediscovered by generations yet to come. Whether you like this type of film entertainment or not, you have to give them credit. Those were movie stars with some real talent.
Reviewed on:
June 1st, 2011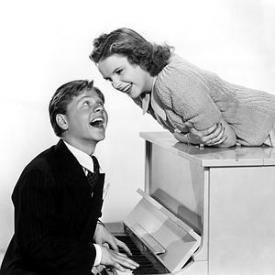 Mickey Rooney and Judy Garland knew how to put on a show for MGM in the 1930s and '40s
"More stars than there are in heaven" was MGM's tagline and there's no denying the truth to that poetic statement and they are on full display in this glorious tribute to the most gaudy, glamorous studio of them all during its golden age. For fans of old time Hollywood this march down memory lane across the famed MGM backlot with aging, but still spry stars of yesteryear as their guide, will be enough to put them in seventh heaven.
While the clips from the films are all first-rate and a joy to watch, the most unique parts are the introductions by the stars themselves. I would happily have sat through a film with just them talking and reminiscing. Instead we are limited to fleeting glimpses and their dialogue is very clearly marketing copy, without any of the juicy studio gossip and stories I'm sure they could have told. One line by Rooney stands out to me when he asks about himself and Garland, "Where did we get the energy?" because I wanted to reply, "From all the pills the studio was happy to give out." But of course, this is a celebration of the talent and films and not a back story and so any such suggestion is nowhere to be found.
As both Eric and Patrick mention, Gene Kelly and Judy Garland dominate the movie and deservedly so. Garland's absence as one of the film's narrators is most keenly felt. Her sad and untimely death happened just five years before this movie was made. Although drugs, drink and tragedy would mar her later life, here we get to see a young Garland filled with talent and youthful pluck that is joyous to behold.
Although you call this the perfect introduction to classic Hollywood, Patrick, I think it better serves as a celebration for those already familiar with it. Frank Sinatra says it best in the film when he says (in reference to Astaire, but it applies to all the stars featured here), "You know, you can wait around and hope, but I'll tell you, you'll never see the likes of this again."
Photos © Copyright Metro-Goldwyn-Mayer (MGM) (1974)