Movie Review
Texas Chainsaw 3-D
Evil has many faces.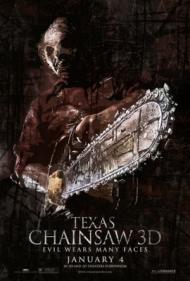 US Release Date: 01-04-2013
Directed by: John Luessenhop
Starring
▸
▾
Alexandra Daddario

,

as

Heather Miller
Dan Yeager

,

as

Leatherface
Trey Songz

,

as

Ryan
Scott Eastwood

,

as

Carl
Tania Raymonde

,

as

Nikki
Shaun Sipos

,

as

Darryl
Keram Malicki-Sanchez

,

as

Kenny
James MacDonald

,

as

Officer Marvin
Thom Barry

,

as

Sheriff Hooper
Paul Rae

,

as

Burt Hartman
Richard Riehle

as

Farnsworth

Reviewed on:
January 9th, 2013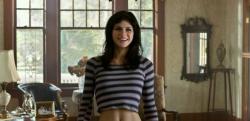 Alexandra Daddario in Texas Chainsaw 3-D
In an interview with Fanhattan.com to promote Texas Chainsaw 3-D, Scott Eastwood was asked what is it about horror films that appeal to him. He responded, "I'm not really into seeing blood all the time. If it's a good story, and if its creepy and makes your skin crawl, and makes you jump out of your seat because more of suspense—then I'm in." I prefer suspense to gore as well. However, Texas Chainsaw 3-D has far more blood splatters than any real suspense.
After a brief flashback, we meet the very hot Heather and her little group of friends. She is the adopted daughter of hillbilly trailer trash but looks like a model prone to wearing clothes suitable for a street walker. She finds out that she has inherited a mansion on a large piece of property in Texas from a grandmother she never met. She and her friends take a road trip to Texas, picking up a hitchhiker along the way. What she does not realize is that the house comes complete with Leatherface, her cousin, who lives in the basement. He soon starts to kill off her friends.
Heather is hot as all hell with a body worth paying for. Unfortunately, she is also a complete dumb ass. Just after arriving at the gate to the mansion she is handed a set of keys and an envelope from her deceased grandmother's lawyer. He tells her twice to read the letter right away. She instead tosses it aside unopened once they all enter the home. Heather is so stupid that after they all decide to go into town and get some groceries she lets the guy they just picked up in a gas station stay behind with all of their belongings and complete access to the entire house. hmmm?
As her friends start to get killed, Heather learns about the history of her family and some of the people of the town. Both the Mayor and sheriff have connections to her family and events that lead to her being raised by others. She also meets a young police officer, Eastwood, who has eyes for her.
Making this film in 3D is nearly pointless. The only real time it is used is when the chainsaw gets aimed directly at the camera. This is done many times, and grows old very quickly.
All of the deaths are telegraphed far in advance. Several victims wander alone into a darkened basement where we know they do not have long to live. They make it very easy on Leatherface. He does not even have to look for his next kill as they bring themselves to him. Heather is a walking (and jiggling) stereotype. When being chased by Leatherface, she trips down the stairs. The worst moment in the entire film comes near the end after Heather and Leather become allies. Heather gives him a chainsaw and says, "Do your thing cous." I told you she was a dumb ass.
Clearly Scott Eastwood is not as picky with his movie choices as he implies.
Photos © Copyright Lionsgate (2013)
Related Review