Movie Review
Testament of Youth
Divided by war. United by love.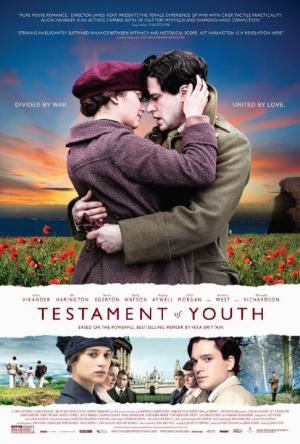 US Release Date: 01-16-2015
Directed by: James Kent
Starring
▸
▾
Alicia Vikander

,

as

Vera Brittain
Colin Morgan

,

as

Victor Richardson
Taron Egerton

,

as

Edward Brittain
Dominic West

,

as

Mr. Brittain
Emily Watson

,

as

Mrs. Brittain
Kit Harington

,

as

Roland Leighton
Joanna Scanlan

,

as

Aunt Belle
Miranda Richardson

,

as

Miss Lorimer
Rachel Redford

,

as

Exam Candidate
Nicholas Farrell

,

as

Headmaster
Daisy Waterstone

,

as

Clare Leighton
Nicholas Le Prevost

,

as

Mr. Leighton
Anna Chancellor

,

as

Mrs. Leighton
Jonathan Bailey

,

as

Geoffrey Thurlow
Henry Garrett

as

George Catlin


Reviewed on:
March 18th, 2016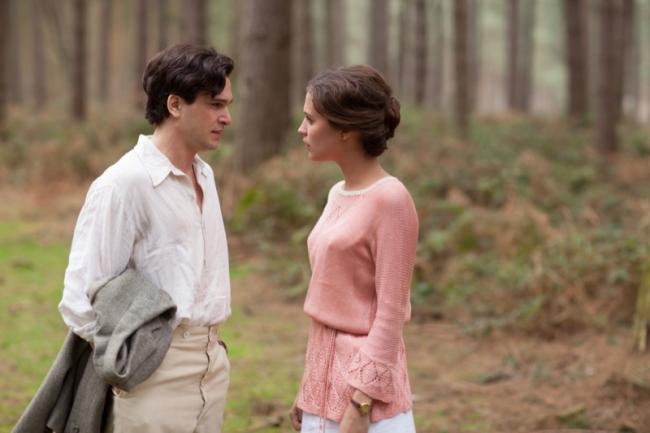 Kit Harrington and Alicia Vikander in Testament of Youth
Vera Brittain was one of England's most noted pacifists of the twentieth century. In 1933 she wrote her memoir, "Testament of Youth" based on her experiences during World War I. I find most pacifists to be hypocritical bores who imagine they are accomplishing something by attending a political protest instead of doing something productive. Brittain has one of my favorite quotes on the subject, "The pacifists, task today is to find a method of helping and healing which provides a revolutionary substitute for war." I like it because it puts the responsibility on the pacifist to find an alternative and not to merely complain about something they do not like.

Vera Brittain grew up in the upper class with her most constant companion being her younger brother Edward. The film begins during a wonderfully romantic time spent at her parents country manor with Edward and two of his friends, Victor and Roland, who each admire Vera. They spend their time walking the country side and swimming in a pond. Vera is desperate to convince her parents to allow her to attend college at Oxford. She wants to be a writer and her heart warms at Roland's words of encouragement after he reads one of her poems. She soon becomes fascinated by Roland and they begin a very innocent love affair.

At this point, Vera is an English rose who has yet to blossom. She imagines collegiate studies will open her pedals. Her dreams of an Oxford education become inconvenienced by the start of World War I. Victor and Roland both join up and ship out, with Edward wanting to as well. As her parents objected to her going to school, they likewise do not want Edward to volunteer for war until Vera proves to be a convincing negotiator. She is so good, in fact, that she also convinces her parents to allow her to become a nurse where she attends to wounded soldiers in England and later in France.

As a nurse, she witnesses the horrors of war first hand. One of her first tasks is to sponge bathe a naked, wounded soldier. Imagine, a proper upper class virgin who has never gotten her hands dirty, faced with naked bloody men, depending so desperately on her like sickly babies in cradles. Even her head nurse notices she has hands of a woman who has never labored.

Testament of Youth has wonderfully romantic moments. One of the best is when Vera sees Roland off at the train station. He is not feeling well and she is upset that he is going to France. The scene is as classic and cliched as they come but it still got to me. "I am coming back." He says just before grabbing her face and planting a deep kiss. He then leans out the train window as she holds desperately to his hand. The train starts to pull away and he tells her he loves her. The scene is repeated when Edward goes to war and their father, played by Dominic West, fails to keep his crying discreet.

Testament of Youth is a three hanky weeper. War is never pretty and people die. At one point Vera takes care of some wounded German soldiers. As she speaks German, one dying Hun finds comfort in her telling him she is there listening to his confession. From what Vera Brittain experienced, it is understandable that she became a pacifist.
Alicia Vikander, the break out star of 2015, is in nearly every scene and for my money, pulls off a more demanding role here than she did in The Danish Girl. Taron Egerton, whose acting career likewise has recently taken off, proves again to have an abundance of movie star charm and acting talent. Kit Harrington is most known for his brooding in "Game of Thrones" but proves here to be a very competent actor. His best scene being when he breaks down with Vikander on the beach, while on leave.
Testament of Youth is a truly moving account of how one girl walked away from her ivory tower, got her hands dirty, her heart broken and her mind expanded. 

Reviewed on:
March 26th, 2016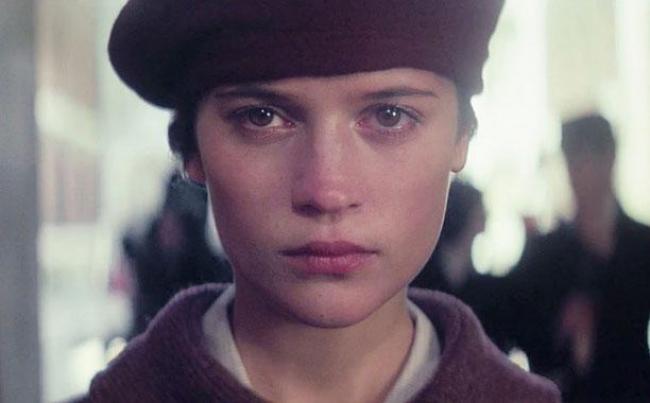 Alicia Vikander in Testament of Youth.
Testament of Youth was produced and released in the UK in 2014 as part of the centenary commemoration of the beginning of World War I by BBC Films. It is a beautiful and moving film, but as Eric said, it's a weeper. This is a sad story that offers little respite from the gloom. Vera suffers loss after loss and while it changes her fundamentally, turning her to a life of pacifism, given what we know about the rest of the 20th century, including another world war in less than 25 years, it's hard to see her life as a rewarding one. And over 2 hours is a long time to spend with such a gloomy tale.
The cast is terrific. Vikander delivers another high quality performance. Although she shares the screen with other actors, she carries the film single-handed. As Vera she transforms from a romantic young girl dreaming of a higher education, to a mature woman who has been battered by life, losing her two great loves in the forms of her fiancee and her brother. She is vulnerable and real, displaying a wide range of emotions without ever going over the top. I have no doubt that her Oscar win for The Danish Girl won't be her last.

One of the most unique aspects of the story is that it's a war film from the point of view of a woman. While all the men rush off to fight, Vera must cope, first emotionally with the loss of her friends and lover, and then later with the physical trials of working as a nurse near the frontlines of the war. The men romanticize the war, while she deals with the reality they leave behind.
The film is beautifully shot and sure to be enjoyed by lovers of period films. The attention to detail is exactly what you'd expect from a film produced by the BBC. The costumes, the sets, and the locations are all impeccable. Even the ugliness of war is filmed well, including one powerful crane shot that pulls back and pulls back to reveal an ever widening shot of the wounded that is reminiscent of a similar scene from Gone with the Wind.
This emotional story is bound to touch even the hardest of hearts. Be warned though, the pace is languid and the mood a sad and often grim one. It's a rewarding watch, but far from a feel good one. Keep a tissue or two handy while watching.

Photos © Copyright BBC Films (2015)