Movie Review
Terms of Endearment
Come to Laugh, Come to Cry, Come to Care, Come to Terms.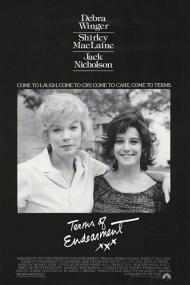 US Release Date: 12-09-1983
Directed by: James L. Brooks
Starring
▸
▾
Shirley MacLaine

,

as

Aurora Greenway
Debra Winger

,

as

Emma Horton
Jack Nicholson

,

as

Garrett Breedlove
Danny DeVito

,

as

Vernon Dahlart
Jeff Daniels

,

as

Flap Horton
John Lithgow

,

as

Sam Burns
Lisa Hart Carroll

,

as

Patsy Clark
Betty King

,

as

Rosie Dunlop
Huckleberry Fox

,

as

Teddy Horton
Troy Bishop

,

as

Tommy Horton
Shane Serwin

,

as

Younger Tommy Horton
Megan Morris

,

as

Melanie Horton
Norman Bennett

,

as

Edward Johnson
Albert Brooks

,

as

Rudyard (voice)
Mary Kay Place

as

Doris (voice)
Reviewed on:
March 19th, 2012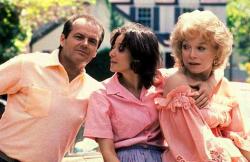 Jack Nicholson, Debra Winger and Shirley MacLaine in Terms of Endearment.
The tearjerker movie, specifically those dealing with a young woman dying from a terminal disease, has been around for a long time. Bette Davis succumbed to a brain tumor in 1939's Dark Victory, Ali MacGraw lost her battle with cancer in Love Story in 1970, and Susan Sarandon bravely met the same fate in 1998 in Stepmom. And those are just a few of the most famous examples.
Terms of Endearment, from 1983, represents the absolute apex of the genre, winning five Academy Awards including Best Picture, Director and Adapted Screenplay for producer/director/writer James L. Brooks, as well as Best Actress for Shirley MacLaine (beating out costar Debra Winger in the same category) and Supporting Actor for Jack Nicholson (over cast-mate John Lithgow).
In addition, Michael Gore's instrumental theme became quite well-known and he was likewise Oscar nominated for Best Original Score, losing to Bill Conti for The Right Stuff. Terms finished the year as the second highest grossing domestic hit of 1983 behind box office juggernaut Return of the Jedi, making it one of those rare movies that appears once every decade or so that charms audiences and critics alike.
Although the entire cast is superb the movie belongs to Shirley MacLaine. As Aurora Greenway she gives her finest performance. This was her fifth Oscar nomination for Best Actress and her first win. She began her acceptance speech by saying, "I am going to cry because this show has been as long as my career!" Well, as of 2012, Shirley MacLaine's long career is still going strong, which means that Terms of Endearment now represents the halfway point!
Terms of Endearment was based on the novel by Larry McMurtry. He was no stranger to Hollywood having previously seen successful movies made from his books Hud and The Last Picture Show. McMurtry would win an Oscar with Diana Ossana for adapting the screenplay for 2005's Brokeback Mountain.
The story covers 30 years or so in the lives of a wealthy, uptight Texas woman and her free-spirited daughter. The daughter marries against her mother's wishes and eventually has three children. Other people come in and out of their lives as the years go by, until the fateful day Emma is diagnosed with cancer... Cue the waterworks.
One unique little detail of the story that I personally enjoy is Emma's (the daughter) penchant for show tunes. Throughout the movie she plays Ethel Merman and Judy Garland records. Jeff Daniels, as her husband Flap, comments in one scene on how odd it is to have sex to "Gee, Officer Krupke" from West Side Story.
From Shirley MacLaine and Jack Nicholson driving in that convertible in the surf, or Debra Winger saying a tearful deathbed goodbye to her two young sons, or MacLaine dramatically begging the nurses to give her daughter her painkiller shot, Terms of Endearment is filled with classic scenes. It offers a textbook lesson on how to balance the tragic with the comic.
Some movies lose their emotional impact over time but Terms of Endearment remains every bit as powerful today as it was in 1983. Regardless of whether you've never seen it or are watching it for the tenth time be sure to have plenty of tissues nearby.
Photos © Copyright Paramount Pictures (1983)