Movie Review
Teenage Mutant Ninja Turtles: Out of the Shadows
Only one team can defend us all.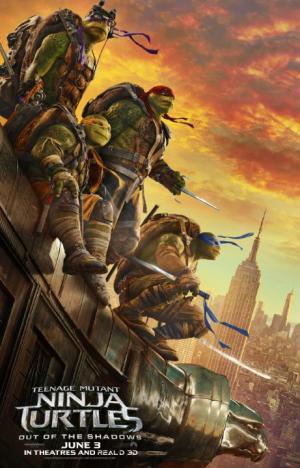 US Release Date: 06-03-2016
Directed by: Dave Green
Starring
▸
▾
Megan Fox

,

as

April O'Neil
Will Arnett

,

as

Vernon Fenwick
Laura Linney

,

as

Chief Vincent
Stephen Amell

,

as

Casey Jones
Noel Fisher

,

as

Michelangelo
Jeremy Howard

,

as

Donatello
Pete Ploszek

,

as

Leonardo
Alan Ritchson

,

as

Raphael
Tyler Perry

,

as

Baxter Stockman
Brian Tee

,

as

Shredder
Stephen Farrelly

,

as

Rocksteady
Gary Anthony Williams

,

as

Bebop
Peter Donald Badalamenti II

,

as

Splinter
Tony Shalhoub

,

as

Splinter (voice)
Brad Garrett

,

as

Krang (voice)
Brittany Ishibashi

,

as

Karai
Connor Fox

,

as

Trevor
Alessandra Ambrosio

,

as

Alessandra Ambrosio
Carmelo Anthony

,

as

Carmelo Anthony
Dean Winters

,

as

Bartender
Kevin Eastman

as

Pizza Delivery Guy

Reviewed on:
June 9th, 2016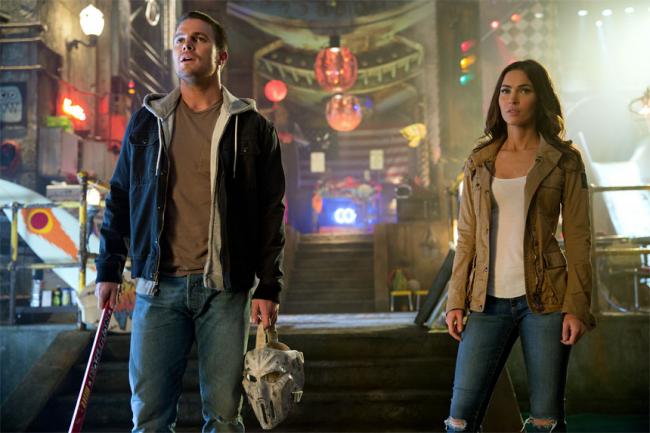 Stephen Amell and Megan Fox in Teenage Mutant Ninja Turtles: Out of the Shadows
Teenage Mutant Ninja Turtles: Out of the Shadows takes up right where Teenage Mutant Ninja Turtles (2014) left off. It begins with our four young heroes sneaking into Madison Square Garden to watch the Knicks play the Lakers from atop the jumbo tron, as they do not want to be seen by anyone other than April. Meanwhile, scientist Baxter Stockwell (Tyler Perry) is working with Shredder's gang to help Shredder escape from a prisoner transport. Although the turtles try to intercede, the escape is successful.

Shredder joins forces with the Evil Krang, a disgusting looking creature from another dimension who has plans to conquer Earth once Shredder has collected three pieces of a device that will allow him to travel here. Shredder has Stockwell give the two other escaped prisoners, that were with him, played by "Malcolm in the Middle's" Gary Anthony Williams and WWE superstar Sheamus, some purple juice, given to him by Krang. It turns them into their alter animal. One becomes a rhinoceros-man and the other a large warthog-man named Rocksteady and Bebop.
With the amount of villains multiplying so does our number of heroes. The police officer driving the transport that Shredder escaped from was Casey Jones, the hockey equipment wielding vigilante, played by "Arrow's" Stephen Amell. On his own time he begins to search for the escaped prisoners. He ends up rescuing April and meets the turtles. With some help from Vernon Fenwick, they battle to save the earth from an inter-dimensional hostile takeover. This includes several action scenes, with the big moment being when the turtles go to Brazil and end up jumping out of a plane to land on another one flying below it and then battle Rocksteady and Bebop aboard it, before they all end up in the Amazon River.

Judging by the audience I saw this movie with, the Teenage Mutant Ninja Turtles have a strong fan base. My youngest son can name them all and easily distinguish them apart, while I have to be reminded every time I watch one of their films. To help out, a scene is included where Michelangelo introduces them, "This is Leonardo! He's our fearless leader! Raphael's like a cuddly teddy bear... if big cuddly teddy bears were incredibly violent. Donatello, he's a technical genius. And I'm Michelangelo! I'm a triple threat: brains, brawn and a dazzling personality!"
Michelangelo is my son's favorite as he is always so happy-go-lucky. Mine is Raphael, the muscle of the group. During the film's first action scene he complains of his brawn not being properly utilized before jumping from their truck and taking care of several baddies. He is also sensitive, thinking the others do not always respect him. Although he is the strongest he is not always the bravest. Before jumping out of a plane, Raphael has to pump himself up by saying, "What would Vin Diesel do? No regrets, no fear!"

Raphael is also featured in my favorite humorous moment. While climbing out of the Amazon River, he comes upon a large real turtle who winks at him, prompting Raphael to note, "That's awkward." The best line in the film belongs to Will Arnett, "Why aren't we going with the Turtles? When something bad happens, you want to be with the Turtles!" Is that not the best advice to give anyone in a film featuring a superhero or any episode of Doctor Who?
Out of the Shadows is a fun ride but for a movie about ninjas, there was actually very little martial arts fighting going on. This film will likely still please its fan base but it will not make any new adult fans. Laura Linney, a truly great actress, looks absolutely embarrassed to be seen in this film. She never quite grasps how to play her part in such a movie. Tyler Perry however, jumps right into the camp with comfortable aplomb. Simply put, you either get, or don't get, the Teenage Mutant Ninja Turtles. There is very little room for middle ground.

Photos © Copyright Paramount Pictures (2016)
Related Reviews