Movie Review
Tango Tangles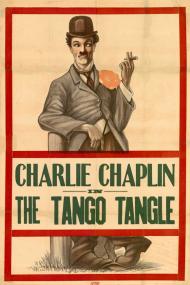 US Release Date: 03-09-1914
Directed by: Mack Sennett
Starring
▸
▾
Charles Chaplin

,

as

Tipsy Dancer
Ford Sterling

,

as

Band Leader
Roscoe (Fatty) Arbuckle

,

as

Clarinettist
Chester Conklin

,

as

Guest in Police Costume
Minta Durfee

,

as

Guest
Al St. John

,

as

Guest in Convict Costume
Harry McCoy

as

Piano Player


Reviewed on:
September 29th, 2012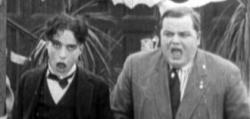 Charles Chaplin and Fatty Arbuckle in Tango Tangles
Tango Tangles was just one of the three dozen short films Charlie Chaplin made in 1914, the year he started acting in film. The most notable thing about it was that he is not playing The Little Tramp. There is no mustache or baggy pants.
Chaplin plays a drunk who wanders into a costume party. He meets a girl and soon begins flirting and then dancing with her. The band leader, Ford Sterling, also likes her, as does a clarinet player in his band, Arbuckle. The gist of the film simply involves a drunk, Chaplin, getting into a long fight with Sterling; until they both fall over exhausted.
The other thing to note about Tango Tangles is that it featured three stars of the day. Arbuckle had been in films since 1909 and Sterling since 1911. Compared to them, Chaplin was the rookie, even though he was top billed. Arbuckle gets very little screen time, while Sterling steals the film from Chaplin. His antics during the fight are much broader and funnier than anything Chaplin does.
This was Chaplin in his experimental stage. He had yet to make The Tramp his screen persona of choice. He would do drunk funnier in One A.M. a few years later. Tango Tangles is merely a glimpse into the making of a legend.
Reviewed on:
November 7th, 2012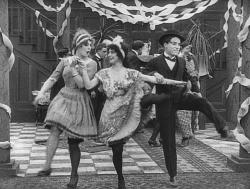 Charles Chaplin dances with two girls in Tango Tangles.
This movie proves that Charles Chaplin was too handsome to play comedy straight. He needed the trappings of the Little Tramp to become great. Sure his graceful physical prowess was already in evidence here (see photo), but he didn't stand out enough from the crowd. I agree with Eric that both Ford Sterling and Roscoe Arbuckle ham it up in funnier ways than Chaplin, who had only made a handful of films at this point in his fledgling career.
The best thing about this little one-reeler is watching all the dancers in the background, many of whom are dressed in costumes. If you look closely you can even spot a same sex couple on the dance floor. Chester Conklin dressed as a Keystone Kop dancing with Al St. John dressed in a striped convict's uniform, hilariously suggesting some naughty prison shenanigans.
I was surprised by the quality of the print available on You Tube. For a movie that is quickly approaching the century mark it is remarkably well preserved. Watch this one as a time capsule of a long ago period in movie history and to see the legendary Charlie Chaplin at the very beginning of his career, when he was still discovering the amazing possibilities of his unparallelled talents.
Reviewed on:
November 11th, 2012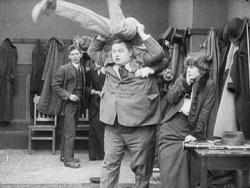 Roscoe Arbuckle in Tango Tangles.
Watching these three stars from the early days of silent cinema, it's easy to see why Chaplin and Arbuckle would outlast Ford Sterling. His acting style is very old fashioned, hammy and over the top compared to either of them. He doesn't steal the short, he just mugs it up outrageously for the camera.
Not that Chaplin is a master of understatement here either. This is a long way from the subtle, pathos of his later films. He throws himself around and overacts nearly as bad as Sterling during their fight scenes. Perhaps he was just trying not to be upstaged. He fares better during the scene alone with hat check girl where even she seems to be trying not to laugh.
In a bit of irony, Arbuckle, the largest of the three comedians, plays it smallest. He seems the most natural in front of the camera. Chaplin and Sterling are acting with a capital "A", but Arbuckle seems like a real person even when tossing people around like dolls.
All of the physical antics may have been amusing in 1914, but nearly a century later there's not much to laugh at. The big physical shtick in the film is when Sterling knocks Chaplin over or Chaplin knocks Sterling over and the knockee falls over backward to fling their legs over their head. It's a move that pulled about five times over the course of this 10 minute short and it doesn't get funnier with overuse.
This is more a curiosity than it is entertainment.
Photos © Copyright Keystone Film Company (1914)