Movie Review
The Taming of the Shrew
A romantic film amorously devoted to every man who ever gave the back of his hand to his beloved...and to every woman who deserved it!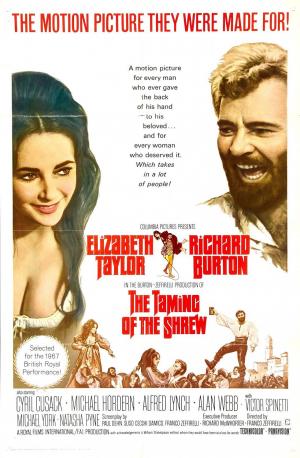 US Release Date: 03-08-1967
Directed by: Franco Zeffirelli
Starring
▸
▾
Elizabeth Taylor

,

as

Katharina
Richard Burton

,

as

Petruchio
Cyril Cusack

,

as

Grumio
Michael Hordern

,

as

Baptista
Alfred Lynch

,

as

Tranio
Alan Webb

,

as

Gremio
Giancarlo Cobelli

,

as

The Priest
Vernon Dobtcheff

,

as

Pedant
Ken Parry

,

as

Tailor
Anthony Gardner

,

as

Haberdasher
Natasha Pyne

,

as

Bianca
Michael York

,

as

Lucentio
Victor Spinetti

,

as

Hortensio
Roy Holder

,

as

Biondello
Mark Dignam

as

Vincentio

Reviewed on:
April 4th, 2016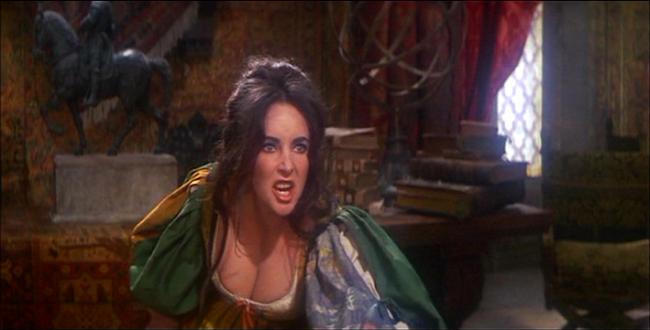 Elizabeth Taylor in The Taming of the Shrew
I am not, nor have I ever been, a fan of the works of William Shakespeare. My description of most of his writing is that he took so long to say so little. I know, I know, I am missing the point as it was his words and not his plots that so made his plays popular. I had two early exposures to his work when I was in high school. The first was at the Stratford Shakespeare Festival in Ontario, Canada. I cannot recall the name of the play but I do remember annoying the crap out of some fellow audience members by my snoring. I was continuously getting dirty looks. The other exposure came from my British Literature class where the teacher showed us the 1967 adaptation of The Taming of the Shrew. It is not a strict interpretation as there are three writers listed besides Shakespeare, who gets his due with the credit, "With acknowledgements to William Shakespeare without whom they would have been at a loss for words."
The shrew in question is Katharina, the ornery older sister of the delightfully popular Bianca. When men come calling for Bianca's hand, her father tells the matchmakers that she can only be wed if Katharina gets married first. Enter the drunken Petruchio, who gets conned and enticed by Katharina's dowry to woo her into marriage. By woo, I mean Petruchio chases Katharina around her father's home while she tries to avoid and hurt him as much as she can. It is truly a lively and humorous frolic, enhanced by Elizabeth Taylor's ever heaving ample bosom. I told you I was a teenager when I first saw this. The image of her heavy breathing in that tight cleavage plunging dress has never left me.
Anyhoo, Petruchio and Katharina eventually get married and start a tumultuous marriage at his country castle, where Petruchio works hard at taming her into the kind of wife he wants. When word comes of Bianca's wedding, the couple journey to Katharina's father's home where everyone witnesses her startling transformation.
The Taming of the Shrew is a wonderful fast paced comedy, with some truly laugh out loud moments. It was sold to the public as a film perfectly suited to it leads who had a reputation for arguing and had just come off the success of Who's Afraid of Virginia Woolf (1966). Katharina barks, snaps and physically assaults all around her, while Petruchio demeans her in his scheme to train her. It is however, the reaction from the supporting players that causes most of the laughs. One of my favorite characters is Katharina's father played by Michael Hordern who is basically reprising his role as the put upon husband in A Funny Thing Happened on the Way to the Forum (1966). Note the look on his face when Katharina calls out Bianca and another woman on being less that gracious wives.
Although this is a light and entertaining film, it has been scorned for being sexist. Petruchio treats Katharina like a spoiled child who must learn to appreciate all that he provides for her. Considering when this story was written, it makes sense for that time. For today's relationships, not so much. Granted, Petruchio provides a large home and a staff for his wife but never is she given credit for cleaning the place up. It becomes truly offensive when he expects her to not speak an opinion unless he gives her one.
Okay, so what if it is politically incorrect by today's standards? The Taming of the Shrew still provides a great movie watching experience. Richard Burton looks rugged with his beard and hairy chest and Elizabeth Taylor is made up like the beauty she was. Even her few extra pounds were working for her. I did mention her breasts, right? .

Photos © Copyright Columbia Pictures Corporation (1967)