Movie Review
Tamara Drewe
You can't enjoy the countryside without getting a little dirty.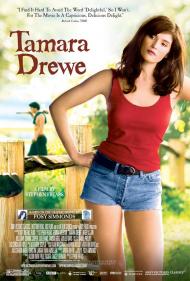 US Release Date: 10-08-2010
Directed by: Stephen Frears
Starring
▸
▾
Gemma Arterton

,

as

Tamara Drewe
Roger Allam

,

as

Nicholas Hardiment
Bill Camp

,

as

Glen McCreavy
Dominic Cooper

,

as

Ben Sergeant
Luke Evans

,

as

Andy Cobb
Tamsin Greig

,

as

Beth Hardiment
Jessica Barden

,

as

Jody Long
Charlotte Christie

as

Casey Shaw

Reviewed on:
February 8th, 2011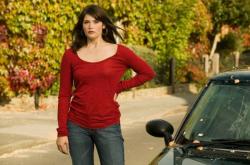 Gemma Arterton in Tamara Drewe.
Based very loosely on Thomas Hardy's "Far From the Madding Crowd" and adapted from the graphic novel of the same name, Tamara Drewe is a comic little British film starring former Bond girl and rising star, Gemma Arterton. It's a bit of a soap opera set in a small English village that works best in its lighter moments.
Most of the action takes place at a country home turned writer's retreat run by prolific author Nicholas Hardiment and his put upon wife Beth. Nicholas is a philandering populist writer who sarcastically mocks the more artistic writers who visit the retreat. Beth, played by a scene-stealing Tamsin Grieg, quietly looks the other way while her husband cheats on her as she quietly encourages and cares for the other writers who visit their home. The village folk include the studly caretaker Andy, an attractive barmaid and two bored schoolgirls.
The quiet of the countryside is disturbed by the return to the village of Tamara Drewe, who has come back to sell her family home now that her mother has died. She causes a stir because of how much she's changed since she moved away. Following a nose job and a glamorous makeover, she's the most beautiful thing to hit the village in years. She soon has three men lusting after her.
Nicholas is quickly smitten with her. Andy and Tamara shared a past relationship and you can see that the chemistry is still there. Her third suitor is Ben, a rock star whom Tamara is sent to interview. All of them, for very obvious reasons, fall in love or lust with Tamara and so will you when you see her poured into those skintight, short-short cutoff jeans.
While the movie starts quite light-heartedly and retains its sense of humor through most of it, it does become much more dramatic near the end. It is definitely the lighter moments that work best, although even those are more of the smile and chuckle type rather than laugh out loud. The two bored schoolgirls provide some of the funnier moments as they plot to meet Ben, the rock star. Tamsin Grieg (Black Books, Episodes), gets a few good moments in as well.
I don't know if it's because the story is based on a graphic novel that was in turn adapted from a comic strip, but the plot feels more episodic rather than one concise story. It covers one year and captions needlessly point out the changing of the seasons, as if we wouldn't notice the changing the scenery. This lack of cohesiveness hinders the story and is probably why the drama doesn't work quite as well.
The character of Drewe is also a little vague. Is she using the men in the village or being used by them? Her only real character note seems to be that she's had her nose fixed.
Overall, a flawed, but mostly charming little film that just needed a tighter script and a quicker running-time to really work.

Reviewed on:
August 11th, 2013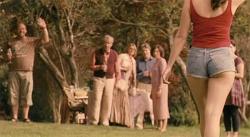 Tamara Drewe wants and gets their attention.
I thought Tamara Drewe's motivation is made all too clear when she first appears in those very short shorts. She walks up to a crowd of people dressed to turn on the men and start the women talking. When she was last seen in this town she was just the big nosed daughter of a wealthy family. She wants her new found sensuality noticed and she is willing to put it out there to make sure it does.
Clearly Andy is the one she is intending to originally impress as he broke up with her. However, once her looks attract a famous author and a rock star, her need for Andy's approval seems to take a back seat. She becomes a bit of a slut. Who besides a woman of little morals has sex with a rock star and a married man?
As questionable as her motives are, Nicholas Hardiment is a completely unlikable character having affair after affair on his put upon wife. She is nothing more than a complacent doormat that he wipes his feet on when returning from his latest extra marital affair. Both of their best moments come on the cow pasture.
I rooted for none of these "adults". Andy pines for Tamara but puts in the barest of effort to get her attention. Clearly she is open to his affection. She wore those shorts for him after all. We keep seeing him get jealous over her other lovers but he does little to express his feelings.
My favorite characters are Jody and Casey because due to their age we can forgive their lack of maturity. They are at first thrilled that their favorite rock star is giving a concert nearby. Then they are excited that he is staying in their town so they can spy on him. They then turn jealous and angry over him having an affair with Tamara. They go through an entire relationship of emotions over him before they ever actually meet him.
As Scott wrote, the film starts light and enjoyable but takes a very dramatic turn. Often we have Hardiment and his wife arguing while the writers, or a writer, witness it and sometimes make witty comments. The arguments between the married couple are played completely straight so I found it hard to find humor in any of them. Had their relationship been played more for laughs I would have better enjoyed the humor.
Gemma Arterton is one very beautiful actress and this film is a brilliant showcase for her looks. However, her looks are all that I am taking away from it. Like so much of her work, she is little more than sexy decorations, but it is not her fault. She did not write the uneven script.
Photos © Copyright BBC Films (2010)