Movie Review
Talladega Nights: The Ballad of Ricky Bobby
The story of a man who could only count to #1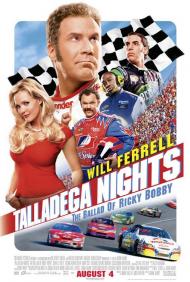 US Release Date: 08-04-2006
Directed by: Adam McKay
Starring
▸
▾
Will Ferrell

,

as

Ricky Bobby
Sacha Baron Cohen

,

as

Jean Girard
John C. Reilly

,

as

Cal Naughton Jr.
Michael Clarke Duncan

,

as

Lucius Washington
Amy Adams

,

as

Susan
Gary Cole

,

as

Reese Bobby
Jane Lynch

,

as

Lucy Bobby
Leslie Bibb

,

as

Carley Bobby
David Koechner

,

as

Herschel
Adam McKay

,

as

Terry Cheveaux
Ian Roberts

,

as

Kyle
Jack McBrayer

,

as

Glenn
John D. King

,

as

ESPN Reporter
Pat Hingle

,

as

Mr. Dennit Sr.
Greg Germann

,

as

Larry Dennit Jr.
Molly Shannon

,

as

Mrs. Dennit
Andy Richter

,

as

Gregory
Houston Tumlin

,

as

Walker Bobby
Grayson Russell

,

as

Texas Ranger Bobby
Dale Earnhardt Jr.

,

as

Himself
Elvis Costello

,

as

Himself
Mos Def

as

Himself

Reviewed on:
August 6th, 2006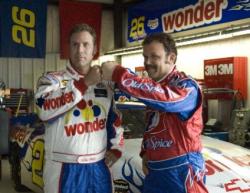 Will Ferrell and John C. Reilly in Talladega Nights: The Ballad of Ricky Bobby.
As a huge Will Ferrell fan (I don't think Saturday Night Live has yet recovered from his departure) this was one of the movies I was most looking forward to this summer. After watching it, despite having laughed through most of it, I still found that I was vaguely dissatisfied and disappointed. The truth of the matter is, I think that my anticipation made it seem funnier than it actually was. I wanted it to be funny and so, for the first half-hour at least, I found it to be hysterically so. Was the rest of it actually less funny, or was it just that my momentum had stopped carrying me through it?
The concept of the movie certainly is one that would open itself up to jokes. Ferrell stars as Ricky Bobby, a man who was born in the back of a speeding car and who hasn't slowed down since. He's lived his whole life by the words of his alcoholic, absentee, smalltime race car driver father. "If you're not first, then you're last." Now grown up, Ricky is the top NASCAR driver in America, has multiple endorsement deals (including one for "the official tampon of NASCAR, so women can cover up their mysterious lady parts" [Ricky's words]), "a smoking hot wife", two horribly aggressive sons named Walker and Texas Rangers ("if we'd wanted them to be wimps, we'd have named them Dr. Quinn and Medicine Woman!"), and everything seems to be going great for Ricky Bobby.
His life starts to unravel when Jean Girard, a gay, French, sophisticate driver comes to America with the sole purpose of defeating Ricky Bobby; which he promptly does, both physically and on the track. Following this, Ricky loses his wife and home to his best friend and is forced to live with his mother. Just when things seem to have reached rock bottom, his wayward father returns to put him back on the track to success, which apparently leads through a cougar in a car, driving blindfolded and getting thrown out of Applebees.
Like Ricky Bobby, this movie is at its best when it's around or on the race track. The middle third of the film when Ricky is off the track, the story kind of runs out of gas. It isn't until Ricky's father straps a kilo of cocaine to the underside of the car, calls the cops and then tells Ricky that he's got five minutes to decide whether or not he's going to drive faster than ever or go to jail, that the movie takes off again.
While the movie does veer somewhat close to sentimentality a few times, it always manages to steer away from it at the last moment. One of my favorite moments comes near the end. Every race day Ricky leaves two tickets at the entrance for his father, who never shows up to take them. Finally, after returning into Ricky's life and helping him regain his confidence, his dad shows up on the day of the big revenge race against Jean Girard and takes the two tickets, then immediately turns around and starts trying to scalp them.
Just writing about this movie has made me smile so there is definitely plenty to laugh at in it. I think unlike most movies, where I go in with low expectations, my expectations of this one were just to unrealistically high. No movie could be as funny as I was imagining this one would be. I think it's going to take a second viewing for me to truly judge this one.

Reviewed on:
August 9th, 2006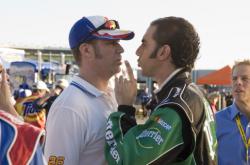 Will Ferrell and Sacha Baron Cohen in Talladega Nights: The Ballad of Ricky Bobby.
One viewing was definitely enough for me! Ferrell specializes in dumb characters doing dumb things. Sometimes dumb is funny and sometimes a rose is just a rose. The catch phrase, "Shake and bake" is not funny, it's dumb. It is not funny the first time someone says it and it is not funny the 16th time someone says it.
Although Scott thought this movie veers somewhat close to sentimentality a few times, I cannot think of a less sentimental movie. No one respects anyone else. No one loves anyone else. The wife is a gold digging trophy wife who kicks her husband and foul mouthed, sons out of the house. Ricky's best friend betrays him. His father is a drug dealing bum. His boss is a loser married to a drunk. Ricky himself is a self centered ignoramus. The only one who appears to be in a good relationship is Jean Girard and his German Shepard training husband.
The funniest moments to be found in this movie are in the previews. Save yourself the money and watch the trailer.
Reviewed on:
May 16th, 2012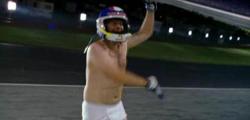 Help me Jesus! Help me Jewish God! Help me Allah! AAAAAHHH! Help me Tom Cruise! Tom Cruise, use your witchcraft on me to get the fire off me!
Talladega Nights has some funny moments courtesy of the talented cast but it makes the cardinal mistake common among modern comedies; it is just too damn long. Very few comedies should ever run 2 hours. I think 90-100 minutes is the ideal length. The jokes here definitely begin to run dry and it takes too long for the predictable ending to unfold.
Will Ferrell is a very talented comic. He makes everything Ricky Bobby does seem funny. He really stays in character, his speaking voice and physical mannerisms remain consistent throughout the movie. He is ably assisted by John C. Reilly as Cal Naughton, Jr., "So when you say psychosomatic, you mean like he could start a fire with his thoughts?" and Sacha Baron Cohen as Jean Girard, "Ricky... I watched the Highlander movie. It was shit!" Both of whom give quite amusing performances.
On a pop culture level this movie made a bigger splash on DVD than during its initial run. In 2009 Texas rapper B-Hamp launched a national dance craze called "do tha ricky bobby". It has inspired dozens of amateur videos on youtube. You can check out B-Hamp's version here.
Talladega Nights: The Ballad of Ricky Bobby is entertaining in a low brow humor kind of way. Although I agree with Eric that "shake and bake" isn't a very funny catchphrase. Still it's not all bad, particularly for a movie that was pitched by its producers to the studio as, "Six words: Will Ferrell as a NASCAR driver."
Photos © Copyright Columbia Pictures (2006)