Movie Review
Symphony of Six Million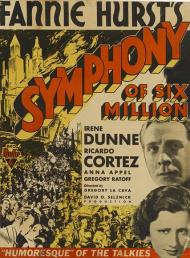 US Release Date: 04-29-1932
Directed by: Gregory La Cava
Starring
▸
▾
Ricardo Cortez

,

as

Dr. Felix 'Felixel' Klauber
Irene Dunne

,

as

Jessica
Anna Appel

,

as

Hannah Klauber
Gregory Ratoff

,

as

Meyer Klauber
Noel Madison

,

as

Magnus Klauber
Lita Chevret

,

as

Birdie Klauber
John St. Polis

as

Dr. Schifflen
Reviewed on:
March 11th, 2011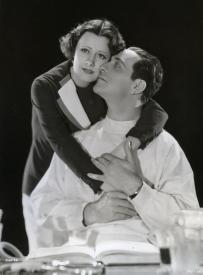 Irene Dunne and Ricardo Cortez in Symphony of Six Million.
Rarely do I watch a movie that I have never heard of. Symphony of Six Million was showing on TCM and I decided to give it a chance. Based on a story by Fannie Hurst (Imitation of Life) this is a good old fashioned pot boiler about the triumphs and tribulations of a Jewish family in New York in the early decades of the 20th Century.
The Klauber family lives in the ghetto on the Lower East Side of Manhattan. One son grows up to be a doctor with the noble intention of helping the poor at a free clinic. His ambitious brother gives their mother the idea to talk him into moving into a more lucrative practice uptown. Fame and fortune follow, but at what cost?
There is a young crippled neighborhood girl in love with the doctor. She teaches at a school for blind children. Melodrama of the highest order ensues when the doctor must perform surgery on his father to remove a brain tumor.
This movie was one of the first talkies to be fully orchestrated. The legendary Max Steiner composed it and many scenes are underscored with clanging crescendos. The atmosphere of the busy city streets filled with pushcarts and jostling throngs of people is vividly recreated.
The acting is hit and miss however. Anna Appel and Gregory Ratoff are wonderful as the very Jewish parents with their "Oy Vey" accents. They imbue their characters with a zesty likeability. Ricardo Cortez as the doctor is rather stiff and over cooked in his more emotional scenes and Irene Dunne, although a fine actress, is miscast as the crippled teacher. She was simply too refined to be believable as a ghetto home-girl.
Rarely has mainstream Hollywood so openly portrayed such an unapologetically Jewish family in a movie. Perhaps this being Pre-Code had something to do with it. It has also been suggested that the title, Symphony of Six Million, which refers to the population of New York City at the time the story takes place, took on an ironic meaning in the wake of Hitler's Holocaust. At any rate it is a decent - if unexceptional - motion picture suitable for a rainy afternoon matinee.

Photos © Copyright RKO Radio Pictures (1932)