Movie Review
Swiss Family Robinson
THRILL TO The Fabled Tree-House! -- The Wild Animal Race! -- The Great Pirate Attack!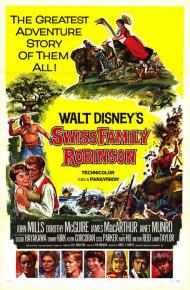 US Release Date: 12-21-1960
Directed by: Ken Annakin
Starring
▸
▾
John Mills

,

as

Father Robinson
Dorothy McGuire

,

as

Mother Robinson
James MacArthur

,

as

Fritz Robinson
Janet Munro

,

as

Roberta 'Bertie'
Sessue Hayakawa

,

as

Kuala, Pirate Chief
Tommy Kirk

,

as

Ernest Robinson
Kevin Corcoran

,

as

Francis Robinson
Cecil Parker

,

as

Captain Moreland
Andy Ho

,

as

Auban
Milton Reid

,

as

Big Pirate
Larry Taylor

as

Pirate

Reviewed on:
September 17th, 2014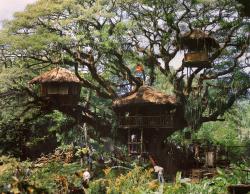 The elaborate treehouse built for Swiss Family Robinson.
The famous novel The Swiss Family Robinson, about a family that gets shipwrecked on a deserted island, was written by Johann David Wyss and first published in 1812. It is a story that Hollywood has enjoyed remaking many times over the years. The first full length feature film adaptation came in 1940 with the black and white RKO picture. There would be two more theatrical remakes of the story in the 1970s, and at least half a dozen made for television movies, as well as several television series, over the years. The color 1960 Walt Disney version, however, remains the most famous filmed adaptation of the story to date.
Although it makes several changes to the novel, the movie stays true to its spirit while adding some rousing adventure to the story, as well as a sprinkling of romance. But most of all it's a child's fantasy of what a tropical island would be like. The action begins immediately as the shipwreck occurs during the opening credits. We watch as the family struggles to get to the safety of shore and then build a life for themselves on the island. Only first they have to fight off pirates! It's a great way to start the movie since you just know these pirates will return at the climax.
The Robinson family (in the original novel the family isn't named Robinson. The Robinson in the title refers to Robinson Crusoe) consists of Father (John Mills), Mother (Dorothy McGuire) and their three sons, Fritz (James MacArthur), Ernest (Tommy Kirk), and Francis (Kevin Corcoran). (McGuire, Kirk, and Corcoran had played a family unit once before in 1957 in Disney's Old Yeller.) Fritz is the oldest and the most athletic while middle child Ernest is a more sensitive bookworm type. Little Francis has an affinity for animals. And boy does this island have a variety of wild critters, including zebras, elephants, tigers, and ostriches among many others.
It was shot on the island of Tobago, and on a sound stage in London. The elaborate treehouse in the movie was actually built in a huge tree called a saman (see photo). Due to the surrounding foliage there was only about three hours of good light to shoot the scenes in the tree with each day. Torrential rains further hampered shooting on location but the end result was worth all the trouble. Visually Swiss Family Robinson is a truly beautiful motion picture.
The cast includes Sessue Hayakawa, Hollywood's first Asian movie star, in the role of the leader of the pirates. He had been making films since the 1910s, having starred in the Cecil B. DeMille movie The Cheat in 1915, as well as many other films from the era. He was a swarthy male sex symbol on the silver screen several years before Rudolph Valentino. After making films outside of the United States for a number of years he resurfaced in Hollywood in 1949 in the Humphrey Bogart picture Tokyo Joe. The peak of his comeback occurred with a supporting actor Academy Award nomination for his role as the Japanese prison camp commander in The Bridge on the River Kwai in 1957. After Swiss Family Robinson he would make just two more films before his death in 1973 at the age of 84.
Swiss Family Robinson was a huge hit at the box office. With a haul of nearly 40 million dollars it was the highest grossing movie of 1960. It was re-released in 1969 and made another 6.4 million, which placed it as the 15th biggest moneymaker of that year. Adjusted for inflation it has earned more than 400 million dollars, placing it still among the biggest hits of all time. It also has been quite influential. George Lucas has said that he named Anakin Skywalker after the director of this movie, Ken Annakin, and the Robinsons' clever climactic battle with the pirates was a huge influence on the Ewok battle in Return of the Jedi.
For pure family fun and soaring adventure few movies surpass Swiss Family Robinson.

Reviewed on:
September 18th, 2014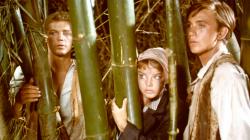 James MacArthur, Janet Munro and Tommy Kirk in Swiss Family Robinson
Swiss Family Robinson was one of the very first books I read as a child. I remember very few details other than the animals. I recall that it did not make sense to me that so many different animals could be located on this island. The movie agrees and includes a scene where Fritz and Ernst discuss how that could be possible. While the physical Fritz works, the intellectual Ernst suggests a land bridge that animals crossed on that has since vanished. Fritz adds that it must have been a long time ago. Okay, that does not exactly make sense but what the hell; I will simply accept that theory and move on.
As Patrick noted, the movie starts strong and exciting. The very first lines in the movie are, "Help, help!" as the family is trapped below deck on a ship in distress, due to a storm. The movie then moves on as we watch this family create a paradise all their own. Absolutely everything they seem to need was conveniently available on the ship wreck, be it building supplies or farm animals. As this family was relocating to New Guinea with all of their belongings, it makes sense that Mrs. Robinson has plenty of clothes and fine silverware. I am not sure what Mr. Robinson's career was but he and his sons certainly know construction, as that is one truly awesome tree house. When showing it to his wife, he proudly asks, "…didn't you ever dream of a house up on a tree top?" Mrs. Robinson answers, "No! Mostly I dream of having a house in New Guinea." Mr. Robinson made the tree house livable, convenient, secure and even romantic. He has needs as well.
Speaking of such issues, as their sons frolic in a river and play on a natural water slide, an ecstatic Mr. Robinson says to his wife, "Don't you sometimes feel that this is the kind of life we were meant to live on this earth? Everything we need, everything, right here, right at our fingertips." Mrs. Robinson agrees with her husband that they have everything they need but what about their sons. "It's wonderful for today, but what about tomorrow?" They both agree that their young men need young ladies.
The boys are also well aware of their own growing desires. While on an extended exploration of the island, Ernst asks his older brother, "Fritz! Listen! Do you think when we get to New Guinea, if we ever do, there'll be any girls our age?" Fritz smiles and jokingly answers, "By the time we get to New Guinea, we won't care what age they are!" The boys need not fret, as Mr. Robinson noted, the island does indeed provide them with everything they need. Fritz and Ernst soon thereafter run into an old man and a girl, who are captured by pirates. They rescue the girl, Bertie, believing she is a boy.
Of course they soon discover her true sex and both testosterone filled young men become instantly attracted to her. Depending on your political view, the way they suddenly treat her differently could be considered either sexist or sweetly old fashioned. The love triangle is the weakest part of the film. Bertie seems to take to both of them but to me it was obvious who she would end up with. This brief conversation sums up their time together. "Do you read a lot, Fritz?" asks Bertie, but before he can answer, Ernst jumps in with, "Who, him? He practically doesn't ever read at all!" Fritz however, gets the last word, "Never really needed to. Sooner or later, Ernst tells me everything he knows." It takes far too much screen time for this mild love story to be resolved.
Upon arriving back at the tree house with Bertie, Mr. Robinson eagerly announces to his wife, "What did I tell you? Anything we need, the island will produce it for us, even a girl." Of course he forgot that women never lose arguments as she comes back with, "A girl. But we have three sons."
It is easy to see why Swiss Family Robinson was a huge hit as it has so much entertainment to offer. There is action, adventure, romance and some humor. The scene with the anaconda attacking Fritz is not exactly well filmed but is made exciting by the fact that a real anaconda was used. The light moments are mostly provided by Francis who, as Patrick wrote, takes to the island and its animals like a fish to water. He tries to ride a turtle, an ostrich, play with some monkeys and even captures a tiger. He never sees any of them, or the pirates, as being seriously dangerous. He is having too much fun, and so will you. This is a family film that is truly for the entire family.
Photos © Copyright Walt Disney Productions (1960)