Movie Review
Swimfan
Obsession. Betrayal. Revenge. Some girls have all the fun.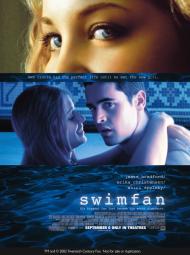 US Release Date: 09-06-2002
Directed by: John Polson
Starring
▸
▾
Jesse Bradford

,

as

Ben Cronin
Erika Christensen

,

as

Madison Bell
Shiri Appleby

,

as

Amy Miller
Kate Burton

,

as

Carla Cronin
Clayne Crawford

,

as

Josh
Jason Ritter

,

as

Randy
Kia Goodwin

,

as

Rene
Dan Hedaya

as

Coach Simkins

Reviewed on:
June 8th, 2003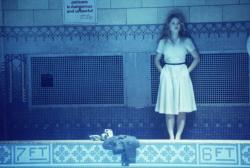 Erika Christensen in Swimfan.
High school senior Ben Cronin is about to have a great future. A swim scout coming to his meet, practically guarantees him a Stanford scholarship. His girlfriend Amy is as sweet and nice as they come. But then the new girl, Madison, comes to town.
At first, Madison flirts quite innocently with Ben, claiming to have a stuck locker that only he can open. He gives her a ride home from school. However, Ben finds himself attracted to her as well. One thing leads to another and before you know it they are making waves in the school pool.
Before and after having sex with Madison, Ben clearly states to her that he has a girlfriend, and that this fling was just a fling. However, action speak louder than words to some people. Madison immediately assumes the role of girlfriend and starts showing up at his house looking at baby pictures of Ben with his mother. She becomes friends with Amy. She calls and e-mails a lot. After Ben, again, makes it clear that they are not a couple, things escalate to a point where Ben's entire future and life is in jeopardy.
Swimfan is an obvious and direct lift from Fatal Attraction. You could almost consider it a remake with a high school setting. The big difference is that a high school senior who cheats on his girlfriend has a lot less to lose than a married father who cheats on his wife. Glenn Close in Fatal Attraction was a woman scorned gone psycho. Madison is just a psycho.
Jesse Bradford's Ben is supposed to be a former wild child. Raised by a single mother after dad had affairs, Jesse supposedly got into trouble with drugs. Swimfan takes place just after he got his life back together. Whatever! Bradford is an utterly clean cut guy. His character barely swears. He listens to loud rock and roll in his truck and attends a party with alcohol. Come on! The guy works after school at an old folks home dispensing medication. That is of course when he's not at swim practice or fawning over his virtuous girlfriend. The set up being that once one of his friends show up dead the cops automatically assume it's him because of his wild past.
This movie is as predictable as they come. There is so little suspense that it is boring. Don't get excited by the romantic poster shot either. The sex is as dull as the rest of the movie. If Jesse Bradford doesn't want to end up on some television show in a few years playing half of a newly wed couple with an adopted array of cute kids, he had better start picking out better roles.
Photos © Copyright 20th Century Fox (2002)