Movie Review
Suspect
No matter the cost, No matter the danger. They will find the truth.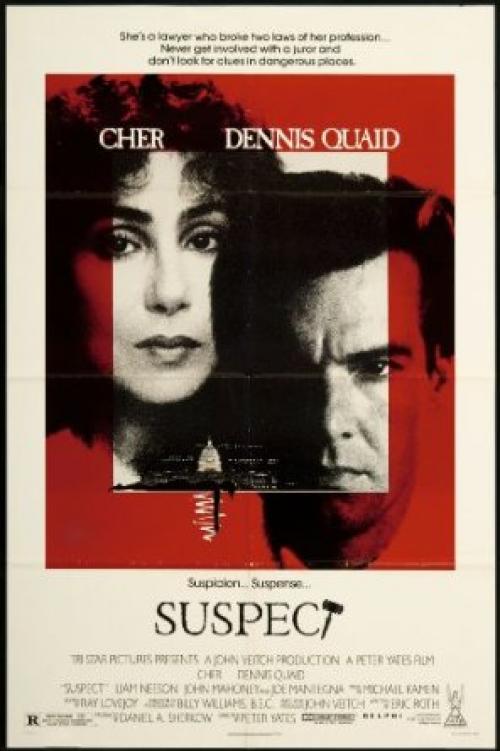 US Release Date: 10-23-1987
Directed by: Peter Yates
Starring
▸
▾
Cher

,

as

Kathleen Riley
Dennis Quaid

,

as

Eddie Sanger
Liam Neeson

,

as

Carl Wayne Anderson
John Mahoney

,

as

Judge Matthew Bishop Helms
Joe Mantegna

,

as

Charlie Stella
Philip Bosco

,

as

Paul Gray
E. Katherine Kerr

,

as

Grace Comisky
Fred Melamed

,

as

Morty Rosenthal
Bill Cobbs

,

as

Judge Franklin
Richard Gant

,

as

Everett Bennett
Sandi Ross

,

as

Doris / Video Typist
Michael Beach

as

Parking Lot Attendant
Reviewed on:
July 29th, 2015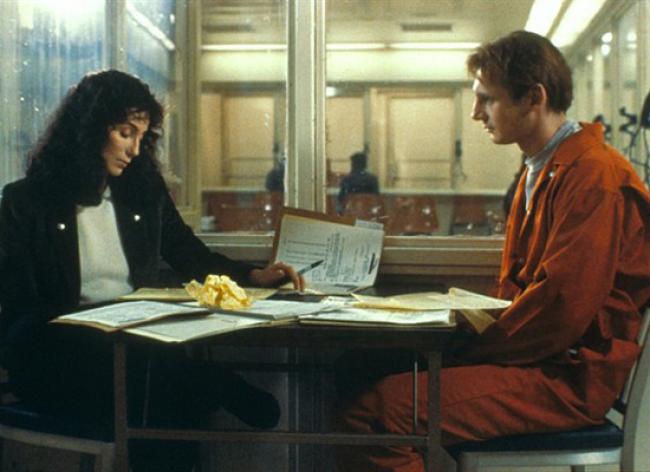 Cher and Liam Neeson in Suspect.
Suspect is a courtroom drama/thriller starring Cher, Dennis Quaid and Liam Neeson. It was directed by Peter Yates. I saw Suspect back when it first came out and I remember enjoying it. I hadn't seen it since and had forgotten many of the details over the intervening decades. It turns out it's still quite entertaining although it has a few flaws I didn't notice before. It was made at a time when America's attention was being drawn to the plight of the nation's homeless. Something that remains as topical now as it was in 1987.
The movie begins at Christmas time. We witness a judge committing suicide followed by a woman's murdered corpse being pulled from the icy Potomac (it's set in D.C.). A homeless man (Neeson) is quickly arrested and charged with her murder based almost entirely on circumstantial evidence. Cher plays the public defender assigned his case. Once she discovers that the accused is a deaf mute she begins to communicate with him by writing down her questions. Neeson was still relatively unknown at the time and the closest he comes to getting a spoken line is when he struggles to get out the nnnn sound in the word no.
Dennis Quaid plays a lobbyist whose specialty is seducing rich, powerful women. He gets picked as a jurist on the case Cher is defending. He surreptitiously gives her a tip in the courtroom and later they begin working together to solve the case. Romance blossoms along the way. One of the best moments takes place at a library. The presiding judge (John Mahoney) has already warned Kathleen about jury tampering because he suspects (correctly) she's in collusion with Dennis Quaid. Anyway the three of them are all together in the library and it's a tense well-played scene.
This was the movie Cher made right before her Oscar winning role in Moonstruck and right after the success of The Witches of Eastwick. All three movies came out in 1987, the peak year of her movie career. Cher had proven the many skeptics wrong by demonstrating her competence as a screen actress in movies like Silkwood (1983) and Mask (1985). That's why I was surprised by how bad a performance she gives here; something I didn't notice back in 1987. Perhaps she was just wrong for the part of beleaguered public defender Kathleen Riley but her acting here is almost amateurish by comparison to what it was in those other movies. Some of her lines are delivered with a tin ear and her character's dated style certainly doesn't help. What was up with that crimped hair? And those horrible 80s power suits. Ugh.
Although Cher is playing a modern liberated woman, the script is anything but feminist. The Dennis Quaid character basically solves the mystery for her, leading Kathleen Riley by the hand step by step through it. The worst example is how he points out to her that Neeson's character is right-handed while the throat of the victim was slit by someone using their left hand. I kept thinking how horrible a public defender this woman is if she never bothered to check this obvious detail. It's been a cliche in courtroom dramas for decades (remember Atticus Finch tossing that ball to Tom Robinson?) and she has to be instructed about it by a member of the jury. Come on.
Despite Cher's awkward performance and the flaws in the script, Suspect still manages to entertain. Liam Neeson demonstrates his already powerful screen presence and Dennis Quaid has rarely been more boyishly handsome. A pre-Frasier John Mahoney is also quite good as the judge. Cher looks like a movie star and there are moments when her Kathleen Riley is a ball-busting diva. Unfortunately, more often than not, the script makes her look a bit desperate and dim-witted.
Photos © Copyright TriStar Pictures (1987)