Movie Review
Superhero Movie
The greatest Superhero movie of all time! (not counting all the others)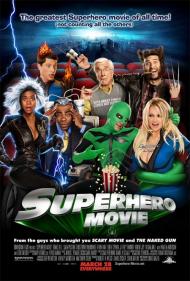 US Release Date: 03-28-2008
Directed by: Craig Mazin
Starring
▸
▾
Drake Bell

,

as

Rick Riker / Dragonfly
Sara Paxton

,

as

Jill Johnson
Christopher McDonald

,

as

Lou Landers / Hourglass
Leslie Nielsen

,

as

Uncle Albert
Kevin Hart

,

as

Trey
Marion Ross

,

as

Aunt Lucille
Ryan Hansen

,

as

Lance Landers
Keith David

,

as

The Chief of Police
Brent Spiner

,

as

Dr. Strom
Robert Joy

,

as

Dr. Hawking
Jeffrey Tambor

,

as

Dr. Whitby
Robert Hays

,

as

Blaine Riker
Pamela Anderson

,

as

Invisible Girl
Simon Rex

,

as

The Human Torch
Dan Castellaneta

as

Carlson

Reviewed on:
March 29th, 2008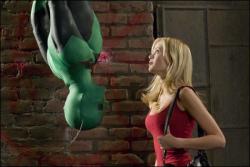 Superhero Movie
The first thing to note about Superhero Movie is that it is not a send up of the genre, as the movie poster would have you believe. Although the X-Men and Fantastic Four show up very briefly, this is really just a spoof of the first Spiderman movie. Other than a fat woman in a Wonder Woman costume at a comic convention, none of DC's characters show up.
Drake and Josh star Drake Bell has his first lead role here as the Peter Parker like, Rick Riker. He is in highschool and pines over the blonde girl next door, Jill. He lives with his old aunt and uncle. On a school field trip he gets bit by a dragonfly and gains the ability to climb walls. After being contacted by Professor X, and getting slapped by Mrs X, he makes and dons a green costume and becomes The Dragonfly.
As in all spoof films, some jokes work and some do not. In the scene where dragonfly learns that he can climb walls, he ends up break dancing on it. What is actually the punch line in that scene? Later, Rick and Jill are about to share a romantic moment and kiss when Rick's aunt starts farting, and farting and farting. Maybe it is just the kid in me, but a good fart scene always cracks me up.
Some of the film's jokes get a bit dark. Rick saves an old lady about to get hit by an oncoming truck by throwing her into a wood chipper. At Rick's aunt's funeral, his uncle fondles and tries to have sex with the corps of a dead beautiful woman. The aunt's body ends up getting spilled out of her casket and started on fire. The uncle, unbothered, just pulls out a coupon for a cremation and hands it to the funeral director.
Like his television co-star, Josh Peck, currently doing a supporting role in Drillbit Taylor, Bell has the talent to become a successful movie actor. He has all the comic timing of a veteran actor. In fact, Bell has been acting since he first appeared on an episode of Home Improvement at age eight. Look for him next in College, coming this summer, as well as a reunion with Josh Peck in Drake and Josh in New York!
Photos © Copyright Metro-Goldwyn-Mayer (MGM) (2008)