Movie Review
Super Troopers
Altered State Police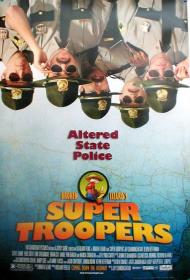 US Release Date: 02-15-2002
Directed by: Jay Chandrasekhar
Starring
▸
▾
Jay Chandrasekhar

,

as

Thorny Ramathorn
Steve Lemme

,

as

Mac Womack
Paul Soter

,

as

Jeff Foster
Erik Stolhanske

,

as

Rabbit Roto
Kevin Heffernan

,

as

Rodney Farva
Marisa Coughlan

,

as

Ursula Hanson
Brian Cox

,

as

Capt. John O'Brian
Daniel von Bargen

,

as

Police Chief Bruce Grady
Lynda Carter

as

Gov. Jessman

Reviewed on:
February 17th, 2002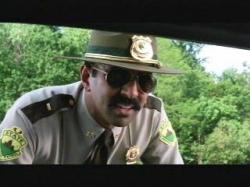 Jay Chandrasekhar in Super Troopers.
Super Troopers is extremely juvenile and silly but fast paced and performed with the right amount of self parody to work. The comedy troupe Broken Lizard wrote, star in and directed this story of State Highway Troopers in northern Vermont who have an ongoing feud with the local police.
There are many funny bits such as the opening scene when they pull over three young guys smoking marijuana. The guy in the backseat stuffs bags full of the herb in his mouth and then eats a bag of mushrooms. Later he is shown in the back of the patrol car licking the glass partition while saying "The snozzberries taste like snozzberries." In another bit a guy is shown having sex with an obviously fake bear in an attempt to distract the local police so that the troopers can sneak into their police station and steal some confiscated Marijuana in order to impress the visiting Governor (played by the still beautiful Lynda Carter of Wonder Woman fame) and thereby saving their jobs from being cut. I said it was juvenile and silly after all.
The guys in Broken Lizard all play off of each other well and as mindless entertainment that remains good natured even when being raunchy Super Troopers succeeds.

Reviewed on:
February 20th, 2002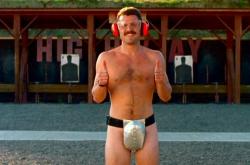 Super Troopers
I had no idea who Broken Lizard was before I saw Super Troopers. Now that I have seen it, I am still not sure who they are. The one thing I do know is that they had me laughing at juvenile, fraternity humor.
Patrick liked the pot smoking scene at the beginning of the movie. There are two kinds of people when it comes to drug jokes. Those who don't do drugs and have a hard time finding the humor in jokes about it. Then there are those people who do drugs and completely get and enjoy drug jokes. I don't do drugs.
The dialogue and slapstick are immature yet funny. One guy masturbates in his patrol car as he uses his radar gun to check his hand speed. As Patrick wrote, this is juvenile stuff. The last movie I watched prior to this one was The Good Girl. After watching that human drama the light heartedness of Super Troopers was very appropriate. These movies do share one similarity. Each have an unnecessary male frontal nude scene played for laughs. Yet neither scene is actually funny.
This movie comes off more like sketch comedy than it does one cohesive plot. I like the scene where the guy gets target practice done on his bullet proof thong. There is loads of guy humor to go around, even if you don't do drugs.
Reviewed on:
February 22nd, 2002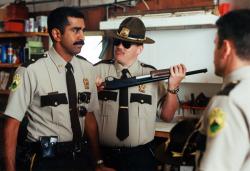 Super Troopers
Like Eric, I had never heard of Broken Lizard until this movie was released. Unlike Eric and his quaint little "theory", while I don't do drugs, I have no trouble laughing at movies that feature them, as I did with the jokes in this movie. And like both my brothers, I found this to be a moderately funny, if juvenile, movie that provides some laughs but little else.
The problem with Super Troopers is that at times it seems unclear of its direction. Is it an all out surreal comedy with no regard to reality? At times the humor heads in that direction, but then it returns to a more straightforward plot. This switching back and forth between all out insanity and 'normality' hinders both the jokes and the plot. One direction or the other would have made for a stronger movie.
Never having heard of Broken Lizard before this movie, I can't say that after watching it that I'll be likely to hear from them again.
Photos © Copyright Fox Searchlight Pictures (2002)