Movie Review
Super Capers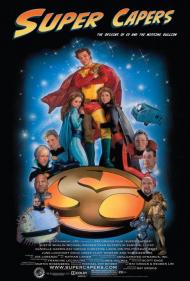 US Release Date: 03-20-2009
Directed by: Ray Griggs
Starring
▸
▾
Justin Whalin

,

as

Ed Gruberman
Sam Lloyd

,

as

Herman Brainard
Ryan McPartlin

,

as

Will Powers
Ray Griggs

,

as

Puffer Boy
Tom Sizemore

,

as

Roger Cheatem
Danielle Harris

,

as

Felicia Freeze
Christine Lakin

,

as

Red
Clint Howard

,

as

Mugger
Adam West

,

as

Cab Driver
Michael Rooker

,

as

The Dark Winged Vesper
June Lockhart

as

Mother

Reviewed on:
March 25th, 2009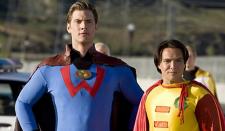 Will Powers and Ed.
I wonder who Ray Griggs knows? For Super Capers he is listed as the director, writer, star and a producer. His only other movie is an 8 minute film on the fall of Satan titled, Lucifer. So who does he know that donated the money and greenlit this horrible, horrible film?
Ed fancies himself a superhero as he walks around in a costume. One day, circumstances arise in which he finds himself a member of a real superhero group, The Super Capers. They are all inept in their own stupid way. One superhero dies minutes after he appears on screen, in the films funniest moment. The group does battle with some baddies and Ed ends up a hero.
The movie is supposed to be a series of movie parodies. Everything from Back to the Future to The Matrix get touched on. Like most rookie film makers, Griggs has no clue how to execute it. Instead of poking fun at Star Wars, he re-enacts an entire scene. Even worse, they stop suddenly, and one character announces to the other that what they just said was from Return of the Jedi.
Every single aspect of this film seems very amateur. The special affects are cheap. The costumes look like they were made in some ones home, as a school project. The sets look like they were left overs from a small town play.
The only inkling of entertainment to be found here is in the character of Will Powers. Played by Chuck's Captain Awesome, Ryan McPartlin, Will Powers is an insecure, egotist. Before going into action he has to turn on his theme song. His weakness is when someone insults him. Hey, I did not say he was a great character, just the best in the movie.
The one and only unique thing about this film, other than it makes every other super movie ever made look great, is that it mentions God. Ed has no super powers, so when he gets into trouble he prays. A religious super hero could be an interesting character in the hands of a writer/director who actually knows what he is doing.
Photos © Copyright Roadside Attractions (2009)