Movie Review
Summer Stock
Judy and Gene put on a Show!!!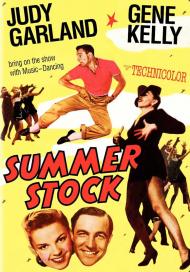 US Release Date: 08-31-1950
Directed by: Charles Walters
Starring
▸
▾
Judy Garland

,

as

Jane Falbury
Gene Kelly

,

as

Joe D. Ross
Eddie Bracken

,

as

Orville Wingait
Gloria DeHaven

,

as

Abigail Falbury
Marjorie Main

,

as

Esme
Phil Silvers

,

as

Herb Blake
Ray Collins

,

as

Jasper G. Wingait
Nita Bieber

,

as

Sarah Higgins
Hans Conried

as

Harrison I. Keath

Reviewed on:
August 18th, 2003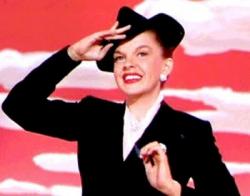 Judy Garland in Summer Stock.
The musical Summer Stock stars Judy Garland and Gene Kelly and is the last movie Garland made for Metro-Goldwyn-Mayer. Its plot is a throwback to the 'lets put on a show' musicals from ten years earlier. Gene Kelly (in the Mickey Rooney role) was at first reluctant to make Summer Stock. Fresh off the success of the more innovative On the Town, he considered this movie a step backwards. He finally agreed only as a favor to Judy.
The silly plot is all corn. Judy is the big sis running a New England farm and Gloria De Haven is the little sis who returns home from the big city with Gene Kelly and an entire troupe of performers set to put on a show in the barn. The only time this movie comes alive is during the songs. Judy Garland and Gene Kelly were such amazing entertainers that anytime they are singing or dancing Summer Stock is pure joy. Phil Silvers, Marjorie Main, Gloria De Haven and Eddie Bracken all do their best in supporting roles, but nothing they do can make this hokum seem fresh.
Judy's dancing is particularly impressive here. She is easily the greatest triple threat entertainer of all time as she so ably demonstrates. She was slightly pudgy during the filming except in the famous 'Get Happy' number. This scene was filmed several months after the movie wrapped and Judy had been in and out of rehab in the intervening time. This was, in fact, the very last scene she ever did for MGM and it is probably her single most electrifying movie moment. In a man's tuxedo coat and fedora she incorporates tin-pan-alley, Broadway, jazz, and pop music in one magical fusion, in the process creating one of the single most iconic moments of 20th Century entertainment.
Unfortunately the rest of Summer Stock pales in comparison.

Reviewed on:
December 12th, 2003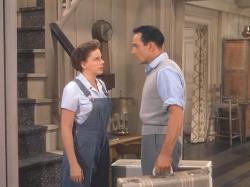 Judy Garland and Gene Kelly in Summer Stock.
Summer Stock has two saving graces, Judy Garland and Gene Kelly, who were each at different points in their careers. It was the end of Garland's career with MGM, but Kelly's next two movies would turn out to be his most memorable, Singing in the Rain and An American in Paris.
Patrick was exaggerating when he wrote that anytime Garland and Kelly are performing this movie is pure joy. Except for 'Get Happy' Summer Stock has few memorable musical numbers. Kelly does a slightly imaginative solo dance that involves a squeaky floorboard and a newspaper. But it doesn't compare to much of his other work. This is Kelly at the peak of his talent and he is stuck in this lame horse of a film.
Patrick fawned over 'Get Happy' and rightly so. It is an utterly perfect musical number. The one thing he didn't mention in praising it was that it was excellently choreographed. The suited men dance rings around Garland as she sings and in the process add to her performance. The best part is when Garland swings her arms out to the side and as if by magic the dancers all fall away from her. It is an amazing, yet brief, performance in a near forgettable film.
Reviewed on:
January 6th, 2012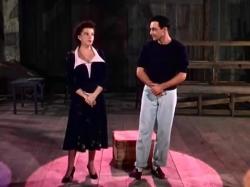 Judy Garland and Gene Kelly in Summer Stock.
Summer Stock was made barely more than 10 years following The Wizard of Oz, but Judy Garland looks twice that many years older. Jane, her dumpy looking farm matron character in this film, could be Dorothy Gale's mother. The drugs and alcohol had done their damage over the intervening decade adding wrinkles, pounds and years to her tiny frame. Not yet 30, she could pass for closer to 40.
The only thing in the movie that appears older than Garland is the plot itself. Patrick, you call it a throwback to the "let's put on a show" musicals, but it almost comes across as a parody of one of those films. It only needed a grown-up Mickey Rooney to make it complete. Instead of evoking fond memories of those earlier musicals, it simply emphasizes how times had changed. Not only had the actors grown-up, but so had audiences and it seems quaint and old fashioned even for the times. This is painfully obvious in the attempts at humor. Phil Silvers, normally such a reliable source of comic relief, merely induces groans in his scenes this time.
Despite her best efforts at self-harm and time's monotonous march, the one thing that remained undamaged and true was Judy's singing voice. She could still belt out a number like no one else. Of course that just makes it a greater pity that she is given such poor songs to sing. Apart from "Get Happy", which feels as though it belongs in a completely different movie, most of her songs are forgettable. "Friendly Star" is the best ballad and she sells it as only she could, but she's trying to make diamonds from rhinestones and to her credit, she almost succeeds.
Kelly adds a spark to the proceedings, but this is a role that he could do in his sleep and he certainly never breaks a creative sweat. The newspaper number is his best moment, but, as you mentioned Eric, pales when compared to some of his greater numbers.
As both of you mentioned, the only real highlight here is "Get Happy". Without it, I doubt this movie would even be remembered by more than a handful of her most loyal fans. The intervening months between the filming of this number and the rest of the movie were kind to her. She appears to have lost at least 30 pounds and there's an added sparkle in her eyes that I sincerely hope wasn't drug-induced. It's as if along with the weight she's also shed some years. She is a star again for one glorious moment. It's a show stopping number and the film should have ended on it. Seeing her in the following scene is a rude bump back down to earth.
Garland and Kelly in an MGM musical should have been a guarantee for greatness. Instead we're left with mediocrity supporting one moment of magic.
Photos © Copyright MGM (1950)
Related Reviews