Movie Review
Sullivan's Travels
A Happy-Go Lucky Hitch-Hiker on the Highway to happiness! He wanted to see the world ... but wound up in Lover's Lane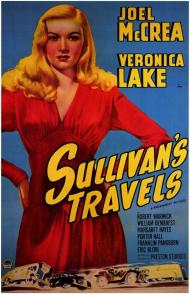 US Release Date: 12-01-1941
Directed by: Preston Sturges
Starring
▸
▾
Joel McCrea

,

as

Sully
Veronica Lake

,

as

The Girl
Robert Warwick

,

as

Mr. Lebrand
William Demarest

,

as

Mr. Jones
Franklin Pangborn

,

as

Mr. Casalsis
Porter Hall

,

as

Mr. Hadrian
Byron Foulger

as

Mr. Johnny Valdelle

Reviewed on:
December 1st, 2001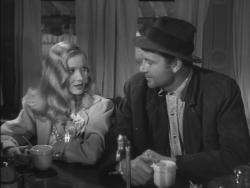 Veronica Lake and Joel McCrea in Sullivan's Travels.
This 1941 Preston Sturges classic is a fast paced, deftly written comedy that manages the nearly impossible task of having a serious message. In fact that is what the movie itself is about. Sullivan is a famous Hollywood movie director with such hits to his credit as "Hay, Hay in the Haystack" and "Ants in the Pants of 1939". This pampered rich guy gets the brilliant idea of making an 'important' picture about the trials and tribulations of America's downtrodden. When it is pointed out to him that he knows nothing about this subject he decides to go out on the road dressed as a tramp with only a dime in his pocket. Along the way he meets the beautiful Veronica Lake (whom young moviegoers will recognize as the inspiration for the animated Jessica Rabbit) and she joins him for the ride.
The first half of the movie is filled with snappy dialogue and visually funny slapstick. Sullivan's entourage, under orders from the studio head, follow him in a well-equipped mobile home keeping him from harm and from having any real chance at being successful in his quest to live like a normal hobo. In one hilarious scene his servants call the train station to find out where all the bums get on board.
A major plot twist occurs midway through which changes everything and finally gives Sullivan what he has been searching for. Ironically he comes to discover that what he has been doing all along, namely making light-hearted, silly movies, is exactly what the poor and downtrodden masses need most; a good laugh and a way of forgetting their troubles.
Reviewed on:
April 1st, 2009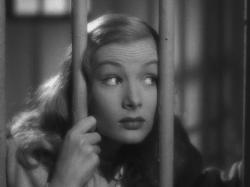 Veronica Lake was hot!

Eric, why haven't you seen this movie? I think you'll love it. The moral of this story is that Hollywood directors shouldn't try to teach America about problems they know nothing about, but should instead focus on producing entertainment. A good comedy, this movie says, beats a preachy message movie by an upper-class film director with class guilt, hands-down and I couldn't agree more.
Veronica Lake is one of those movie stars whom I've always been aware of, but until now I'd never actually seen her in a movie. She might not have had the most successful or lasting career, but she certainly had sex appeal and she plays this part with charm and devastating beauty. McCrea might be the star, but when she's on the screen it's not him you're looking at.
Ironically, the movie's weakest moments are the ones where it get kinds of preachy with its message that preaching is bad for movies. The lighter, romantic comedy moments in the first half of the movie are definitely the best parts. McCrea and Lake have some good bantering moments and Sully's attempts at getting his "mission" going fuels the movie's funniest scenes. Later on, after the twist you mention Patrick, the movie gets a bit more serious about how it should be funny with a few scenes that don't quite work, but with a running-time of just 90-minutes, there's not enough time for it to outstay its welcome.
You might not expect a movie made in 1941 to be so relevant today, but if it's possible, this movie might just be even more relevant now than it was the year it was released.

Reviewed on:
May 11th, 2011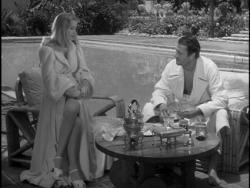 Leggy Veronica Lake and Joel McCrea in Sullivan's Travels.
Veronica Lake was the Farrah Fawcet of her time. Both were beautiful blondes with limited talent and much copied hairstyles. Both also had a brief five year career. Okay, both acted longer than that but after five years both had seen the best of their careers pass.
Lake had a reputation for being difficult to work with. McCrea turned down the co-starring role in I Married a Witch, saying, "Life's too short for two films with Veronica Lake." McCrea and Lake are both good individually. His best moment is when he has a cold, while she had my attention when she nearly does a nude scene in the shower. Together they have very little romantic chemistry. Lake was only 19 years old playing opposite 36 year old McCrea, who was 6'3" while Lake was 5" with heels. They look and act more like father and daughter than a couple falling in love.
Sully is your typical liberal ignoramus. He treats poverty as a virtue. He acts as if being poor somehow makes you more "real" than being a rich person. He hands out five dollar bills to bums in the street. It will not change any of their lives but it makes him feel good about himself.
At the beginning of the film Sully says of the movie he wants to make, "I want this to be a picture of dignity! A true canvas of the suffering of humanity!" At the end he says, "There's a lot to be said for making people laugh. Did you know that that's all some people have? It isn't much, but it's better than nothing in this cockeyed caravan." Sully's journey is learning that every movies purpose is to entertain. If you can slip a social message in then so be it, but if the audience is not entertained all else matters not.
Sorry Scott, but I did not like this as much as you had thought. Sullivan's Travels starts out funny and well paced but gets a bit bogged down by it's own message. Did he really have to go to prison to see people enjoying a good laugh? What starts as a light, brisk comedy becomes a drama with a social commentary. It is a contradiction within itself.
Photos © Copyright Paramount Pictures (1941)