Movie Review
Suddenly
See what happens when the President passes through Suddenly!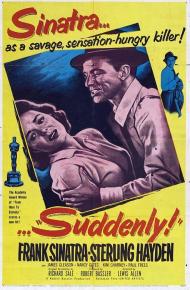 US Release Date: 10-07-1954
Directed by: Lewis Allen
Starring
▸
▾
Frank Sinatra

,

as

John Baron
Sterling Hayden

,

as

Sheriff Tod Shaw
James Gleason

,

as

Pop Benson
Nancy Gates

,

as

Ellen Benson
Kim Charney

,

as

Peter Benson III
Paul Frees

,

as

Benny Conklin
Christopher Dark

,

as

Bart Wheeler
Willis Bouchey

,

as

Dan Carney
James O'Hara

,

as

Jud Hobson
Kem Dibbs

,

as

Wilson
Clark Howat

,

as

Haggerty
Charles Smith

,

as

Bebop
Paul Wexler

as

Slim Adams


Reviewed on:
August 12th, 2003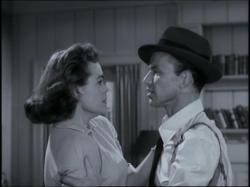 Nancy Gates and Frank Sinatra in Suddenly.
Suddenly plays like a good hour-long episode of a great cop show. This movie packs a lot of suspense and tension into its mere 72 minutes. Made shortly after his Oscar-winning comeback in From Here to Eternity, Frank Sinatra commands every scene he appears in.
Sinatra plays the role of an immensely insecure psychopathic hit man. He and two other thugs show up at a sleepy little town named Suddenly, where the local sheriff has just learned that the President Of The United States is going to be arriving by train later in the day. The would be killers take a family and the sheriff hostage as the family's house overlooks the train station and provides them with a perfect shot at the President.
The movie is basically a countdown to the impending assassination. Sinatra's character slowly falls apart as the day goes on. It is Sinatra's performance that gives this movie its edge and tension. He slowly reveals his character's weaknesses, and by the end of the movie his tough hood is just a neurotic dweeb. This really is one fine performance by Ol Blue Eyes.
However, the rest of the cast does not keep up. Sterling Hayden as the sheriff is wooden at first. He loosens up later as his questions and constant talking unravels Sinatra. Veteran B actor, James Gleason, (Arsenic and Old Lace) is the only other recognizable face. Nancy Gates is utterly dull as the victim/heroine.
Suddenly is a nice little film noir. It has a quick pace that doesn't skimp in the violence department. Most importantly, Suddenly is a showcase for Sinatra's acting chops. He has acted in better films, but he has never done better acting.
Reviewed on:
March 27th, 2012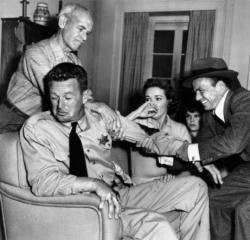 James Gleason, Sterling Hayden, Nancy Gates, Kim Charney and Frank Sinatra in Suddenly.
Yeah the pacing of Suddenly certainly feels like a television show, but a darn good one. The 1950s attitudes and dialogue also contribute to that impression. The camera never lingers, the action comes quick and the direction is taut from beginning to end. It therefore came as no surprise to learn that director Lewis Allen went on to have a long career on television, directing episodes of such famous series as Perry Mason, The Big Valley, Bonanza, Mission: Impossible, Little House on the Prairie and many others.
As Eric said, Frank Sinatra is riveting as neurotic psychopathic hit-man John Baron. Unlike most singer/actors he was unafraid to play the bad guy. In fact he seems to relish the chance to be menacing, even roughing up the young boy in one scene. Whether flashing a sinister smile or spitting out hard-boiled dialogue like, "The thing about killing you or her or him is that I wouldn't be getting paid for it and I don't like giving anything away for free", he dominates the entire movie and whenever he's on the screen it's impossible to watch anyone else.
I also agree about the supporting cast. Sterling Hayden was a big tough lug but not the most natural or exciting actor in the world. Nancy Gates is forgettable and Kim Charney is certainly not the best child actor you've ever seen. James Gleason is about the only other person in the cast that keeps up with Sinatra. His ex-secret service grandpa is an intriguing old codger. (Eric, not to quibble but I also recognized Clark Howat, who plays Haggerty, from his role as Sheriff Cole in Billy Jack.)
Suddenly gained a sudden air of notoriety due to a chilling bit of trivia connected to it. The assassinations of President's Lincoln, Garfield and McKinley are all mentioned in the script and legend has it that Lee Harvey Oswald watched this movie just a few weeks before assassinating President John F. Kennedy in November, 1963 (a claim that has since been disputed). At any rate this was the first Sinatra movie to be associated with the Kennedy assassination but not the last. 1962's The Manchurian Candidate would also draw comparisons.
Suddenly may reek of the 1950s but it remains a brisk, hard hitting, violent little thriller with a surprisingly high body count. A must see for Sinatra fans as well as fans of well-crafted crime dramas in general.
Reviewed on:
April 2nd, 2012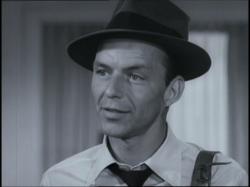 Just don't make his brown eyes blues in Suddenly.
I remember when during the colorization fad of the mid-1980s this rather obscure film made news. In 1986, Hal Roach studios colorized it, but made the mistake of giving its star, Frank 'Ole Blue Eyes' Sinatra, brown eyes. It also became widely available when the rights to it expired and it fell into the public domain where it was often packaged with another Sinatra film, The Man with the Golden Arm, whose rights had also expired. The two movies are often sold together quite cheaply.
As it did for my brothers, this movie reminded me of an early television drama. In the 1950s dramatic anthology series were common and often broadcast live. If you removed the few scenes shot outdoors, this movie could easily have been one of them. With the majority of the story told in one room, there's a definite stage feel to the story anyway.
I also agree that this movie positively reeks of 1950s small town America with its "Gee whiz, mister." dialogue, the huge cars, the pre-Interstate roads and use of a train to ferry the President around. It's a veritable time capsule into the past. The news of the president's arrival is delivered via telegraph for goodness sake!
Sinatra is quite good as the would-be assassin. It's also impressive that a star as big as he was would play not only the villain, but also one who "turns yellow" at the very end, begging for his life. He outshines everyone else on the screen. The term "riveting" is a movie review cliche, but it's quite apt in describing his performance. The supporting cast isn't horrible (although I agree the kid isn't that good) and James Gleason adds some spice and humor, but this movie belongs to Frank. I also love how he never removes his fedora until the very last scene. Not even though he's indoors and complaining of the heat. I wonder if this was so that he wouldn't look even shorter compared to the towering Sterling Hayden?
While the script is brisk and keeps the tension high, unfortunately it doesn't always make the most sense. Baron and his chums had to know that the police would search the Benson house, given its close proximity to the train station. Why then didn't they wait until after the police left before entering? And once they did enter, why didn't they tie or kill the inhabitants instead of giving them free movement around the house? And why didn't Baron realize that once the shooting started and one of his men was killed that there was no way the President's train was still going to stop? The Benson's don't seem to have any neighbors so why did they even have to enter the house at all? Couldn't they just as easily have fired from the bushes or woods around the house?
The best way to enjoy this movie is to ignore all those issues. Just relax and watch Sinatra prove that his Oscar win was no fluke.
Photos © Copyright United Artists (1954)
Related Review