Movie Review
Stuck in Love
A story of first loves and second chances.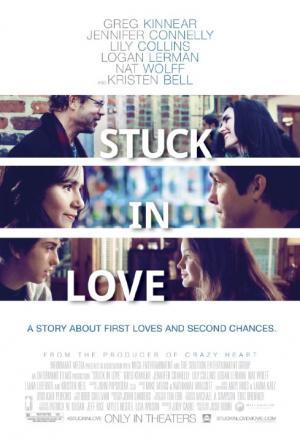 US Release Date: 07-05-2013
Directed by: Josh Boone
Starring
▸
▾
Greg Kinnear

,

as

Bill Borgens
Jennifer Connelly

,

as

Erica
Lily Collins

,

as

Samantha Borgens
Nat Wolff

,

as

Rusty Borgens
Kristen Bell

,

as

Tricia
Logan Lerman

,

as

Louis
Liana Liberato

,

as

Kate
Michael Goodwin

,

as

Professor Abbott
Stephen King

,

as

Himself (voice)
Rusty Joiner

,

as

Martin
Patrick Schwarzenegger

,

as

Glen
David Carzell

,

as

Rodney
Barbara Weetman

,

as

Diane
Alex ter Avest

,

as

Becky
Zeeko Zaki

,

as

Gus
Nate Panning

,

as

Bartender
Katie Garfield

,

as

Hot Girl
Spencer Breslin

,

as

Jason
Brandi Nicole Feemster

,

as

Teacher
Glen Powell

as

Good Looking Frat Guy

Reviewed on:
February 3rd, 2016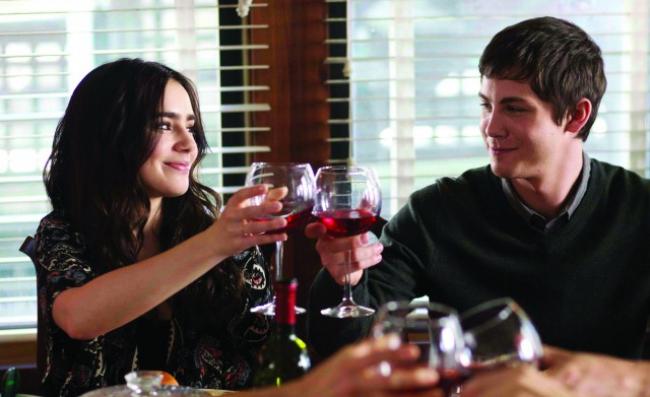 Lily Collins and Logan Lerman in Stuck in Love
Stuck in Love is an all star cast family drama that only saw a limited theatrical release. It is the cast alone, in fact, that keeps it, at all, from sinking into Lifetime television obscurity.
Greg Kinnear plays Bill Borgens, a famous novelist who has had writers block since his wife Erica (Jennifer Connelly) left him for a less brainy but much better toned man 3 years earlier. Bill has the creepy habit of spying on Erica and her new man. Bill is meanwhile having a completely physical, but unfulfilled, relationship with his neighbor (Kristen Bell). Bill and Erica's children, Samantha and Rusty, have taken after their father. Both become published writers before they leave their teen years. They each seem intellectual but both still have plenty of growing up to do.
The movie takes place over the course of one year, starting and ending on Thanksgiving. The movie starts with Bill sitting a place at the dinner table for Erica. Later, Samantha states cynically, "If love is setting a place at the table for someone who is never coming home, I think I'll pass." Over the course of this year we see just how the parents and children affect each other.
Samantha (Phil's daughter Lily Collins) has not talked to her mother since catching her having sex with her new boyfriend when her mother was still living with her father. Because of this, she has decided not to have a serious relationship with anyone, just meaningless sex. "Just avoid love at all costs. That's my motto." That is until she meets the persistent Louis (Logan Lerman) whom she tells, "I don't wanna get hurt." Louis responds with all the conviction he can muster, "I'm not gonna hurt you."
Rusty (Naked Brothers band member Nat Wolff) is meanwhile in love with a high school classmate who is, of course, dating the school jock (Arnold's son Patrick Schwarzenegger). Bill encourages Rusty to go out and party, do drugs and have sex, so life does not pass him by. "Rusty, a writer is the sum of his experiences. Go get some." Hmm, do you think he may be talking about himself as much as he is his son. Rusty chooses to over look the fact that the girl he likes has serious problems just as his father chooses to not see that his wife has truly left him for another man. The best piece of advice, and truth, Rusty gets is from his big sister, who tells him, "There are two kinds of people in this world: hopeless romantics and realists...life is only as meaningful as you fool yourself into thinking it is. Guys who get laid a lot are realists. You should be listening."
Stuck in Love is a tale of a family that has fallen apart but is still trying to make it work. It is about forgiveness and reconciliations. It is about growing with the changes that life throws at you. Just because this family is made up of intellectuals, does not mean they have it all figured out. It is not as deep as all that but it has a nice message of love, loss and growth. The ending was a let down as it contradicts all that these characters have learned up until then. It may make for a happier ending but not one that follows the tone of all that has come before it.

Photos © Copyright Informant Media (2013)