Movie Review
The Strip
M-G-M's Musical Melodrama of the Dancer and the Drummer!
US Release Date: 08-17-1951
Directed by: László Kardos
Starring
▸
▾
Mickey Rooney

,

as

Stanley Maxton
Sally Forrest

,

as

Jane Tafford
William Demarest

,

as

Fluff
James Craig

,

as

Delwyn 'Sonny' Johnson
Kay Brown

,

as

Edna - Fluff's hatcheck girl
Louis Armstrong

,

as

Louis Armstrong
His Orchestra

,

as

Louis Armstrong Orchestra
Tommy Rettig

,

as

Artie Ardrey
Tom Powers

,

as

Detective Lt. Bonnabel
Jonathan Cott

,

as

Behr
Tommy Farrell

,

as

Boynton
Myrna Dell

,

as

Paulette Ardrey
Jacqueline Fontaine

,

as

Frieda - Sonny's moll
Vic Damone

,

as

Vic Damone
Monica Lewis

,

as

Monica Lewis
Earl 'Fatha' Hines

,

as

Musician
Bert May

,

as

Dancer
Fred Graham

,

as

Detective
Barney Bigard

,

as

Musician
Jack Teagarden

as

Musician (uncredited)
Reviewed on:
March 4th, 2016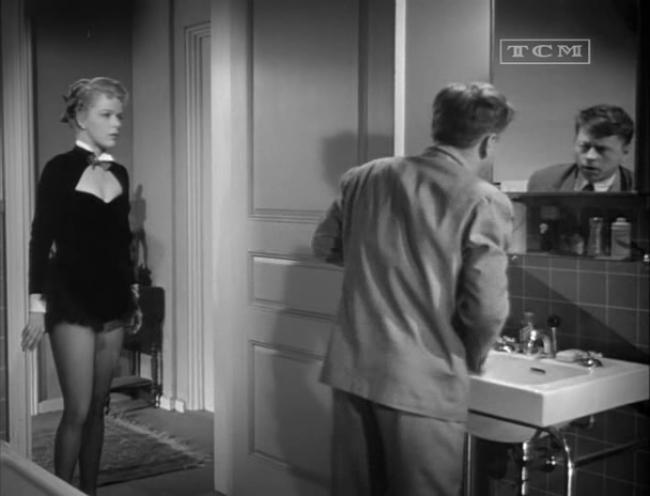 Sally Forrest and Mickey Rooney in The Strip.
The Strip opens with police cars racing down Sunset BLVD as the sun rises over the Hollywood Hills, accompanied by voice-over narration that sets the scene before we flashback to the events leading up to this police emergency. And no, they aren't racing towards Norma Desmond's mansion. Although the script for The Strip sounds like the kind of movie Joe Gillis might have written. It even has a great part for Bill Demarest.
Mickey Rooney stars as Stanley Maxton, a drummer recently returned from Korea. He heads to L.A. where – again like Joe Gillis – he has an incident in his car that dramatically alters the course of his life. In a fender bender he meets a bookie and his moll-with-a-heart-of-gold, and gets hired taking bets over the phone. Before long he's in deep and living the good life. Then he meets a cigarette girl/dancer with dreams of stardom and suddenly his priorities change. Stanley wants out of the rackets and he auditions to be a drummer in Louis Armstrong's jazz band. This leads us back to the opening scene.
It ends with a false confession at a police station a la Mildred Pierce – only with a different twist. But this being MGM, not Paramount or Warner's, they couldn't just make this a film noir, they had to make it a musical too. The musical numbers all take place at Fluff's Dixieland nightclub (where the legendary Louis Armstrong and his band appear nightly!). Fluff, who also tinkles the ivories, is played by the aforementioned William Demarest.
This movie is a jazz lover's dream. In between the melodrama, Louis Armstrong and his orchestra play several lively jazz numbers such as the tongue-twisting "Shadrack" and the iconic "Basin Street Blues". Rooney joins them on the drums a few times. Singers Vic Damone and Monica Lewis get a solo apiece. The song "A Kiss to Build a Dream On" by Harry Ruby and Oscar Hammerstein II was Oscar nominated. It gets performed several times during the film, most notably by Armstrong and his orchestra. For good measure Sally Forrest performs several jazzy style dance numbers alongside a few finger-snapping male dancers. It's up to each viewer to decide whether or not it works, but the incongruity of the gritty crime drama plot interspersed with a stream of musical interludes is undeniably odd.
Another interesting thing about The Strip is the fact that it was shot mostly on location. This was quite unusual in Hollywood at the time, since most movies were then shot on sound-stages and studio back-lots. The Sunset Strip as it appeared in the early 1950s is captured in glorious black and white cinematography. Some of the interiors were shot at both Mocambo and Ciro's, popular nightclubs on the Strip. Likewise scenes were also shot at real life restaurants Little Hungary and Stripps.

Mickey Rooney plays one of his first truly adult parts as Stanley Maxton. He's cynical and world weary but still has the old Rooney energy and ambition. And he got to display yet another of his many talents – drumming. Just over 30 when he made this movie, Mickey was already a weathered 20-year veteran of Hollywood motion pictures. Despite the similarities between their films' opening scenes, Joe Gillis is one of the most famous characters in Hollywood history while Stanley Maxton is barely remembered at all.
Photos © Copyright Metro-Goldwyn-Mayer (MGM) (1951)