Movie Review
Strike Up the Band
IT BEATS THE BAND!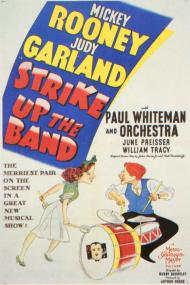 US Release Date: 09-27-1940
Directed by: Busby Berkeley
Starring
▸
▾
Mickey Rooney

,

as

James 'Jimmy' Connors
Judy Garland

,

as

Mary Holden
Paul Whiteman and Orchestra

,

as

Themselves
June Preisser

,

as

Barbara Frances Morgan
William Tracy

,

as

Philip 'Phil' Turner
Larry Nunn

,

as

Willie Brewster
Margaret Early

,

as

Annie
Ann Shoemaker

,

as

Mrs. Jessie Connors
Francis Pierlot

,

as

Mr. Judd
Virginia Brissac

,

as

Mrs. May Holden
George Lessey

,

as

Mr. Morgan
Enid Bennett

,

as

Mrs. Morgan
Howard C. Hickman

as

Doctor
Reviewed on:
January 31st, 2012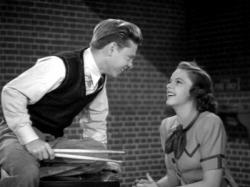 Mickey Rooney and Judy Garland in Strike Up the Band.
Strike Up the Band was the second of four Backyard Musicals Mickey Rooney and Judy Garland made together between 1939 and 1943. In 1940 Rooney was in the middle of his three year reign as the biggest box office attraction in the country (Garland ranked tenth that year) and, not surprisingly, he gets the lion's share of screen time in this exuberant MGM musical. These movies all followed a slight variation on the same tried and true formula. At one point in this one Rooney says, "We could put on a show! That'll be different." Not exactly Mickey, but it is plenty of fun watching this abundantly talented twosome giving their all in number after number.
Mickey forms a high school swing band (with Judy as featured vocalist naturally) that wants to travel to Chicago to audition for a radio talent contest being sponsored by real life bandleader Paul Whiteman. The kids put on a show to raise the 200 bucks needed for the trip. Later they meet Whiteman himself at the home of a wealthy new classmate whose father has hired Whiteman's band to perform at a party.
Fate intervenes when a fellow student breaks his arm and requires emergency surgery. He must be flown to Chicago for the operation and wouldn't you just know it - chartering the plane will cost exactly 200 dollars. Not to worry, as this is a Mickey Rooney/Judy Garland musical you just know everything will turn out all right in the end.
Rooney, as Jimmy Connors (a full decade before the famous tennis player was born), is a bundle of talented energy. He plays the drums and the xylophone, sings, dances, mugs for the camera and pulls off some syrupy melodrama in a couple of scenes with his mother. All the while Judy, as Mary Holden, pines after his affections in song. She performs a wistful ditty called "Nobody" in a library where she bemoans the fact that famous lovers throughout the ages had someone but she is all alone.
Other songs include a clever stop-motion sequence wherein a bowl of fruit becomes a symphony orchestra and an up-tempo, rhythmic Conga number that is energetically staged and shot by director and camera maestro Busby Berkeley. He makes good use of his trademark camera movement which adds much to the finished visual style of the big production numbers. Strike Up the Band ends with a musical finale that reprises many songs performed earlier in the movie before the big finish with the title song by Mickey, Judy and chorus.
The show the kids put on to raise bus fare is an 1890s melodrama complete with period costumes and over-the-top acting including unsubtle asides to the audience behind raised hand. It culminates with Judy's character being tied to some railroad tracks by the dastardly villain and Mickey's character saving her just in the nick of time.
At two hours this is the longest of their four musicals together as well as being the most lopsided in favor of Rooney. The plot is a bit too convoluted and the melodrama between mother and son wasn't needed. Strike Up the Band comes to life whenever Rooney and Garland share the screen or whenever Rooney performs or Garland breaks into song. Overall though, this is the weakest of their musicals together.

Photos © Copyright Metro-Goldwyn-Mayer (MGM) (1940)
Related Reviews