Movie Review
Stranger by the Lake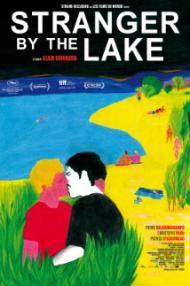 US Release Date: 01-24-2014
Directed by: Alain Guiraudie
Starring
▸
▾
Pierre Deladonchamps

,

as

Franck
Christophe Paou

,

as

Michel
Patrick d'Assumcao

,

as

Henri
Jerome Chappatte

,

as

Inspector Damroder
Mathieu Vervisch

,

as

Eric
Emmanuel Daumas

,

as

Philippe
Francois-Renaud Labarthe

as

Pascal Ramiere

Reviewed on:
January 26th, 2014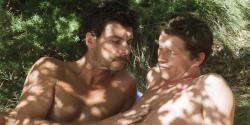 Christophe Paou and Pierre Deladonchamps in Stranger by the Lake.
Stranger by the Lake (L'inconnu du lac) is an erotic thriller from French writer/director Alain Guiraudie. It was shot in a very unique manner. The entire film takes place outdoors in a single locale by the titular lake. It covers ten consecutive days over the course of one summer. Each day begins with an establishing shot of the area near the lake where the various men who come here to cruise for gay sex park their cars.
The story centers on a boyishly handsome young man named Franck. He compulsively comes to the lake to cruise for sex. On the first day depicted in the movie he strikes up a conversation with an older man who always sits alone on the beach. They begin a platonic friendship that is interrupted by Franck's frequent forays into the nearby woods for anonymous sex.
One day Franck spots an incredibly handsome Tom Selleck lookalike (see photo) and quickly follows him into the woods. He comes upon the man having sex with another man. The following day he sees the man again, they flirt but are interrupted by the man Franck previously saw him having sex with. Later that evening, just as night is falling and the lake has been (nearly) deserted for the day, Franck sees the object of his desire swimming with the man Franck assumes to be his boyfriend. Suddenly the thriller aspect of the story kicks in as Franck is witness to a murder. The Tom Selleck lookalike (whose name Franck eventually learns is Michel) drowns his sex partner from the previous day.
But lust proves not only blind but also dumb, and the mere fact that Michel is a killer doesn't deter Franck from pursuing him. They soon become lovers who meet by the lake everyday for sex. A police inspector interrupts their sexual idyll when he shows up to investigate after the dead man's body is found and he must determine whether it was an accident or foul play.
The cast of actors -including the two stars- spend the majority of the film completely naked. There are several hard core shots of sex including a blow-job and even one ejaculation shot (body doubles were used for these scenes). Now these scenes are pornographic but it isn't gratuitous. It is endemic to the story as it is simply chronicling the reality of what happens at secluded gay cruising spots where men walk around in the nude and have lots of quickie sex.
The film runs less than 100 minutes but it unfolds at a leisurely pace. The director uses many shots of wind blowing through the trees and waves rippling in the sunshine reflected on the lake. The final 20 minutes or so being the exception as the story climaxes (pun intended) in gruesome style. The final shot is a bit frustrating as it it open-ended and I'm not a fan of that storytelling technique. It nearly always comes across to me as lazy writing; as if the director couldn't be bothered with deciding how his own story should end.
Despite the less than satisfactory denouement, Stranger by the Lake is a fascinating motion picture. It isn't for everyone but it offers a realistic and highly intimate look inside a subgroup of society that most people never see.

Reviewed on:
May 23rd, 2014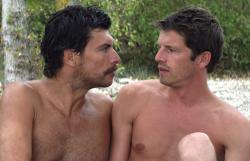 Christophe Paou and Pierre Deladonchamps in Stranger by the Lake.
It has been reported that director Alain Guiraudie cut many filmed sex scenes for the final version. He supposedly did not want the film to be all about the sex. That may have been his intention but this film is all about gay sex from start to finish. It is a sausage fest as Guiraudie often filmed his nude actors laying or sitting on the beach from the front with their twigs and berries on proud display. Some of the sex scenes are pornographic. He may have imagined this movie as a thriller, but it is more of a mild porn film with a side plot of murder.
Franck sees Michel and falls instantly in love with him. I would not accept that in a straight love story and I do not accept that here. I get that he may be horny for Michel but to say he is in love with him after seeing him murder someone and then having sex is ridiculous. Lust is enough motivation to make Franck stupid. Using the "L" word makes Franck seem like a teenage girl using it to excuse her boyfriend's obvious flaws. His attraction to Michel is that of a moth to a flame. Come on! The guy drowned his previous lover. Where does Franck think this relationship is going to go?
On the other hand, Franck's friendship with the older man, Henri, who sits alone on the rocks, seems quite sincere. Through their conversations, we discover that they meet and talk away from the lake as well. He and Franck fall in love in a platonic way. Henri claims to no longer be interested in sex while Franck politely states to Henri that he is not attracted to him.
Patrick referred to the thriller aspect of the movie. The tensest moment comes when Franck and Michel are sitting alone by the lake and Michel says to Franck, "I am going in. Coming? We have the lake to ourselves." when Franck responds, "No. Someone just drowned." Michel then asks, "There are two of us. What can happen?"
This movie was clearly made on the cheap. Note how everyone wears the same clothes over and over again. The guy playing the inspector is an obvious amateur. He walks with his hands behind his back as if in some old detective show.
Perhaps it is because I am straight, although I think it is the writing, but I did not understand the relationship between Franck and Michel. As the inspector says to Franck at one point, "You guys have a strange way of loving each other sometimes." The ending is a letdown, as if the writer did not want to commit to something. I did however, laugh over the fat guy who likes to wander the woods masturbating to men having sex and getting turned down by everyman he approaches. Later on the beach, his boyfriend tells other men to stay away from him, as if he is some prize that everyone else wants.
Photos © Copyright Les Films du Worsoarte France CinemaM141 Productions (2014)