Movie Review
Strange Cargo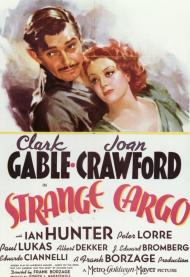 US Release Date: 03-01-1940
Directed by: Frank Borzage
Starring
▸
▾
Joan Crawford

,

as

Julie
Clark Gable

,

as

Andre Verne
Ian Hunter

,

as

Cambreau
Peter Lorre

,

as

M'sieu Pig
Paul Lukas

,

as

Hessler
Albert Dekker

,

as

Moll
J. Edward Bromberg

,

as

Flaubert
Eduardo Ciannelli

,

as

Telez
John Arledge

,

as

Dufond
Frederick Worlock

,

as

Grideau
Bernard Nedell

,

as

Marfeu
Victor Varconi

,

as

Fisherman
Betty Compson

,

as

Suzanne
Paul Fix

,

as

Benet
Ray Teal

as

Guard


Reviewed on:
July 6th, 2010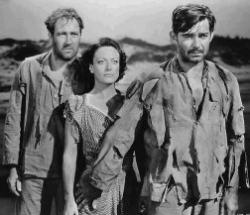 Be carefull. You never know who is staring over your shoulder.
Although it is rare to find religion in a movie these days, you can still find it in classic films. Strange Cargo is all about Christianity, but it is a bit odd. In It's A Wonderful Life, an angel comes from heaven to help a man. Here, the man's identity is a bit more ambiguous, even though his intentions are just as obvious.
Gable plays an inmate, Verne, at a penal colony in South America. He has attempted many escapes. The jungle makes escaping nearly impossible. Early in the movie he sneaks off and goes to visit a tough acting prostitute, Julie. She turns him in, but gets herself into trouble nonetheless.
Meanwhile, a mysterious stranger suddenly appears in the form of an inmate and everyone acts as if he has always been there all along. He reads and quotes the Bible, while seeming to know what will happen before it does. A small band of convicts escape their prison and race through the jungle to a waiting boat. The spiritual man is among them. Verne has likewise escaped and met up with Julie. They eventually meet up with the rest of the group.
Along the way, the men start dying off while the strange cargo spouts advice and proverbs. Obviously this is a film of salvation. Occasionally someone will ask him how he seems to know everything, but it never really gets explored. Even at the end of the movie he just disappears. Was he God or an angel? The movie never says for sure.
The best thing about Strange Cargo is Clark Gable and Joan Crawford. In one early scene Gable acts horny as hell and practically rapes Crawford when he first gets into her room. Crawford however, is playing a woman who has been around the block more than she can count, so she can handle his sexual aggression. Gable's best line in the movie is when he says to Crawford, "I don't know what you'll look like tomorrow, but right now, baby, you're the most beautiful dame in the world." Interesting to note is that this was Gable's follow up film to Gone with the Wind.
There is some action and drama. The group of convicts kills and betrays each other constantly. However, there is plenty of yakking and preaching that slow the pace down. Just why "God" wants to save the souls of these wretched folks is never stated. Although this is a tale of redemption, I had a hard time caring if any of these morally bankrupt people lived or died.
Reviewed on:
February 7th, 2015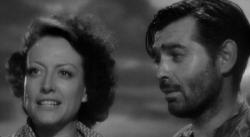 Joan Crawford and Clark Gable in Strange Cargo.
Yeah, Strange Cargo is an exciting adventure tale bogged down with overt Christian symbolism that never really gels and fails to pay off in a satisfying manner at the conclusion. Clearly Ian Hunter is playing a Christ-like figure. Eric, according to scripture Jesus spent a good deal of his time ministering to prostitutes, thieves and murderers so it makes perfect sense that God would send this man to help bring these wretched souls home. If they weren't sinners they wouldn't need saving.
Notice how Cambreau comforts the men as they are dying or are about to die. Only one soul remains out of reach and that's Hessler (Judas?), played by Paul Lukas. He slinks away at night in a storm never to be heard from again. Of course Gable and Crawford get the best of both worlds; their characters alone find redemption without having to die for it.
But to be honest, as Eric already mentioned, all of this sermonizing only serves to slow the picture down. And it truly wasn't needed. You already have all the ingredients necessary to make a great adventure movie. Plus you have two of the biggest stars in the world. Gable and Crawford (in their eighth and final picture together) are combustible. Gable's dashing noble-rogue and Crawford's bad-girl-with-a-heart-of-gold were made for each other. Crawford in particular gives an emotionally raw performance.
The dialogue between Gable and Crawford crackles. Eric mentioned one of Gable's best lines. Here's one of my favorite bits of conversation between them. In the scene where Verne discovers Julie at the miners camp, Julie throws a frying pan at a man who's about to attack Verne from behind. After punching the man and knocking him out, Verne thanks Julie. She tells him, "Don't thank me. I didn't give you a thing. All I want's to get out of here and you happen to be going my way. So I played ya. But the minute I find somebody going faster I'll..." The ever confident Gable cuts her off with, "You won't. C'mon."
The supporting cast does good work as well. Albert Dekker makes a great foil for Gable as the bully Moll. He was physically imposing and a damn fine actor. Paul Lukas had an intelligence about him that really suits the character of Hessler. Ian Hunter maintains a passive countenance and a calm attitude at all times as Cambreau. Peter Lorre played slimy creeps better than anyone. His presence improved any movie and M'sieu Pig is no exception to that rule.
Strange Cargo is strange indeed.
Photos © Copyright Metro-Goldwyn-Mayer (MGM) (1940)