Movie Review
The Straight Story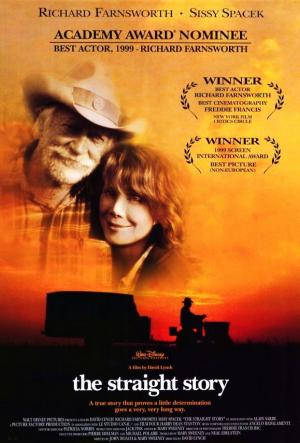 US Release Date: 10-15-1999
Directed by: David Lynch
Starring
▸
▾
Richard Farnsworth

,

as

Alvin
Sissy Spacek

,

as

Rose
Harry Dean Stanton

,

as

Lyle
Jane Galloway Heitz

,

as

Dorothy
Joseph A. Carpenter

,

as

Bud
Donald Wiegert

,

as

Sig
Ed Grennan

,

as

Pete
Jack Walsh

,

as

Apple
Everett McGill

,

as

Tom the John Deere Dealer
Bill McCallum

,

as

Rat
Kevin P. Farley

,

as

Harald
John Farley

,

as

Thorvald
Jeremy Kent Jackson

as

Andy
Reviewed on:
April 13th, 2016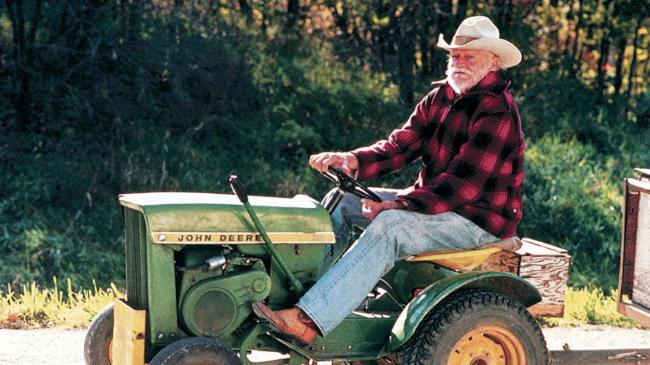 Richard Farnsworth in The Straight Story.
Just about the last thing anyone ever expected from filmmaker David Lynch was a G-rated movie released through Walt Disney Pictures. But that's exactly what happened with The Straight Story in 1999. Lynch has called this his most experimental film and it certainly stands out from everything else in his body of work. It was the first film he directed without having a hand in writing the screenplay. Plot-wise it is simpler and more straightforward than anything else he's done.
The subject matter and linear storytelling technique aside this is still a David Lynch movie. It demonstrates the director's wonderful eye for framing a shot and his felicity of camera movement. The script is a huge departure for Lynch. In place of his usual surreal melodrama is an incredibly natural and authentic sounding dialogue. It also has a deeply moving, and Oscar nominated, central performance by Richard Farnsworth, who was dying from cancer when he took on this physically demanding role.
Based on actual events, The Straight Story was shot in sequence following the same route the real Alvin Straight traveled in 1994 to visit his ill older brother Lyle, from whom he'd been estranged for many years. Alvin's trip took him from Laurens, Iowa to Blue River, Wisconsin; a distance of 240 miles. What makes Alvin's story so memorable was his mode of transportation. Alvin rode a 30 year old John Deere riding lawn mower the entire way. With a top speed of just 5 mph Alvin's trip becomes a pilgrimage, lasting well over a month.
After learning about Lyle's stroke, Alvin eloquently explains his reasons for going to such extremes to see his brother. "There's no one knows your life better than a brother that's near your age. He knows who you are and what you are better than anyone on earth. My brother and I said some unforgivable things the last time we met, but, I'm trying to put that behind me... and this trip is a hard swallow of my pride. I just hope I'm not too late... a brother's a brother."
The Straight Story is a languidly paced, low key slice of mid-western life. Sissy Spacek plays Alvin's daughter with a speech impediment, and Harry Dean Stanton has one scene as brother Lyle. This is a beautifully acted poetic little film with wisdom and heart to spare and a deft sprinkling of wistful humor. In fact it's my favorite David Lynch movie by about 240 miles.
Photos © Copyright Walt Disney Pictures (1999)